Following its six-month rest, a "new" Boracay has finally allowed the rest of the world to see its beauty. While its rehabilitation phase continues, the change in the island is truly evident. Upon your arrival at the island's main port, you'll be welcomed with a giant picturesque Boracay icon. You'll also definitely notice the wider roads from Cagban Port to the main areas of the island. But hold your expectations since the construction is still ongoing.
Beyond its scenic beauty, one thing we missed about the island is its expansive gastronomic flair. Here are some restaurants ready to serve you once again.
1. Nonie's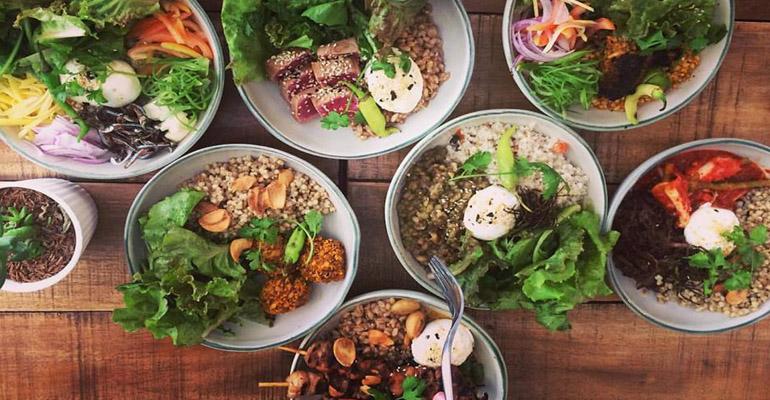 Image: Nonie's
Healthy and sustainable. That's what Nonie's want their customers to remember about their place. Following its reopening after the closure, Nonie's is adding Vegan sisig (a dish usually made from chopped parts of pig head and liver) on their menu. Their sisig is made of mushroom, tofu, onions, and spices. They also have vegan longganisa (Filipino-style sausage), that's why they are known for serving a healthier version of our favorite Filipino dishes. If you're a meat lover, you can still taste their own version of chicken and pork adobo cooked Cavite-style, and other meat dishes with a twist. They invest in sustainability by using mostly locally sourced products. [1]
2. Cowboy Cocina
Image: Cowboy Cocina
With its name, one can tell of what to expect at Cowboy Cocina — a country-style vibe. Its interior is filled with wooden furniture coupled with portraits and decorations to achieve a cowboy groove. But more than that, what makes them popular is their barbecue dishes patronized by many including their local loyal customers. In fact, the restaurant located at the beachfront in Station 3 remained open during the closure. One specialty dish you should taste is their Cowboys Chicken Skewers (PhP425) made with 100% chicken breast marinated in a special BBQ sauce, with just the right sweetness and smokey flavor. They also serve burgers, ribs and even homemade pies. [2]
3. Real Coffee and Tea Café
Image: Real Coffee and Tea Café
Real Coffee and Tea Café surely have withstood the test of time, more so during the closure period. The place continued to serve its local patrons even during the closure, and now for everyone with the reopening. The calamansi (Philippine lime) muffin with just the right amount of sweetness and tang has been a favorite home gift or pasalubong. It is best paired with Real Coffee Brew, brewed coffee with a shot of espresso. Though a number of modern coffee shops are everywhere in Boracay, they are still loved for their own simplicity and homey vibe. [3]
4. Aloha Boracay Island Grill
Image: Aloha Boracay Island Grill
They say visiting Boracay makes you experience the world with its varied culture and cuisine. For the Hawaiian experience, visit Aloha Boracay Island Grill. Their Chicken Hawaiian BBQ Pizza and their Hawaiian Teriyaki Burger are among their bestsellers. They also served freshly grilled favorites including an all-meat platter, ribs, and seafood platter. At sundown, get their signature Aloha Cocktail Mixes, for buy-one-take-one. You won't miss the place for they can be easily spotted along Calle Remedios in Station 3 and the colorful outfit of their crew. The restaurant is open whether you wanna eat for breakfast, lunch or dinner, and even snacks. [4]
5. The Sunny Side Café
Image: Sunny Side Café
If you love breakfast food but hate to wake up early, then Sunny Side Café could help you with that. Sunnyside, located at the beachfront in Station 3 offers all-day breakfast meals you will definitely love any time of the day. They are still serving their famous dishes including the Chorizo Baked Mac and Cheese, Bacon & Mango Grilled Cheese Sandwich and the Sunny Side Cafe Choriburger. [5]
6. Mayas Filipino and Mexican Cuisine
Image: Mayas Filipino and Mexican Cuisine
Despite slashing some of its space due to road and beach setbacks, Mayas Filipino and Mexican Cuisine's commitment to serving Boracay visitors remains intact with their reopening. The beachfront restaurant in Station 1 is famous for its Lechon Kawali (crispy pork belly cooked in a skillet). The restaurant likewise serves a fusion of Filipino and Mexican cuisines. They serve callos, seafood paella, and Mexican favorites including burritos, tacos, and fajitas. [6]
7. Los Indios Bravos
Image: Los Indios Bravos
If you're a craft beer lover, Los Indios Bravos got you covered. With their reopening, the pub also brings you to their new location. They are now at the White House at the beachfront in Station 1. Aside from their popular seafood platters, their chicken tikka masala is also a favorite. [7]
8. Levantin Bar and Restaurant
Image: Levantin's Bar and Restaurant
Levantin's Bar and Restaurant is settled just in front of Bulabog Beach. They are serving a choice of Filipino, Romanian and European cuisine. One of their unique dishes is the moussaka, a Balkan dish of layered potato, ground pork, and eggplant with tomato sauce, herbs and spices, drizzled with homemade yogurt. [8]
9. Whiskey's Café at The Lazy Dog
Image: Whiskey's Café at The Lazy Dog
The place is named after The Lazy Dog itself, Whiskey. Whiskey has his own spot at the café and would not mind you if you're having your meal. The café did not close, but with the island's reopening the café pledges to reduce its usage of single-use plastic. Tucked in a lush garden, you can have an all-day breakfast meal, pasta, and light snacks. You can try their Whiskey Patty Melt a hamburger sandwich, pan roasted with tomatoes and melted cheese. Their crispy adobo flakes is also a favorite. You can find The Lazy Dog in Bulabog. [9]
Hungry yet? Tell us which restaurant is your next stopover in the comment section below.
Sources:
[1] https://bit.ly/2QC3N5Q
[2] https://bit.ly/2qHddBv
[3] https://bit.ly/2ROYwYC
[4] https://bit.ly/2OEv85k
[5] https://bit.ly/2AYYkR0
[6] https://bit.ly/2z2cO11
[7] https://bit.ly/2PRBoeH
[8] https://bit.ly/2T4Hd7p
[9] https://bit.ly/2RdiRXz