Looking for a place to crash for a couple of nights in Mandaue City? You're in luck, because a good number of hotels and pension houses have sprouted all over the city in recent years with the gradual development of the commercial district in the North Reclamation Area, Mandaue City.
One of the newest budget hotels to open its doors to guests is the
Big Hotel
. It is located right across Parkmall Mandaue along A. Seno Street, North Reclamation Area, Mandaue City. It is also just a short walk from the City Times Square, an emerging entertainment hub in the city.
The Big Hotel is around ten minutes from the seaport of Cebu City, twenty minutes from the Mactan-Cebu International Airport, and thirty minutes from the nearest historical sites of Cebu City such as Colon St., Basilica Minore del Santo Niño de Cebu, Magellan's Cross, and Cebu Metropolitan Cathedral. The North Bus Terminal is also accessible to guests who may want to take a trip to Bantayan Island or Camotes Island.
Accommodations
The hotel offers four room choices, each offering distinctive features to make the stay of its guests comfortable and relaxing. All the rooms at the Big Hotel have a study table, side table, desk lamp, chair, and a 32-inch flat screen HDTV with full cable access. Guests also have daily complimentary bottled water, high-speed Wi-Fi, and newspaper upon request.
Standard Rooms
Guests have the option to have one double bed or two twin beds inside the Standard Rooms. Standard rooms also feature different themes for each floor, giving guests a unique experience each time they check into the hotel. Rates are PhP1,680 for two guests and PhP2,280 for three guests.
Deluxe Rooms
Two double beds await guests each time they book a night in the Deluxe Rooms of the Big Hotel. The ample space inside the room, floor length windows, and a breakfast corner will definitely make the stay of guests comfortable and cozy. Deluxe Room rates range from PhP2,480, for two guests, to PhP3,680, for four guests.
Family Rooms
The Family Room of the Big Hotel is ideal for small families or groups wanting to have a short vacation in Cebu. The Family Room features three single beds, a mini coffee table, and two lounge chairs. The bathroom also allows three people to use it at the same time since it is divided into three sections: the sink, toilet, and shower sections. Family Room rates are between PhP2,280, for two guests, and PhP3,480, for four guests.
Deluxe Suite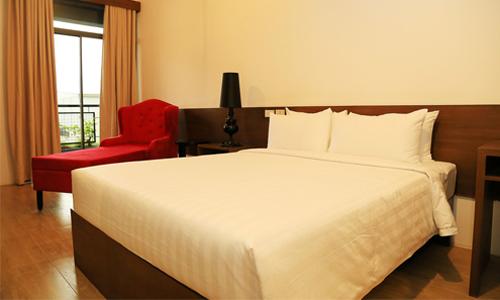 The hand-crafted tufted daybed, queen-size bed, and lounging area sets the Deluxe Suite apart from the other rooms. Some of them also feature either an open-air terrace or a small balcony. Rates are PhP3,280 for two guests and PhP3,880 for three guests.
Facilities and Food
The B|G Kitchen and Bar of the Big Hotel offers all-day dining to its guests. What's interesting about this restaurant is that it can easily transform from a breakfast hub in the morning, offering distinctive Filipino and Asian dishes and free-flowing coffee, into a modern bar offering a wide variety of alcoholic and non-alcoholic beverages come night time.
Meanwhile, the hotel also has a number of trade halls that can be easily set up to meet the requirements of its guests.
One thing that makes the Big Hotel stand out in the market is The Gallery, where the works of local artists are displayed. It is probably the first hotel to have a public art gallery dedicated to the promotion of Cebuano artists.
Nice to Know
The Big Hotel is proud to say that they are advocates of recycling and upcycling. All of their practices, including the design of the hotel are geared toward doing away with unnecessary wastes and expense. This environment-friendly and economical approach further allows Big Hotel to offer modern luxuries at affordable rates to their guests.
They offer special packages for events such as weddings or Christmas parties for a minimum of 100 persons. Free parking is available on-site.
The Big Hotel may be a new player in the hospitality industry of Metro Cebu, but it offers guests a unique and inimitable experience at a reasonable price. It puts forward its core value of providing an exceptional experience to its guests while maximizing value for their money.
For reservations, you may contact Big Hotel at (+6332) 345-1316 or send them an e-mail at reservations@bighotel.ph.
All photos are from the establishment's official Facebook page
Have you had the chance to stay at the Big Hotel? Tell us about your experience in the comments section below.