Summer is heating up in Cebu City, and both locals and vacationers to the island alike are looking to make it a worthwhile summer this May. While spending a whole day
lazing along the beach
is a tempting prospect, Cebu is also gearing up to be the blockbuster
venue for various concerts and events
this summer.
Read on to see what Cebu has in line for your summertime escapades so you can plan your trip to the Queen City of the South ahead of schedule.
1. G-force Project
Where: Lower ground floor Waterfront Cebu City Hotel and Casino, Salinas Drive, Lahug City, Cebu
When: May 14-18, 2018
Prices: PhP4,000 regular tickets; PhP3,000 for early bird (one week before the dance schedule)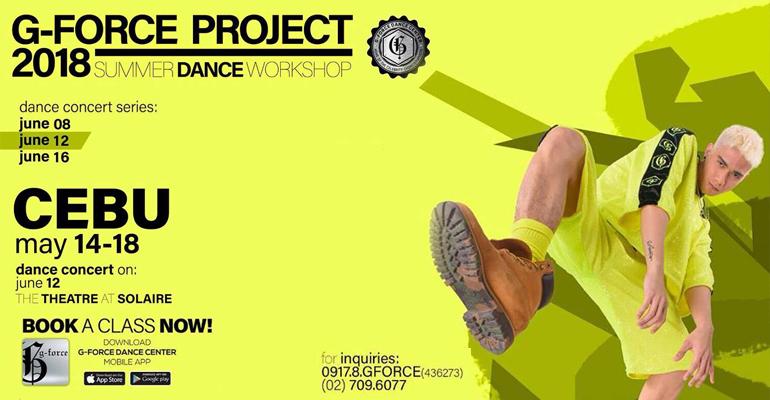 Image: G-Force Dance Center
The
G-Force Dance Center
is bringing their dynamic dance moves to the Queen City of the South with the G-Force Project. Some of the best choreographers in the country will offer five dance sessions to kids ages 5 to 11 years old and kids 12 years and older, teaching them the hippest hip-hop choreographies and the discipline it takes to be a dancer early on.
Aside from the dance workshop, the kids also have the option to perform at
The Theatre in Solaire
. For an additional fee of PhP3,600, you already get a ticket to your kids' performance on the big stage.
Tip: Your kids don't have to be good dancers from the get-go; just let them relax and have fun as they find their own rhythm on the dance floor!
2. rEVOLution: The JaDine Concert #LoveRulesJaDine Live in Cebu
Where: Hoops Dome, Lapu-Lapu City, Cebu
When: May 19, 2018
Prices: PhP4,200 for VVIP with Photo Op; PhP2,800 for Gold; PhP1,850 for Silver; PhP1,100 for Bronze; PhP500 for General Admission
Image: VIVA Live, Inc.
Die-hard fans of James Reid and Nadine Lustre unite! Get ready to get wild in "Revolution: The JaDine Concert," a night of tender love songs and energetic dance performances by one of the hottest love teams in the country today.
The Cebu leg of their concert brought to us by Viva Entertainment will happen on May 19, 2018, and is the third in their concert series. They already invaded the Araneta Coliseum in Metro Manila in the first concert while the second concert was held in Pampanga.
How to get to the Hoops Dome:
From SM City Cebu, you can get on jeepney headed for
Parkmall
where you can ride a jeepney to
Tamiya
. From Tamiya, you can get on another jeepney going to
Gaisano Island Mall
where you can get a jeepney ride passing directly through the Hoops Dome.
Tip: When attending the concert, wear something comfortable and always be aware of your surroundings during the event.
3. Youth Revive Concert
Where: 3rd Floor Old Sacred Heart School Building, Gen. Maxilom Avenue, Cebu City
When: May 27, 2018
Prices: Free
Image: Youth Revive History Makers
Who says you can't have a vibrant live concert and a worship event this summer? The Youth Revive Concert aims to achieve just that. Organized by the Youth Revive History Makes, the event is a free concert fit for all people of all ages from all walks of life who are looking for a spiritual awakening and enlightenment.
Attendees can look forward to an afternoon full of songs of praise and love with their family and friends. The event starts at 1:00 PM until 4:00 PM.
How to get to the Old Sacred Heart School Building:
From
Ayala Center Cebu
, you can get on a jeepney headed for Gen. Echavez Street. You can get off at the corner of Gen. Echavez Street and Gen. Maxilom Ave. The Old Sacred Heart School Building is just a short walk away from this point.
Tip: Make sure to go to the concert on a full stomach. You can also go to the venue early if you want to stay in front since the concert is free.
4. La Vie En Rose by ARMY Scene PH
Where: A SPACE Cebu, Crossroads, Banilad
When: May 26, 2018
Prices: PhP500; PhP300
Image: Army of Cebu
Extending your hand wholeheartedly to those who need it is one of the noblest things you can do. This summer, "La Vie En Rose: A World Where Love Blooms" comes to Cebu, brought to you by Army Scene Philippines.
All BTS fans across Cebu will gather to meet fellow fans to exchange ideas, passions, and of course, fan goods and other exhibition items. All proceeds of this event will go to a number of beneficiaries, including UNICEF Love Myself Campaign, UNICEF PH Marawi, Philippine Institute for the Deaf, CRIBS Foundation, and Haribon Foundation.
How to get to A SPACE Cebu: From Ayala Center Cebu, you can get on a jeepney headed for Banilad and get off at the Crossroads.
Tip: Since there will be items for sale, prepare cash as credit cards might not be accepted.
5. SEW Festival
Where: : J Centre Mall, Mandaue City
When: May 3-6, 2018
Prices: PhP10,000 for Main Exhibitor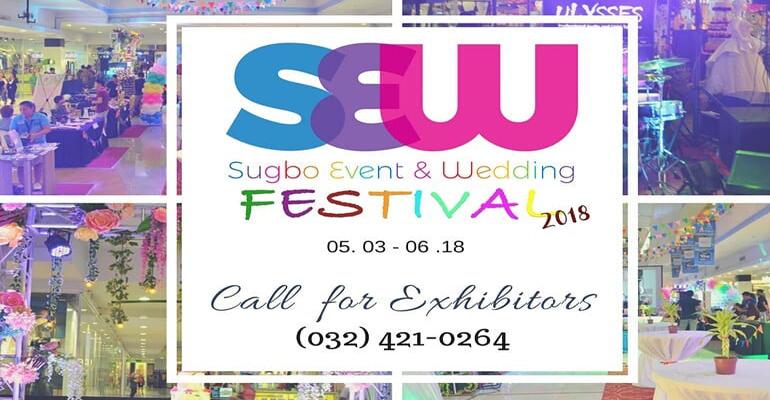 Image: Event Apects
Just a month before the wedding month, the Sugbo Event & Wedding Festival 2018 will be held at the
J Centre Mall
. Hosted by Event Aspects, the event brings together a range of event and wedding suppliers to show budding couples how they can shape the most memorable union event of their lives.
The event is expected to attract around 50 exhibitors from the event industry. These exhibitors include caterers, entertainers, and stylists, among others, giving couples a wide variety of options on how to spruce up their wedding days.
How to get to J Centre Mall: From Ayala Center Cebu, you can get on a jeepney headed for J Centre Mall in Mandaue City.
Tip: For couples, attend together so you can check out things that would appeal to you both.
When the beach gets too crowded or resorts are fully booked too soon, then discover the other side of Cebu that offers indoor events that are just as entertaining and enjoyable. So if you're looking for something more than just the sun, sand, and surf, now you know what's there to see in the south!
Which event are you going to attend? Let us know in the comment section below!