What's New
New Stores to Ransack in Manila before 2016 Ends
Grab something Korean or Japanese, buy a Vera Wang, or wear some #hugot lines.
By: Karen Cayamanda | December 13, 2016
---
It's the season of giving and sharing your blessings. Most of us are already busy buying gifts for friends and family. But if you are looking for some fresh gift ideas, we've got you covered. Score great presents for your loved ones or even for yourself with these newly opened stores in Metro Manila.
Hello MNL Store
If Filipino products are what you're after, you can visit Hello MNL Store. It opened just last August with the aim of putting the spotlight on young entrepreneurs who want to promote their new businesses. You will find a wide selection of products from about 50 brands that carry accessories, notebooks, stickers, shoes, bags, paintings, and even succulents. Prices range from PhP50 to PhP2,000. Hello MNL Store is located just across the University of Santo Tomas in Manila.
Mall of Korea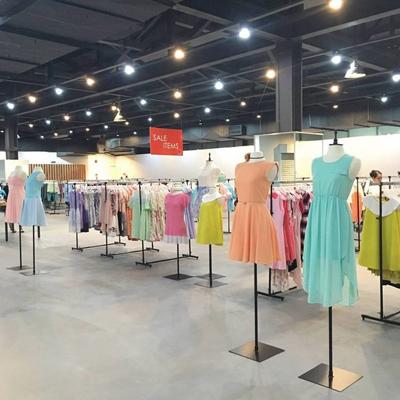 Are you a fan of everything Korean? We've got great news for you. Mall of Korea is a new addition to the list of shopping and fashion destinations in the Ortigas Center area. Opened last July 14, this 2,400-square meter store is home to a wide range of clothes and accessories for women, men, and kids. You can buy items for as low as PhP100 up to PhP9,000 from brands such as OBBA Seoul, Nina Lee, Luisa Spagnoli, and Mademoiselle. Mall of Korea is located at the second floor of Metrowalk Complex in Pasig City.
Miniso
Opened last June 17, Miniso is a new Japanese lifestyle concept store that carries a wide selection of products. Whether you're into fashion, makeup, or decorating your home or office, you can see amazing finds at Miniso at affordable prices. You can check out their multiple racks of accessories, beauty products, home décor, stationery, and other cute items that are also perfect as gifts for your loved ones. Miniso was established in 2013 and has opened over 1,400 stores around the world. Majority of the product designs are from countries such as Japan, Korea, Singapore, Malaysia, and China. In the Philippines, Miniso is located at the second floor of Robinsons Place Manila.
Lanai
From stylish clothes and accessories to handpicked items to update your home interiors, you can find something for you and your loved ones at Lanai. It is a new concept store that opened last July 13 along Chino Roces Avenue. Potted plants placed on either side of the wooden door of the store greet customers upon entry, which definitely adds up to the homey vibe. Aside from clothes and accent pieces for your home, Lanai also offers flower arrangement services.
Vera Wang
Tying the knot soon? Future brides may find their dream wedding gowns at the Vera Wang store that opened just last November 11. Vera Wang is a famous American brand for wedding gowns and was founded by designer Vera Ellen Wang. The designer's clientele includes celebrities such as Alicia Keys, Mariah Carey, Victoria Beckham, and Hilary Duff. Vera Wang store is located at the ground floor of 8 Rockwell in Makati City.
Sneaker Box Manila
Sneaker addicts are in for a treat. If you're in the Greenhills area, you may want to drop by Sneaker Box Manila, which recently opened last September 1. You can score the freshest pairs of shoes and be in the loop on the latest sneaker trends. The 20-square meter store is packed with limited edition pairs and new releases from various brands including Nike, Adidas, Superga, Puma, and New Balance. You can find Sneaker Box Manila on the ground floor of Promenade Mall in San Juan City.
Linya Linya
Looking for items with funny quotes and witty #hugot lines about love and its tragedies? If you unconsciously nodded your head, Linya Linya is definitely for you. Opened last July 6, this new store carries a wide range of clothes, bags, accessories, and other products that showcase smart and funny messages. You can surely relate to some, if not all, of their amusing and piercing lines such as "Over My Dad Body", "DamnDamin", and "Pahingi ng Pahinga". Linya Linya is located at the lower ground floor of SM Megamall – Mega A in Mandaluyong City.
Click the store names to see their exact addresses and contact numbers.
Prices may change without prior notice.


About Karen Cayamanda
Karen has more than 10 years of experience in writing for the web. She has covered a very wide range of topics - from health, lifestyle, and life insurance, to sports, real estate, basic interior design, and current events.
Learn more stories on:
Location Tags:
Disclaimer: All articles in the Consumers Magazine of Yoorekka are for general information and entertainment purposes only. Although careful research has been made in writing them, Yoorekka does not make any warranty about the completeness and accuracy of all information presented in our articles. Our content is not intended to be used in place of legal, medical, or any professional advice.
MORE STORIES AROUND THE PHILIPPINES
Copyright 2013 - 2023 ShoppersGuide Marketing Inc. All Rights Reserved
This website uses cookies to enhance the user experience. For more information please see our
privacy policy