Filipinos love pasalubong (take-home gifts). While foreigners think it's just a show of good gesture, it's a tradition that strengthens the bond with loved ones for Filipinos.
Our readers voted on their favorite pasalubong and the results are in! Read on to know what to bring home from your next trip.
9. Longganisa, suka pinakurat, and printed T-shirts
Longganisa (Filipino-style sausages) and suka pinakurat (spiced coconut vinegar) are
popular pasalubong items from Vigan
. Vigan longganisa is small, plump, and has a strong garlic flavor. Dip it in suka pinakurat, or vinegar with chili, garlic, onion, and other ingredients.
Printed T-shirts are a no-brainer pasalubong. You'll always find a stall selling T-shirts in various colors, designs, and sizes printed with the name of the province or something it's famous for.
8. Biscocho, pili nuts, and pili tart
Biscocho is baked bread with sugar and butter or garlic. It's a great snack that's easily available in pasalubong centers. Although originally from Iloilo, it's also now a popular
pasalubong from Bacolod
.
Bicol is famous for pili nuts and tarts. Pili nuts take a lot of effort to produce, as farmers need to crack each pili fruit by hand. One can also enjoy pili in the form of tarts for snacks or dessert.
7. Piaya, snow balls, and tupig
Piaya is a sweet unleavened flatbread filled with muscovado (unrefined sugar). This flaky, crunchy pastry pairs well with coffee. Other variations include ube (purple yam) or chocolate piaya.
Snow balls from Baguio is slowly becoming a favorite pasalubong. These round cookies with a cashew center are dusted with confectioners' sugar on the outside, hence the snow ball look.
Tupig from Pangasinan is made of glutinous rice, coconut juice, coconut meat, and sugar. The charred bits give tupig a stronger flavor compared to ordinary rice cakes.
5. Banana chips, ube jam, and pork chicharon
Voter's comment: "The best ube jam ever!!!! <3"- Karen Libao
Banana chips are deep-fried, thinly sliced bananas coated with sugar. They are very cheap and can be easily purchased anywhere in Mindoro.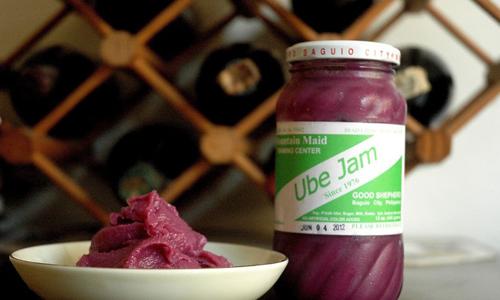 Another favorite pasalubong from Baguio is Good Shepherd ube jam, which is handcrafted by nuns. The proceeds of the sales go to students whose education the nuns sponsor.
The Bulacan version of chicharon is known for its thick meat and crispy skin. Daboy Chicharon, a well-known chicharon maker in Bulacan, uses back fat for their product.
4. Chichacorn
Chichacorn is a snack made from glutinous corn. Housewife Rosalina Abrojena and her sister-in-law Tomasa originally sold boiled glutinous corn but had plenty of leftovers. They decided to deep fry it and chichacorn was born. Today, Rosalina's chichacorn is sold under the brand Nana Rosa's Chichacorn.
3. Strawberries
"Freshest and sweetest strawberries from the City of Pines :)" - Renalyn Quiambao
Taking the third spot are strawberries from Baguio. The cold climate in Baguio is conducive to raising these sweet, red fruits. The Strawberry Farm in La Trinidad, Benguet has become a tourist spot, where you can pick strawberries direct from the farm. Prices here are higher compared to the market due to quality control. Strawberries are very delicate, and once they get bruised, they are already considered a waste, hence the hefty price.
2. Dried mangoes
At the second spot is dried mangoes from Cebu. In the early 1970's, Vicente and Rosario Siao of Vermedes, Inc. wanted to give mangoes to loved ones abroad. They experimented with preserving the sweet fruits until they created the first dried mangoes. Today, dried mangoes are a popular pasalubong from Cebu and has become a thriving industry.
1. Buko pie and peanut butter
One of the products that claimed the top spot is buko (coconut) pie from Laguna. It was born after the Pahud sisters substituted buko for an apple pie recipe they wanted to recreate. Today, their pies are sold at Orient Buko Pie Bakeshop , one of the notable buko pie makers in Laguna.
Also at number one is Nanay Pacing homemade peanut butter from Baler, Aurora. Pacing "Nanay Pacing" Tolentino created this much buzzed about product. It is made of roasted peanuts, salt, and sugar and has no oil or preservatives.
Which pasalubong will you buy next? Tell us in the comments section below!
Results are based on the Top 10 Best Favorite Pasalubong Items in the Country 2017 Poll posted at the home page of ShoppersGuide.com.ph from August 14 to August 20, 2017.