Valentine's Day is right around the corner, and before you know it you're already out of time looking for the perfect date place for you and your special someone. The easy way to go is always a
romantic dinner
or a movie night. But instead of going the usual route, why not take the path less travelled this year and take your date in some of Metro Manila's lushest parks?
With all the
developments in the Metro
, it might not be apparent but the city is actually filled with parks perfect for a romantic day out where you can appreciate Mother Nature and each other's company. Still not convinced? Read on and see where you can plan the perfect V-day date for your beau.
1. Paco Park
Where: Belen, Paco, Metro Manila
For those who live in Manila and are already tired of visiting Luneta Park, walk a little bit further and take your date to
Paco Park
instead. Originally built as a cemetery, today Paco Park is a beautiful garden park that has become a
favorite location for dream weddings
and prenuptial shoots.
Just by paying an entrance fee of PhP10, you can spend the whole day with your beau appreciating Paco Park's beauty. Marvel at the niches on the park's hallowed walls, pay respect at the former burial ground of national hero Dr. Jose Rizal and the famed GomBurZa, or take lots of pictures with the St. Pancratius Chapel as your background.
2. Kasalikasan Garden
Where: De Jesus Oval, Bonifacio Global City, Taguig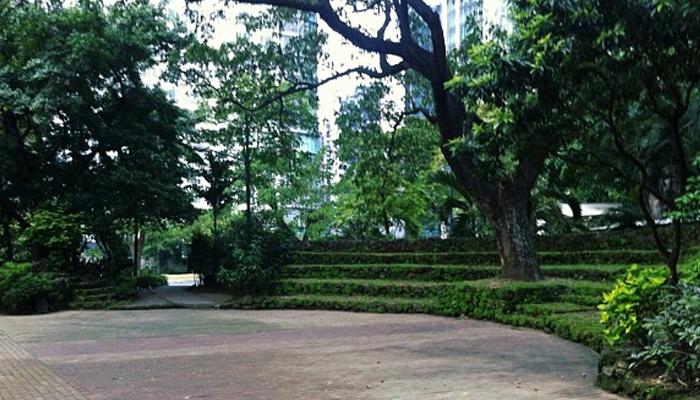 If you're not careful, you might miss this quaint park inside Bonifacio Global City called Kasalikasan Garden. Located along 4th Avenue and between 25th and 26th Street, Kasalikasan is a word play on "Kasali Ka sa Kalikasan" (You Are One with Nature) as the designer, Jerry Araos, wants the visitors of the park to have a break and commune with the environment.
For couples, Kasalikasan Garden can become a sweet escape from your heavy schedules especially if you work in BGC. You can also watch special events here as the park also has an amphitheater that houses various concerts and stage productions.
3. Washington Sycip Park
Where: Legaspi Street, Legaspi Village, Makati
Couples who live in Makati also have a beautiful haven they can visit known as Washington Sycip Park. Named after famed accountant and businessman Washington Sycip, the small piece of land across the Greenbelt shopping center has become a favorite breather among Makati residents with its lush greenery, koi pond, and various sculptures.
Inside the park, you can also visit the Japanese Garden called Tsukuri-En (crane and turtle) that symbolizes long life, peace, and happiness. If you're more of an active couple, you can also enjoy in Legazpi Park just beside Washington Sycip Park and have a game of frisbee or jog around the park before calling it a day.
4. Jaime C. Velasquez Park
Where: Toredillas Street, Salcedo Village, Makati City
More popularly known as Salcedo Park, Jaime C. Velasquez Park gained popularity through the weekend market it hosts every Saturday. As early as 7:00 AM, the streets of the park become filled with vendors selling all kinds of products, from food, clothes, and bags to plants.
For a different kind of date, you and your beau can have an early morning stroll along Salcedo Park and shop to your hearts' content. If you're into art, you can also catch Art in the Park, an annual event when Salcedo Park becomes filled with various art pieces from different artists and galleries in Manila. Proceeds of the event also go to various causes.
5. Track 30th
Where: 30th Street, Bonifacio Global City, Taguig
Another park perfect for couples who are into fitness is Track 30th along 30th Street in BGC. With a non-slip asphalt pavement colored in green, the park is dedicated for fitness enthusiasts and runners.
Aside from the running path, Track 30th also has various installations to help you get fit, such as a pull-up bar and a multi-purpose bamboo chair installation where you can do push-ups and sit-ups. There's also a lawn where you can practice yoga or stretch before jogging. Couples can do an early morning or late night run around Track 30th as the park is open from 6:00 AM until 10:00 PM.
6. Terra 28th
Where: 28th Street, Bonifacion Global City, Taguig
Just across Track 30th, you can also find a nice park in the form of Terra 28th at the 28th Street in BGC. The park is more of a relaxed version of Track 30th as it is meant for families filled with interactive installations that pay homage to classic Filipino street games like piko (hopscotch), luksong baka (literally "jump over the cow"), and habulang taya (tag).
You and your special someone can unleash the kid in you and play with the installations or take photos with them. Just like Track 30th, the park is also open from 6:00 AM until 10:00 PM, so you can take a relaxing stroll in the afternoon if you want some downtime with your loved one.
7. Capitol Commons Park
Where: Camino Verde Rd, Pasig, Metro Manila
Located in front of the high-end
Estancia Mall
, Capitol Commons Park is a small piece of land with verdant lawns, benches, and a running path perfect for joggers. You and your significant other can buy a hot cup of coffee or chocolate and relax at one of the benches in the park while enjoying the cold breeze at night.
Regardless if it's Valentine's Day or not, give your romantic dates a spin by spending time at some of Metro Manila's parks. Know of other parks perfect for a romantic stroll? Let us know about them in the comments section below!