Due to changing quarantine measures, the activities, destination/s, store/s, establishment/s featured in this article might be temporarily prohibited or closed under the latest government policies. LGUs might also implement health protocols and travel requirements. Please get in touch with the establishment/s before visiting. Stay safe!
In today's day and age, remaining healthy and fit is the best way to stay at the top of your game. Having too many responsibilities to attend to makes it very inconvenient to take even one day out to recover.
Together with proper diet and enough exercise, one way to avoid falling ill is taking
natural health products
. These supplements contain nutrients with various vitamins and minerals depending on what they are primarily made of. They also come in different forms, from capsules, tablets, to liquids.
The following list contains all-natural herbal supplements with their benefits which can be found in the Philippine market. Check them out below, but remember: before you take a new pill, make sure to consult your doctor first.
1. King's Herbal by Ka Rey Herera
Where to buy:
Unit 603 R&J Building, Quirino Highway, Bagbag, Novaliches, Quezon City
Unit 304, Eastwind Residences, 121 Malakas Street, Barangay Central, Diliman, Quezon City
746 Dianne Building Rizal Avenue Extension, Caloocan City
Monumento corner Edsa (Beside Philippine National Bank)
Also available through authorized dealers
Price:
PhP1,000 per 750ml bottle
PhP500 per 350ml bottle
Image: KINGS Herbal Facebook Page
King's Herbal is a liquid supplement that is composed of 77 kinds of fruits, vegetables, and herbs hailing from farms in Tarlac, Bulacan, and Nueva Ecija. It comes in a ready-to-drink formulation and is claimed to aid electrolyte imbalance in the body, strengthen the immune system, and restore the optimal function of vital organs. Some nutritional components of the supplement include Vitamins A, C, and E, Beta-Carotene, and Lycopene.
2. MX3 Capsule
Where to buy: Drugstores nationwide
Price: PhP165 for 10 500mg capsules
Image: MX3 Website
MX3's primary ingredient is mangosteen which is proven to fight allergies and inflammation, aid digestion, and strengthen immunity. MX3 is also said to give the body optimal nutrition for it to be able to fight free radicals that can damage healthy cells. The supplement can be consumed by children as young as twelve years old and by pregnant women after their first trimester, but it's still best to ask your doctor before doing so.
3. Ampalaya Plus
Where to buy: Drugstores nationwide
Price: PhP675 for 90 capsules
Image: Ampalaya Plus Facebook Page
From the name itself, Ampalaya Plus's main ingredient is ampalaya or bitter gourd. But aside from that, it also contains banaba (Lagerstroemia speciosa) and luyang dilaw (turmeric). While Ampalaya Plus can aid in obtaining a healthier, more active lifestyle, it is best known for managing blood sugar levels, protecting the liver, and improving the bladder's functionality. Furthermore, it also claims to stimulate weight loss and lower bad cholesterol.
4. Jimm's 7-in-1 Coffee
Where to buy: Groceries, drugstores, and supermarkets nationwide
Price: PhP345 for a pack of 20
Image: Goldshine Inc. Website
Jimm's 7-in-1 Coffee, manufactured by Goldshine Pharmaceuticals Inc., contains Ganoderma, Korean ginseng, spirulina, agaricus mushroom. It serves as a regular coffee substitute and can even promote mental alertness, blood cleansing, higher energy, and even weight loss. Additionally, the product can also help boost the immune system and reduce kidney toxicity.
5. Moringana Capsule
Where to buy: Drugstores nationwide
Price: Around PhP6.50 per capsule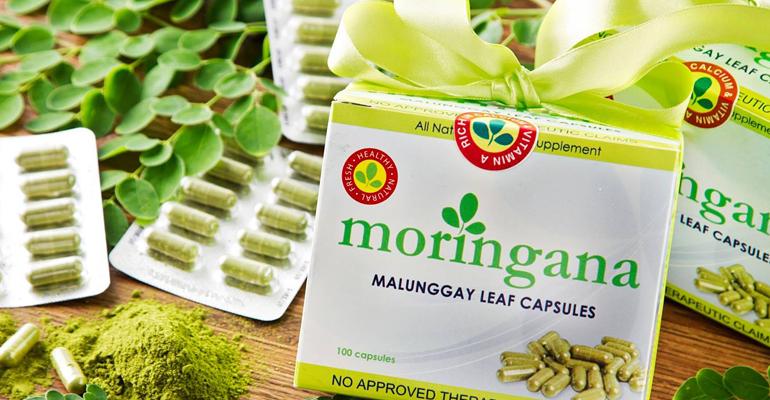 Image: Moringana Facebook Page
Originating from the malunggay (Moringa oleifera) plant, Moringana is rich in natural vitamins, calcium, iron, and fiber. The capsule itself also contains the vegetable compound Polyphenols which has health-enhancing properties. The supplement can also help aid diabetes and anemia and is even prescribed as a supplement for breastfeeding mothers.
6. Guyamaax
Where to buy: Leading drugstores nationwide
Price: PhP1,090 for 90 capsules
Image: Ampalaya Plus Website
Guyamaax's four main ingredients are guyabano (soursop), Vitamin C, Turmeric, and Mangosteen which all come with their own benefits. Guyabano is known for its anti-cancer properties, Vitamin C is a natural immune system booster, turmeric helps avert liver damage, and mangosteen can help maintain glowing skin due to its antibacterial properties. As a natural supplement, Guyamaax claims to prevent a decrease in mental functions, combat premature aging, and help strengthen the immune system.
Taking good care of yourself so that you are always at your prime should never be an option but a top priority. What's your go-to natural herbal supplement? Tell us in the comments below!
* This article simply aims to provide a list of supplements found in the Philippines. Always consult your doctor before taking any supplement.
* Prices may change without notice.
Note: This article was originally published in Yoorekka on September 18, 2018.