Let's face it: wearing a swimsuit is not for everyone. But this doesn't mean you can't bask in the summer sun in style! Sure, bikinis are staple
beach OOTD pieces
, but there are more ways to look stylish by the shore than just baring your skin. If you're one of the many girls who'd like to amp up your
beachwear
wardrobe without resorting to two-piece swimsuits, this list is for you. Below are seven
beach OOTD pieces
that will make you look hot without showing off all of your goods!
1. Cotton Beach Dress from H&M
Where to buy: H&M branches and online at https://www2.hm.com/en_asia5
Price: PhP1,690
Images: H&M Website
It's common knowledge that pieces made from cotton—which is a lightweight, breathable fabric—are must-haves for beachwear and
summer outfits
in general. One such item to covet is
H&M's Cotton Beach Dress
which has a flowy silhouette and a smart design that lets your skin breathe. The piece is flowy enough to let you move but too baggy that it looks big on you. Featuring a short hem and medium-length loose sleeves, the dress also has embroidered and see-through details that give off a boho chic vibe.
2. Miren Dress (White) from Undo Clothing
Where to buy: Online at https://undoclothing.com
Price: PhP2,295
Images: Undo Clothing Website
Besides the little black dress, a simple white dress can also do wonders to your wardrobe. Not only are they timeless, but
white dresses
are also versatile. For example,
Undo Clothing's Miren Dress
is suitable for the beach and for formal events. Its sleek silhouette flatters your curves, while its V-neckline flaunts your cleavage. With its simple yet chic design, the dress can be easily paired with a necklace or earrings.
YOU MAY LIKE:
3. Baroque Print Cami Maxi Dress from Forever 21
Where to buy: Forever 21 branches
Price: PhP2,450
Images: Forever 21 Website
You can't go wrong with maxi dresses: they are breezy and visually stunning since they come in pretty prints and colors—not to mention they are universally-flattering for different body types. If paired with wedges, maxi dresses can also elongate your legs and make you look taller. When it comes to buying a maxi dress, choose one that is made from either cotton, rayon, or linen since they keep the skin cool. An example of a maxi dress that is stylish and comfortable is the Baroque Print Cami Maxi Dress from Forever 21. The dress features V-neckline ladder cutout details, a removable self-tie sash belt, adjustable cami straps, and an M-slit at the front.
4. Lost Without You Self-Tie Linen Bandeau from Copper
Where to buy: Online at https://www.shopcopper.com/
Price: PhP399
Images: Copper Website
Like
bikini tops
, a bandeau is also just a strip of fabric that covers the chest, but it covers more skin. You can pair it with high-waist shorts or capri pants if you're not comfortable about showing some lower body skin. Another option would be to buy co-ordinates like
Copper's Linen Bandeau in Cancun
and its accompanying pair of shorts. Crafted from linen fabric, this piece is made to let you beat the heat in style. You can style bandeaus with a simple straw hat for extra sun protection.
5. Cropped T-shirt with Knot with Bershka
Where to buy: Bershka branches
Price: PhP795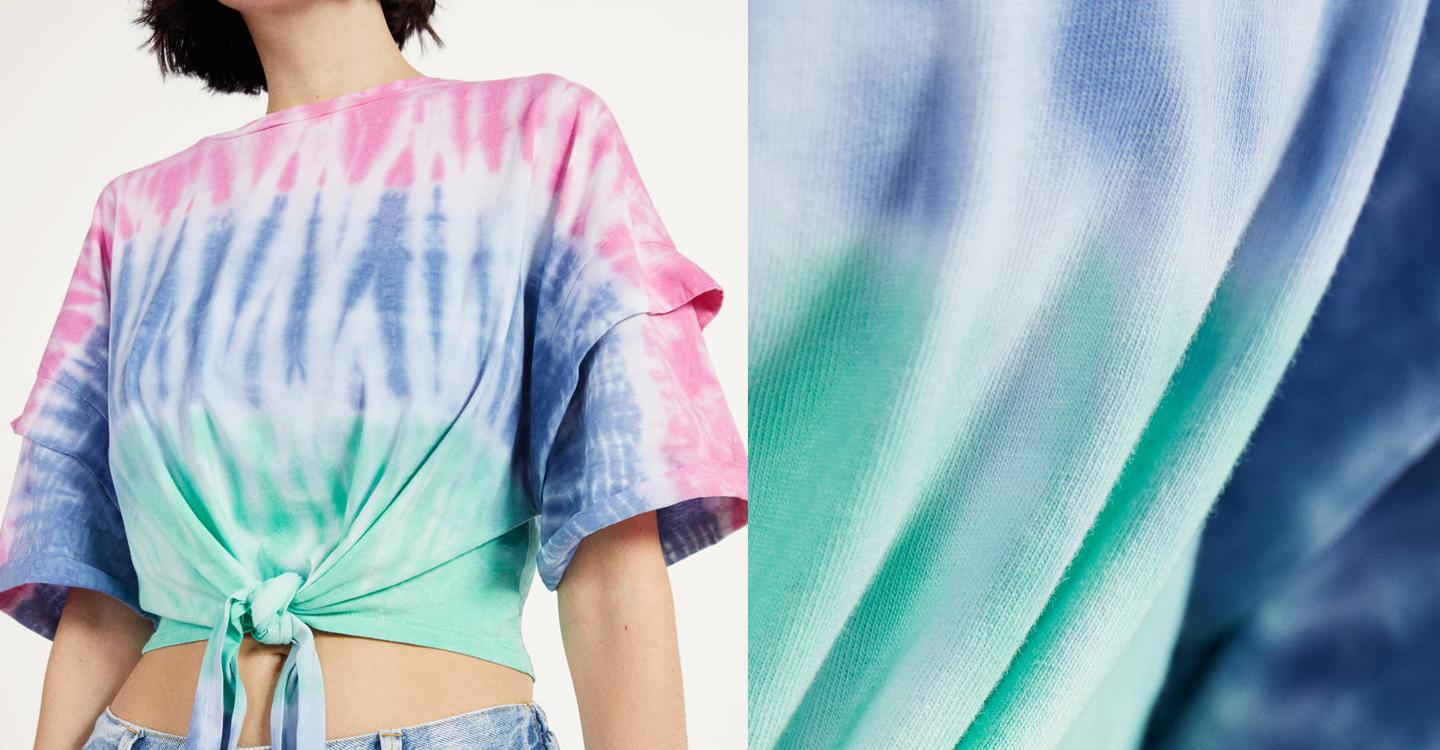 Images: Bershka Website
This summer, take a cue from one of the funkiest 1960s
fashion trends
: tie dyes. Add a twist to the classic style by choosing pastel colors instead of the usual vibrant rainbow colors. The
Cropped Tie-dye T-shirt with Knot
from
Bershka
is a cool piece that can be easily paired with denim shorts and simple sneakers or sandals. Finish your OOTD by accessorizing with a baseball cap and sunglasses.
6. Lilo Cloud Dress from Twill Cavern
Where to buy: Online at https://www.twillcavern.com/
Price: PhP850
Images: Twill Cavern Website
Not a fan of flowy excess fabric? Stick to medium or mini dresses that are made from fabrics like linen. Linen is a stiff fabric and is less likely to cling to the skin, and like cotton, it also allows airflow. Because of its materials, the Lilo Tie-Up Linen Dress from Twill Cavern has high absorbency, is a good conductor of heat, and allows heat to escape.
7. Short sleeve T-shirt with Watercolour Floral Print from Pull&Bear
Where to buy: Pull&Bear branches and online at https://www.pullandbear.com/ph
Price: PhP795
Images: Pull&Bear Website
If you want a little spin to the staple white t-shirt, opt for a piece with an eye-catching print such as Pull&Bear's Short Sleeve T-shirt with Watercolour Floral Print. Along with its design, the shirt also has a relaxed fit which means you can move freely since it doesn't hug the body. Its relaxed fit also lets you hide parts of your torso you'd rather leave unseen.
Make sure to visit
Yoorekka
for more beachwear ideas!
Which of these clothing pieces are you drawn to? Let one of these clothes help you be fashion-ready on your next beach trip!