Due to changing quarantine measures, the activities, destination/s, store/s, establishment/s featured in this article might be temporarily prohibited or closed under the latest government policies. LGUs might also implement health protocols and travel requirements. Please get in touch with the establishment/s before visiting. Stay safe!
Palawan Island
is undoubtedly one of the most beautiful places in the country. And contrary to popular belief, there is so much more to the island other than the famed El Nido and Coron. In fact, there are many other options when it comes to
tourist spots in Palawan
that are just as incredible.
In a one to four-hour boat ride alone, you can reach the quaint island towns of Culion and Linapacan that are also epitomes of paradise. Meanwhile in Puerto Princesa City, you can hop on a yacht going to Cagayancillo's Tubbataha Reefs and scuba dive to witness its natural grandeur. For a totally different Palawan experience, you can travel down south for eco-adventure activities such as waterfalls chasing, mountaineering, caving and farm immersing in Narra, Quezon, Rizal and Brooke's Point towns. Read on for more details about the other magnificent
tourist spots in Palawan
!
1. Bataraza
Images: Keith Anthony S. Fabro
Bataraza town is known for its Lalatuan and Kapangyan Falls, two of the most stunning waterfalls in southern Palawan. Their refreshing plunge pools are perfect for dipping on scorching hot summer days. Going to these waterfalls nestled in the verdant mountains of Barangay Malihud is an adventure in itself as the challenging journey involves trekking through the river dotted by boulders and rocks.
Along the way, you'll also chance upon four minor cascades, including the must-sees Tutuntunan and Shower Falls. If chasing waterfalls isn't your thing, try visiting Barangay Sandoval's Gangub Cave which can be easily accessed by vehicles.
2. Brooke's Point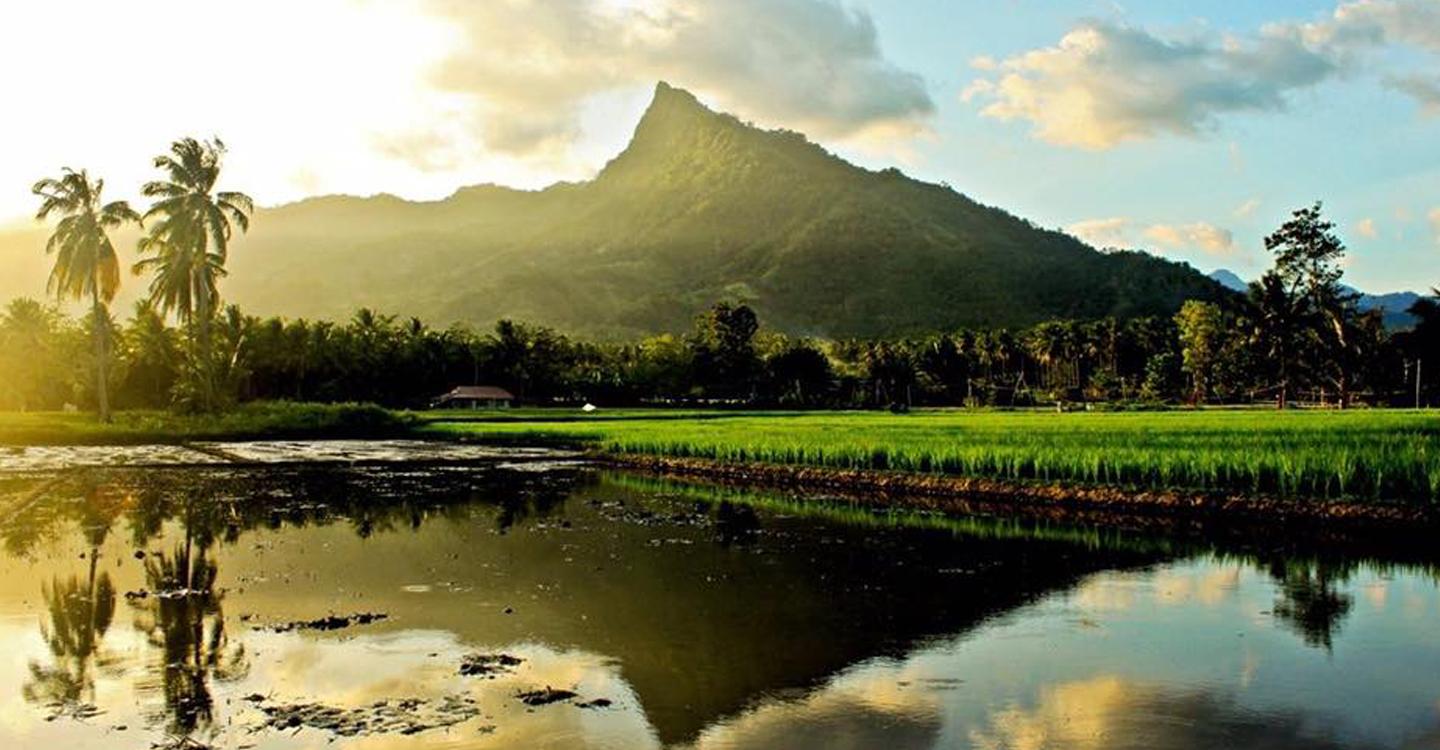 Image: Krist Joseph Jagmis Cadlaon
Brooke's Point town is a place to be when you want to experience the rural life in Palawan. As an agri-tourism powerhouse, it plays host to a couple of farm resorts that are equally beautiful in their own rights.
Recently, the municipal government opened its flagship farm tourism site AgriWorld in Barangay Pangobilian where you can have a taste of the farm life. Among the activities you can do there are carabao riding, organic vegetable picking, and many more. Another attraction you can find in this southern Palawan town is its Ecological Park that offers panoramic views of Sulu Sea.
3. Quezon
Image: Keith Anthony S. Fabro
In Quezon town, you'll find the Tabon Cave Complex, a group of 219 archaeologically-important caves tucked in the 138-hectare Lipuun Point Reservation. Apart from harboring exquisite flora and fauna, it is also worth visiting since it is labelled as the country's cradle of civilization.
In this very cave, archaeologists were also able to excavate the Philippines' earliest human remains known as Tabon man. Aside from the Tabon man, other notable artifacts found in the cave include the iconic Manunggul Jar and can now all be found at the National Museum. Meanwhile, beach bums could also enjoy the town's island hopping tours that include white sand bars and pristine islands.
4. Narra
Image: Narra Municipal Tourism Office
Narra is famous for its chasing waterfalls activity. With a hundred waterfalls to choose from, you won't get bored when you spend summer in this southern Palawan town. If you've already visited the town's famed Estrella Falls in Barangay Estrella, you can hike up further for three days to see 63 more awe-inspiring waterfalls.
In Barangay Dumangueña, another waterfall that's becoming a tourist attraction is the three-tiered Inuman Banog Falls. Come summertime, seasoned and even newbie hikers can also visit the town to scale Mt. Victoria, the province's third highest peak.
5. Rizal
Image: Joan Grace Atienza Buaga
Mountaineers love going to Rizal town to reach Mt. Mantalingahan's summit, the province's highest peak. Whether you're a wildlife specialist or just an enthusiast, you will definitely find delight in visiting this protected landscape that harbors 861 plant and 169 animal species.
As the southern Palawan is mountainous, expect Rizal to have its fair share of waterfalls. The multi-leveled Turbong Falls in Barangay Baja and the Mantayob Falls in Barangay Bunog are some must-visits. You can also spend a day or two in Barangay Ransang's Singnapan Valley to learn about the rich indigenous culture of the cave-dwelling Tau't Bato.
6. Cagayancillo
Image: @hyemooni
Located southeast of Puerto Princesa City, the island town of Cagayancillo is famous for the world-renowned Tubbataha Reefs Natural Park. This marine protected area sits at the heart of the Coral Triangle, considered as the "global center of marine biodiversity." The park also serves not only as a "model for coral reef conservation," but also as a "mecca for scuba divers."
Diving in this underwater nature reserve promises an encounter with 600 fish species, 360 corals species which is about half of all coral species worldwide, 11 shark species, 13 dolphin and whale species, and 100 bird species, among others.
7. Balabac
Image: Harley Sanchez
High up on every traveler's bucket list is Balabac, an island town in Palawan's southernmost part. Dubbed as the "Maldives of the Philippines," Balabac boasts of crystal-clear turquoise waters and white-sand beaches. You can feel the castaway vibe once you set foot on its impressive remote islets and islands, particularly on the tourists' favorite Onuk Island.
Other islands you can visit are Pulao Bato, Candaraman, Canibungan, Sicsican, Camiaran, and many more! Of course, no Balabac trip is complete without seeing the historical Cape Melville, more than a century-old lighthouse.
8. Culion
Image: Arnold Calalin Valdez Jr.
Culion was once dreaded for being the world's largest leprosaria. After its leprosy-free declaration in 2006, Culion's image has changed for good. Through the years it has become an alternative destination for those wanting to skip the hustle and bustle of touristy El Nido and Coron.
Besides its spectacular islands included in island hopping tour packages, visitors are transported back in time in the "Historical Walk" or a tour of historical structures, such as the town leprosarium, church and fortresses, among others. This island town which forms part of the Calamianes also hosts eco-friendly luxury resorts and a pearl farm.
9. Linapacan
Image: @laura__delorian
Among the lesser known island towns deserving of a visit is Linapacan. Every wandering soul who has visited would tell you it's a piece of heaven on earth. Linapacan has everything you're looking for in an island paradise – unspoiled white sand beaches free from rowdy crowds, crystal clear waters, and more!
In fact in 2013, a US-based news site even hailed it as the top one out of 35 destinations with "clearest waters in the world to swim before you die." Aside from beach bumming, activities you can try while here are island hopping, snorkeling and scuba diving.
Visit
Yoorekka.com
for more stunning places to see in Palawan!
Which of these Palawan towns piqued your interest? Go schedule your trip now and explore the other stunning places Palawan has to offer!
Stay safe as you travel! Make sure to follow social distancing protocols and observe health precautions wherever you go. Have a great trip!
This article was originally published in Yoorekka on April 19, 2019.