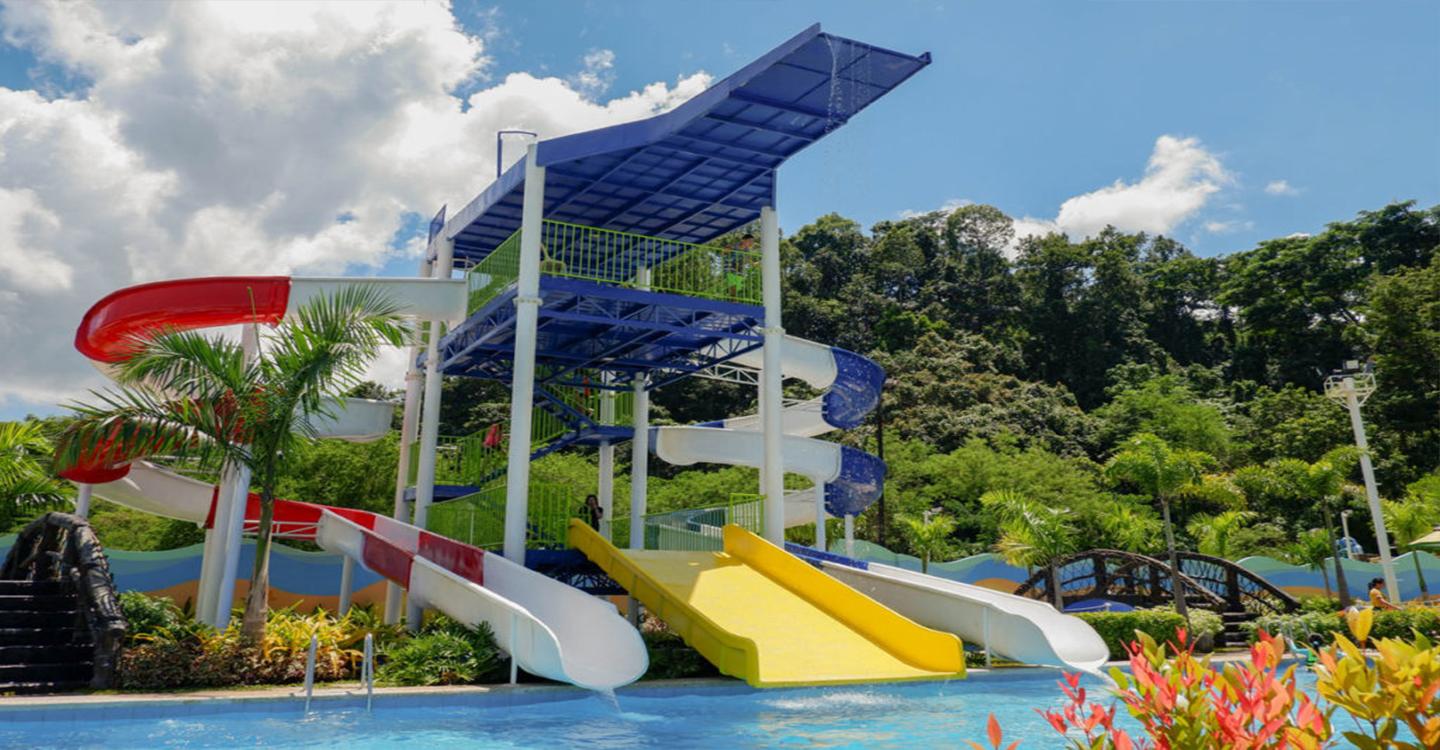 Image: Adventure Beach website
It's easy to see why many people are drawn to water parks. It's where the waters meet the thrill, making it the ultimate attraction. The feeling of twisting and turning in dark tunnels and plummeting feet first into the waters at top speed can give anyone an instant adrenaline rush and serotonin boost.
If you're a fan of water parks, you'd be happy to know that numerous ones in the country can soak you both in water and excitement. Subic Bay is home to some of the
best water parks
, so if you're ever curious about where you can plot your next exciting family or barkada outing, check out the list of the best water parks in
Subic
below! These places are family-oriented, so there's no need to leave the kids behind.
Location: Subic Bay Waters, National Highway, Lower Kalaklan, Olongapo City, Zambales
Rates: Start at PhP499
Image: Inflatable Island Subic Facebook page
Feel like a child again at the
Inflatable Island Subic
! The inflatable floating playground on the sea is filled with
ultimate attractions
like slides, swings, bridges, and towers that you can enjoy with your family or
barkada
. There are also three lounges where you can chill or take photos for your IG feed: the Pink and Purple Bali Lounge, the Pink Jungle, and the Sunflower Lounge. Note that the floating playground has a height requirement of 3.5 feet and a no-zipper, sequin, and bead dress code to avoid causing harm to the inflatable island.
Location: Camayan Wharf, West Ilanin Forest Area, Subic Bay Freeport Zone
Rates:
Weekend Rates: PhP528 (kids), PhP688 (adult)
Weekday Rates: PhP500 (kids and adult)
Image: Adventure Beach Waterpark website
Looking for a
vacation destination
where you can have the warmth of the sea, sand, and sun and the thrill of an exciting water playground simultaneously? At
Adventure Beach Waterpark
, you can enjoy the best of both worlds! Take a nice, relaxing walk under the sun on the waterpark's beachside, or boost your adrenaline by going down the two giant twisting and turning slides at the Twin Twister Slide. Adventure Beach also offers other water attractions that you can try, including the Lazy River, Gushing Mushrooms, Splashing Seesaw, and Rainbow Falls.
Location: Block 5 Lot 1 Moonbay Marina Ave., Subic Bay Freeport Zone, Subic, Zambales
Rates:
Admission: Starts at PhP200 per head
Cabana: Starts at PhP800
Small hut: Starts at PhP400
Bahay kubo: Starts at PhP1,500
Image: Moonbay Marina Waterpark website
Moonbay Marina Waterpark
is home to Zambales'
biggest wave pool
which has a swimming area of 3,000 square meters—perfect for huge groups of families and barkada. If you get hungry after spending a day at the wave pool, you can visit Rotonda Bar & Grill, the water park's in-house restaurant. The resto serves a wide array of freshly grilled dishes, from stuffed squid to grilled barbecue pork belly, to satisfy your stomach and complete your Moonbay Marina experience.
Location: Purok 3, Matain, Subic, Zambales
Rates: Available upon inquiry
Image: Whiterock Beach Hotel + Waterpark Facebook page
With over 15 pools and 40 whirlpools to explore,
Whiterock Beach Hotel + Waterpark
is an ideal
attraction in Subic
Bay. Besides its swimming pools, the resort also offers an inflatable water park where you can climb, jump, slide, and even fall into the ocean! Other water activities like jet skiing, speed boat, banana boat riding, and land activities like zip-lining, rappelling, and wall climbing can also be done at the resort.
TIP!
Here's a newly built attraction in Subic Bay—Subic Fun Land! Despite being new, the place has a little something for everybody: a swimming pool for kids, an inflatable island for adults, and a restaurant-bar perfect for everyone in the group. While you're here, don't miss the chance to ride Subic Bay's ocean waves and try exciting water sports like surfing and skimboarding. Rates start at PhP150 inclusive of free use of the swimming pool and free access to the Palm Tree Restaurant Bar.
Image: Subic Fun Land website
Subic Fun Land
Location: 116 National Highway, Barrio Barretto, Olongapo City, Zambales
Rates: Starts at PhP150 inclusive of free use of the swimming pool and free access to the Palm Tree Restaurant Bar.
Before visiting these water parks, prepare extra swimming outfits, sunscreen, and a ton of courage! And of course, don't forget to adhere to the safety protocols and practice minimum health standards!
Visit
Yoorekka Magazine
to discover more water parks and attractions in Subic and Central Luzon!
Stay safe as you travel! Make sure to follow social distancing protocols and observe health precautions. Have a great trip!
This article was originally published in Yoorekka on October 13, 2020.
Check out this video: