Due to changing quarantine measures, the activities, destination/s, store/s, establishment/s featured in this article might be temporarily prohibited or closed under the latest government policies. LGUs might also implement health protocols and travel requirements. Please get in touch with the establishment/s before visiting. Stay safe!
Baguio City
has always followed its own pace and pulse, which is altogether different from how it is in Metro Manila. It's built on a distinct culture that breeds the most exceptional taste on art, livelihood, and, of course, food.
The culinary experience in
Baguio
is ever dynamic. In every turn, new
restaurants
burst onto the scene, offering their unique takes on how food is supposed to be, and this is always in favor of hungry diners. These up-and-coming dining spots might not ring a bell now, but these new
restaurants in Baguio
will definitely stay in your radar once you check them out.
1. The Blind Filter and Kitchen
Location: 2F, FB Building, Gumamela St., Ciudad Grande Phase-1, Bakakeng, Baguio City
Image: The Blind Filter and Kitchen Facebook Page
The field of cafés in Baguio that offer artisanal and gourmet coffee drinks only continues to grow as time passes, and
The Blind Filter and Kitchen
is the latest addition to that list. Borrowing from another famous café in Baguio,
Café de Angelo
, this reinvention by The Blind Filter promotes the use of locally-sourced coffee beans from the province of Benguet in all of its caffeine beverages.
They have signature handcrafted coffee drinks, sandwiches, burgers, burritos, quesadillas, and pasta dishes—all the basics, but levelled up in terms of both quality and quantity. Struggling students out there can help themselves with a serving of the café's bestselling mug rice or the unique chicharon pasta (crispy pork rinds), and then pair these with their famed What the Fog milk tea.
They just opened last October, but they plan to maximize their space by not only serving as an events venue, but also lending shelf space to smaller entrepreneurs and businesses to promote their products. Now that's a helping hand!
2. Craft 1945
Location: 8 Outlook Drive South, Baguio City
Image: Craft 1945 Facebook Page
It may seem ironic that this new and promising restaurant in Baguio is slowly brewing a buzz with its penchant for antique ambiance and aged motifs. Craft 1945 bridges the past and the present by assuming business inside a refurbished Spanish-era house, complete with wooden interiors, warm lighting, and a mural that dates back to when Spaniards still ruled the land.
Once inside, you'll immediately see the long line of taps that dispense a vast variety of craft beer. Pair this with Spanish-inspired delicacies like paella, tapas, callos, gambas, and so much more.
The result of a collaboration between Baguio Craft Brewery and Casa Marcos, a renowned gastropub in the metro, Craft 1945 opened just last August, but already it has sent the message that it's here to stay.
3. LisKez Sweets
Location: Kisad Road, Baguio City
Image: LisKez Sweets Facebook Page
It's time to tickle everyone's sweet tooth with the wide selection of cakes, pastries, and all the sweet and sinful treats that LisKez Sweets serves up. They've been in business for a long time, but they just recently opened shop last April along Kisad Road, and since then has catered to more customers craving for their signature sweet offerings.
Take a bite of any of their vast assortment of pastries, which includes cheesecakes, cookies, banana loaves, cupcakes, mousses, and so much more. They also specialize in customized cakes for any kind of celebration, and their cake designs speak a lot about their craft. Aside from these, they also serve frappes, iced coffee drinks, and fruit teas. For something savory, dig into one of their baked macaroni. All the delicacies at LisKez Sweets are sweet and simple, and they're here hopefully for good!
YOU MAY LIKE:
4. Bella Marie Café
Location: #25 North Central, Aurora Hill, Baguio City
Image: @jajajanissa
At first glance, Bella Maria Café certainly speaks to the youth, with an ambience popping with millennial pink, clean white details, and rose gold fixtures that accurately appeal to this generation's aesthetic.
If you think Bella Maria Café's atmosphere is stunning, wait until you sit down and see that their menu packs an outstanding lineup of choices. They serve all-day breakfast, sandwiches, pastas, snacks, and salads. For a memorable meal, match the food with a glass of their hot or iced coffee beverages, frappucinos, or their tea frosts and chocolate drinks. Aside from the staple café offerings, they also have rice meals for those who are hungrier than usual.
The place may be small since it just opened this June, but this lends to a more intimate space. Catch up with friends, contemplate over a cup of coffee, or just snap that Instagram-worthy selfie amidst their chic décor!
5. Café by the Ruins
Location: #25 Shuntug Road, Baguio City
Image: Cafe By The Ruins Facebook page
While they aren't exactly a new name to enter the arena, Café by the Ruins' reopening last June certainly turned a lot of heads, mostly loyal customers eager in anticipation. They've been operating since 1988 until their place was gutted by a fire in April 2017, which turned it into a literal ruin.
But it's back, better than ever, and has resumed dishing up the best locally-sourced dishes to its Baguio patrons. Order a plate of all-day breakfast meals and "slow food" (dishes which take longer to be cooked to perfection), or a grab a quick bite of their merienda (snack) selections of pastas, sandwiches, and pastries. They also have a corner for all their pasalubong (take-home) treats, perfect for travellers looking to bring home Baguio's best.
From the ashes, Café by the Ruins has truly risen, and it looks like no calamity will stop them from serving good, home-style food.
Bonus: Valleypoint Campsite
Location: Green Valley, Near Santo Tomas Checkpoint, Tuba, Benguet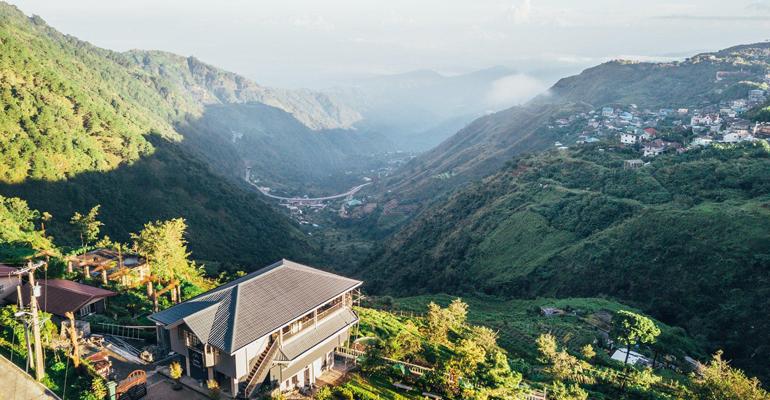 Image: Valleypoint Campsite Facebook page
While this one isn't exactly found in Baguio City but in the nearby province of Benguet, Valleypoint Campsite still caught the attention of many for its unique "glamping" concept.
Reach the sky and camp where the sea of clouds is never ending and the picturesque mountain ranges are your prime view. Get your fill of unlimited brewed coffee, and huddle up with friends or families as you try to beat each other in the in-house board games.
Opening just last August, Valleypoint Campsite quickly became viral all over everyone's newsfeeds. Judging from the feedback and all the photos from their sky-high camping site, it isn't hard to see why!
While the City of Pines' culture is what it's been known for, never take for granted that it can also be where the hippest and most original ideas can spring. Now you know where to
eat in Baguio
and take your hungry tummy next!