Images: Grumpy Joe (L); Lemon and Olives (R) Facebook pages
Whether you're bringing a date or going on a field trip with your family and friends, you'll never run out of dining options in Baguio City. In fact, the City of Pines has become a doorway to the world, as the
restaurants in Baguio
don't just serve excellent Cordilleran fares, but cuisines from various parts of the globe as well. The variety of restaurants in Baguio may be overwhelming for the uninitiated, making it hard to choose where to eat. So, here's a handful of
food places in Baguio
City to kick-start your gastronomic adventure!
Location: Long Long Benguet Road, Tam-Awan Village, Baguio City, Benguet
Operating Hours: Open daily; 9:00 AM to 4:30 PM
Recommended Budget: Approximately PhP400 for two persons
Image: Farmer's Daughter Restaurant Facebook page
To experience Baguio's unique palate is to go back to its roots, and Farmer's Daughter Restaurant in Tam-Awan Village lets you do just that. By serving authentic Cordilleran cuisine, the ancestral home-turned-diner gives due praise to highland farmers who work to fill the table year in, year out.
Given that, you can be sure that the food here is served fresh. The menu mostly consists of Ibaloi dishes, and one doesn't simply visit without trying their signature pinikpikan, a chicken broth made more savory by beating the chicken prior to cooking. Another must-try is their kinuday, or smoked meat, cooked three ways: kinuday jen baboy, jen baha, and jen manok, or pork, beef, and chicken respectively. Every serving is graced with a generous side of greens, but if you want more, just order the pak-pako, a bowl of garden-fresh ferns, cucumber, and tomatoes drenched with their homemade vinaigrette.
This
dining option in Baguio
, with its wide thatched roof, resembles a Cordilleran nipa hut, so if you're ever around the border of Baguio in Tam-Awan Village, make sure to pay Farmer's Daughter a visit!
Location: Leonard Wood Road, Baguio City, Benguet
Operating Hours: Open daily; 10:00 AM to 8:30 PM
Recommended Budget: Approximately PhP800 for two persons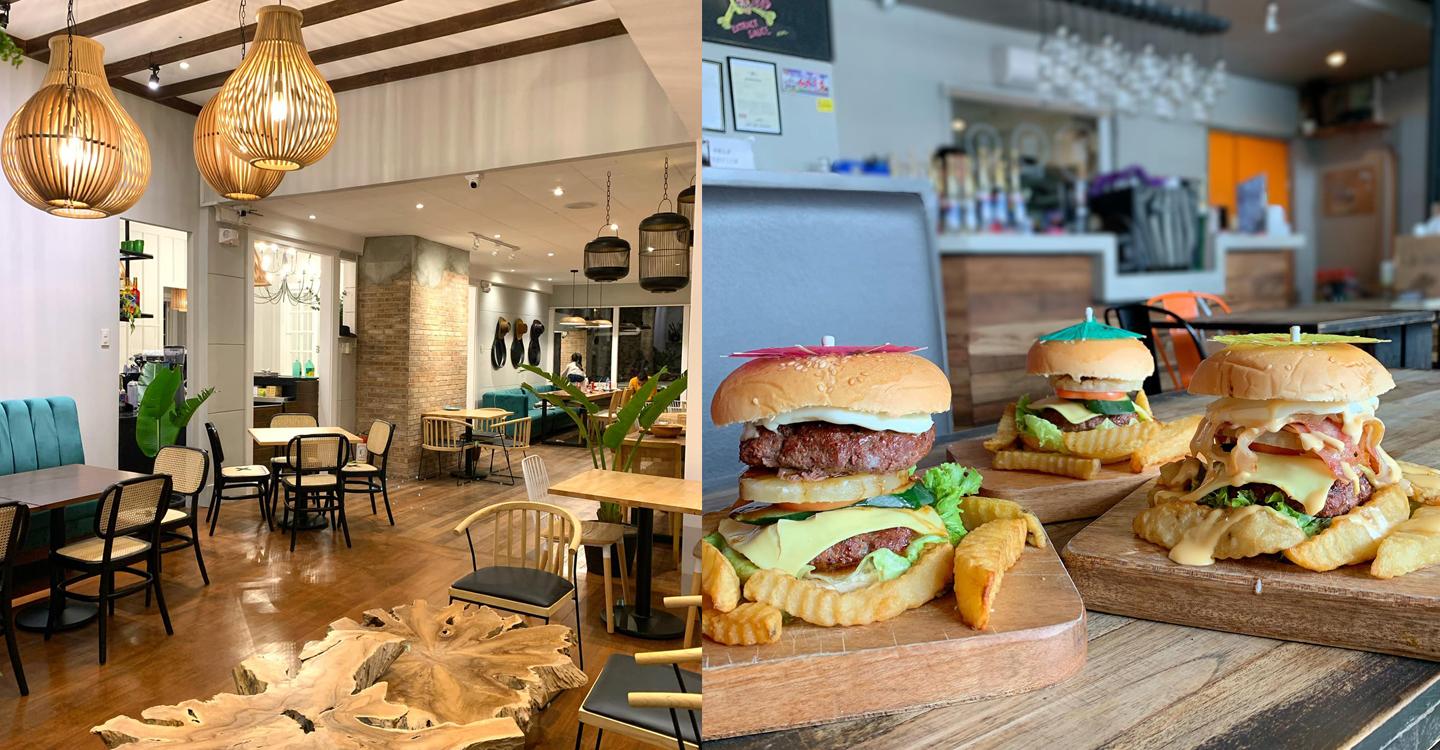 Images: Grumpy Joe Facebook page
From authentic Cordilleran cuisine, this list moves to favorite Western fares made special by Grumpy Joe's along Leonard Wood Road. With an unassuming ambiance, the make of the store isn't memorable, but their all-American menu more than makes up for that fact.
They serve burgers, pasta, pizzas, and wings, but the Grumpy Joe's Special Burger is what really brings the crowd around: a hulking patty drizzled with cheddar cheese skewered inside soft buns and served with a side of poutine fries. If you're bringing company, it's best to try their 5-Cheese Pizza, which combines cream cheese, edam, cheddar, mozzarella, and their special homemade cheese on pizza up to 16 inches wide. They also serve the unique sweet chili peanut butter chicken meal, pairing the spice of sweet chili with gritty peanut butter in one delectable dish.
For drinks, up the ante with a glass of Lava Mint or Inferno Mojito mixed lemonade, or order a glass of their peach mango or strawberry yogurt smoothie that is as good as a dessert too.
Location: 3F Leonard Wood Terraces, Leonard Wood Road, Baguio City, Benguet
Operating Hours: Open daily; 10:00 AM to 5:00 PM
Recommended Budget: Approximately PhP700 for two persons
Image: Generation Y Café Facebook Page
From the Sailor Moon façade to the
sari-sari
store (general merchandise) fixture,
Generation Y Café
speaks to every soul born during the 1990s. Everything reminiscent of that decade—Pac-Man,
Pugad Baboy
Komiks, Motorola phones, Family Computer games, and even Backstreet Boys and Bad Boyz references—is inside this nostalgic nook in Leonard Wood Terraces. There's no Wi-Fi in Generation Y Café, too, not only because it had yet to exist back then, but also so that diners will relish their time reminiscing the good old days. A
must-try Baguio restaurant
, indeed!
Even their food choices refer to '90s icons, like the 98 De-grilled Chicken, a chunky chicken sandwich, or The Boyz II-Na, a rich tuna sandwich, if the name is not subtle enough. They also have pasta dishes like their creamy carbonara aptly named Carb-Otso Otso-Nara, and their Spaghetti Pababa at Pataas, perfect for those who like spaghetti Bolognese just as they do the group Sex Bomb Girls. Finish off with a classic banana split dessert called Bananas in Pajamas à la Mode, because what else would they call it?
Location: G/F Travelite Hotel, Shuntug Street corner F. Bautista Drive, Baguio City, Benguet
Operating Hours: Open 24/7
Recommended Budget: Approximately PhP600 for two persons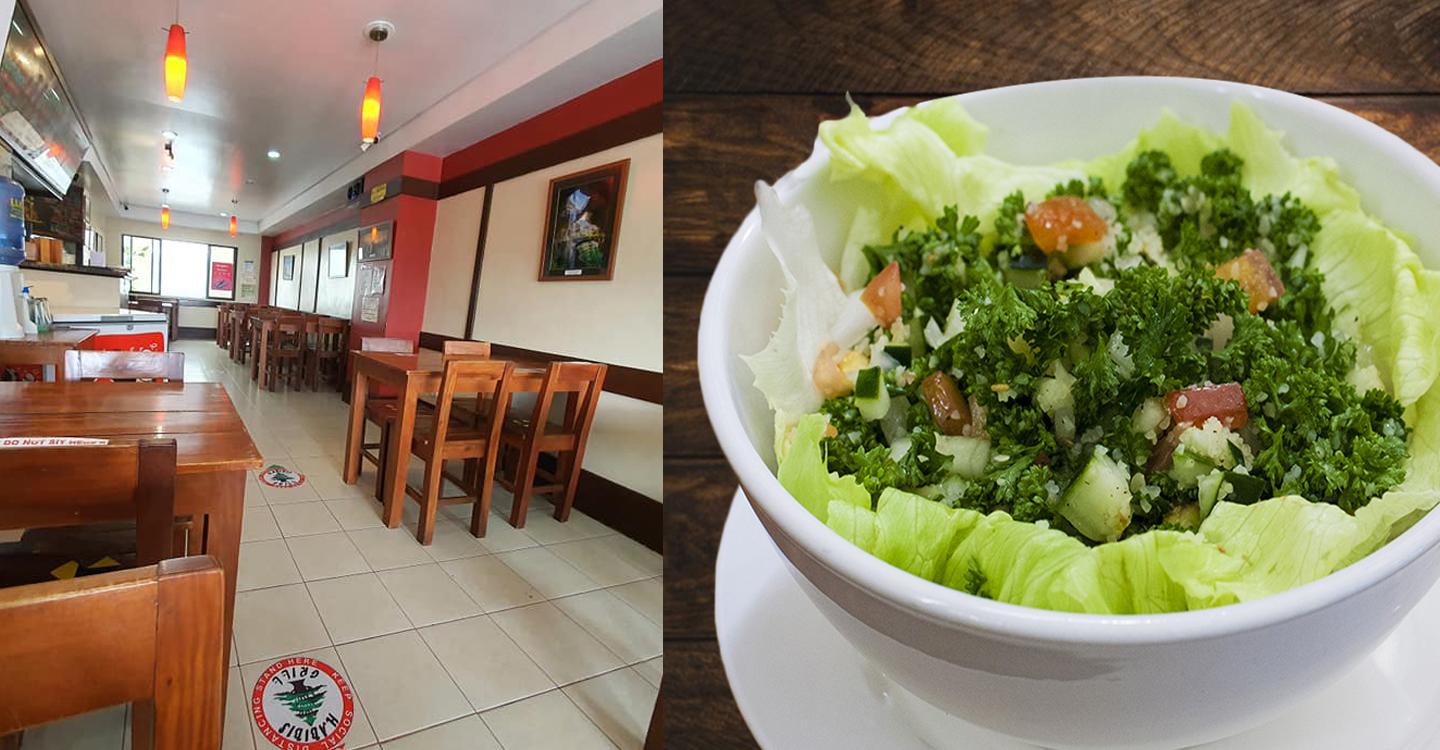 Images: Hannah Angela Manuel (L); Habibis Grill – Restaurant & Cafe (R) Facebook pages
Tucked below Travelite Hotel across the city's capitol, Habibis Grill serves authentic Lebanese and Middle Eastern food to all diners and, since they're open 24/7, at any time of the day too. They offer great fares for every course, starting with the tabbouleh salad, which tosses fresh parsley and diced onions, tomatoes, and cucumber together and drenches them in a medley of lemon juice and olive oil. This goes perfectly with a plate of hummus and falafel or deep-fried balls of ground garbanzos (chickpeas).
For your main course, try their Turkish lamb and beef barbecue and chicken al kabsah (mixed), served with long grain rice. With spices like coriander, turmeric, cumin, paprika, and rosemary, the meat not only oozes with juice but also explodes with flavor. Pairing these with a glass of rosé essence-based drinks like the rosé cooler, rosé milk, and rosé yogurt shakes make your meal all the more delicious. In Habibis Grill, meals don't just end with desserts; you can also have a puff of sheesha, a molasses-based oriental tobacco concoction to finish your meal on a high note.
Location: 26 Outlook Drive South, Baguio City, Benguet
Operating Hours: Monday to Thursday, 11:00 AM to 8:00 PM; Friday to Sunday, 11:00 AM to 9:00 PM
Recommended Budget: Approximately PhP800 for two persons
Images: Lemon and Olives Facebook page
Your food quest flies from the Middle East to the Mediterranean in Lemon and Olives Taverna, a Greek restaurant along Outlook Drive. This country-style resto cooks authentic Greek dishes and offers diners the chance to enjoy Mediterranean fares while overlooking Mines View Park's stunning views on a weekend afternoon. You can bet that these are all big fat Greek meals, so it's best to bring friends and families to share this lovely lunch with!
For starters, grab their poikilia, a platter of saganaki (pan-fried seasoned breadsticks), soutzouki (spicy Greek sausage), and pita bread, served with tzatziki sauce (spiced yogurt-based dip). You can't kick off your meal without a zesty bowl of Greek salad too. Then, dig right into their souvlaki plates or different types of meats—chicken, pork, beef, or lamb—on a bed of pita bread served with garlic, chili, or tzatziki sauce. They also have pasta dishes: their pastitsio and moussaka remain a crowd favorite, as each resembles the classic lasagna with their eggplant-based pasta stuffed and layered with ground meat and rich béchamel sauce.
Baguio's bursting culinary scene takes you everywhere in the world in a matter of minutes, which leaves the question: with all the must-try Baguio restaurants around, which cuisine/s will you be enjoying on your next trip?
Stay safe as you travel! Make sure to follow social distancing protocols and observe health precautions wherever you go. For now, keep safe!
This article was originally published in Yoorekka on February 21, 2020.
Check out this video: