Due to changing quarantine measures, the activities, destination/s, store/s, establishment/s featured in this article might be temporarily prohibited or closed under the latest government policies. LGUs might also implement health protocols and travel requirements. Please get in touch with the establishment/s before visiting. Stay safe!
Image: @d_chad
In general,
Baguio
and Benguet are tourist magnets for many reasons, but mainly because of the cool climate that lasts even during summer. These places are also home to key tourist spots and
summer destinations
that keep locals and guests coming back for more. And as if that's not enough, they also offer an endless list of delicacies, making them popular food crawl destinations. But although there are many places to visit, frequent tourists would agree that the best
places in Baguio
stand out for being iconic.
This summer, make up for the lost sunny days of previous years and grab the chance to visit the North once more! Now that restrictions have eased, attractions in Baguio and Benguet have opened their doors to anyone itching to revisit them. If you're one of those people, check out the
best places in Baguio
and Benguet to visit this summer!
1. Valley of Colors
Location: Baguio - La Trinidad - Bontoc Road, Pico, La Trinidad, Benguet
Image: @dani.elle0221
Also called "Stobosa",
the Valley of Colors
is a small barangay consisting of colorful houses that serve as a resettlement area in La Trinidad. The site also becomes famous in La Trinidad,
Benguet
. Residents and volunteers decided to color the houses to look more eye-catching. Once you reach the site, a hanging bridge allows you to take vibrant photos with the valley as your background. You can also go up a flight of stairs to get a better view of the place.
Location: Km. 6 Asin Road, Tadiangan, Tuba, Benguet
Operating Hours: Tuesdays to Sundays, 9:00 AM to 6:00 PM; closed on Mondays, Christmas Day, and New Year's Day
Rates:
General admission - PhP150
Students with valid Philippine school-issued ID - PhP120
Senior citizens/PWD with valid Philippine government-issued ID - PhP100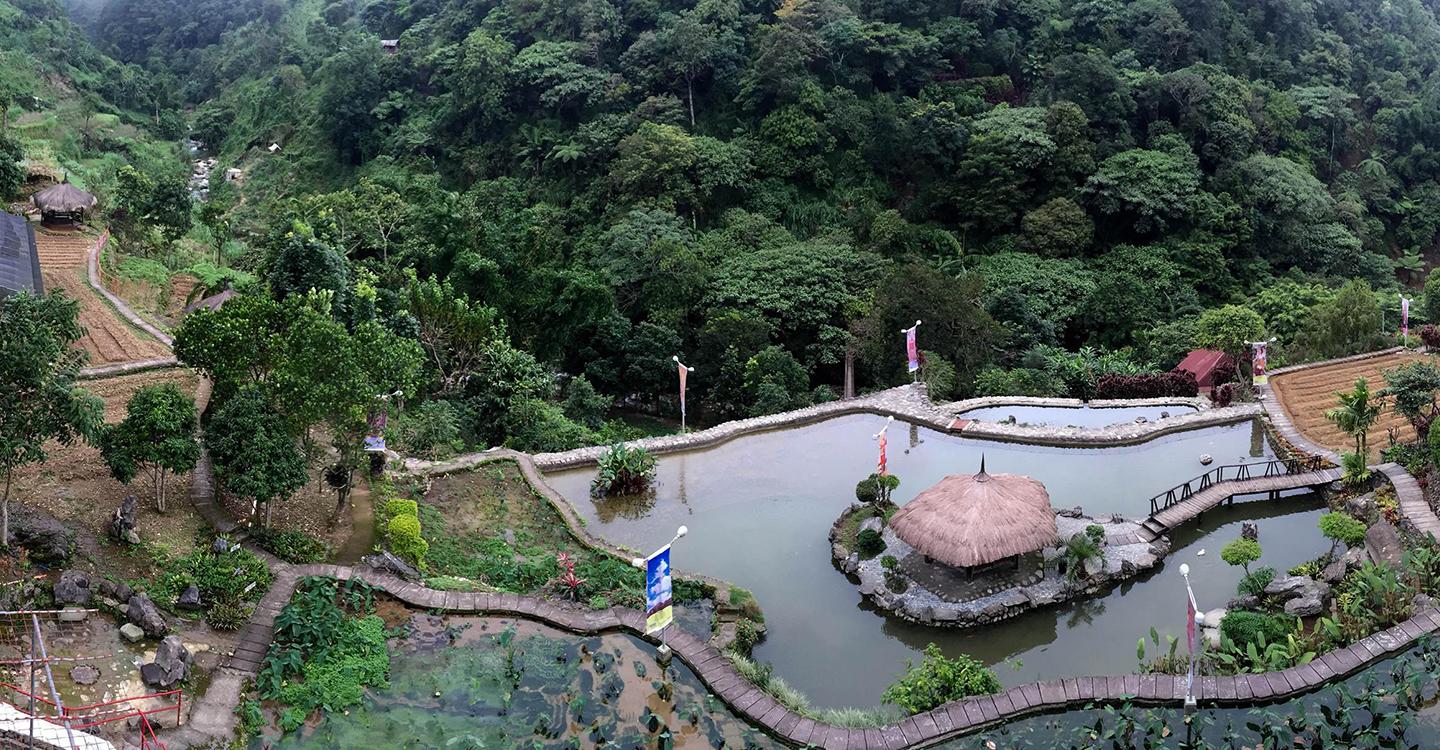 Image: BenCab Museum Facebook page
This summer, take the time to explore Baguio's rich Cordilleran heritage at the
BenCab Museum
. The BenCab Museum was erected in honor of Filipino national artist Benedicto Reyes Cabrera or BenCab. The museum strongly promotes Cordillera's culture and the preservation, protection, and conservation of the environment, making it a must-visit
Baguio tourist destination
. It houses his original artworks, some of which showcase the beauty and diversity of the Cordilleran culture. Along with paintings, also on exhibit are granary gods, lime containers, native implements, and various indigenous arts and crafts of the Cordillerans.
Location: Jose Abad Santos Drive, Baguio City
Operating Hours: 9:00 AM to 7:00 PM
Rates:
Swan boat - PhP60/hour
With rower - additional PhP25
Boat for groups - PhP100/hour (additional PhP25 for rower)
Image: @d_chad
One of the many ways to beat the summer heat is taking a relaxing boat ride at
Burnham Park
. The park is one of the
popular destinations
in Baguio for a tropical summer experience. Fun fact: while the country was under quarantine, it was reported that different flowers of colors and sizes blossomed all around the park, making it twice as beautiful as before! Besides boat riding, you can also try other activities at the place, such as jogging, biking, and having a picnic.
Location: Kennon Road, Baguio, Benguet
Rates: Available upon request
Image: @sweetyhannah02
The
Lion's Head
statue in Benguet is considered one of the most iconic landmarks located along Kennon Road. Lions Club of Baguio conceptualized the 40-feet tall figure, and it has been standing for a good 49 years. Although natural calamities and vandalism have damaged it over the years, the sculpture continues to stand thanks to renovation efforts. Up until today, the Lion's Head continues to be a legendary part of the city that draws both tourists and locals for an epic
summer destination
.
Location: 37 Leonard Wood Rd., 2602 Baguio City
Operating Hours: 6:00 AM to 6:00 PM
Fee: Free entrance fee; picture taking with Native Igorots - PhP20 per photo
Image: @metropinesinn
Get away from the hustle and bustle of Baguio City and enjoy a quiet time with Mother Nature at this
Baguio City tourist spot
—
Baguio Botanical Garden
. Also known as the Igorot Village, the park promotes the beautiful culture of native Igorots. Get to see them in their traditional clothes and take memorable snapshots with them for PhP20 per photo. The place is also filled with bronze stone statues that showcase the rituals of the Cordilleran tribes.
Location: #1 Villamor Drive,Brgy Lualhati, Albergo Hotel Unit-122A, Baguio City
Operating Hours: Daily, 11:00 AM to 9:00 PM
Rates: Meals start at PhP250
Image: Amare La Cucina Facebook page
Satisfy your stomach and fill your soul with comfort by dining in at Amare La Cucina! It serves a wide selection of wood-fired brick oven pizzas and kinds of pasta. Some must-tries include the Meaty 3 Cheese Pasta, Ultimate Cheesy Pasta, Foie Gras Pizza, and Gorgonzola Pizza. If you still have room for dessert, you can try Eddie's Sans Rival cake. The pizzeria is sure to take your taste buds on a gastronomic trip to Italy without having to leave the country.
YOU MAY LIKE:
Location: 17 Julian Felipe Street, Barangay Lualhati, Baguio City
Rates: Available upon request
Image: Ridgewood Hotel Facebook page
Ridgewood Hotel is a quaint hotel in Baguio that exudes a homey, rustic, and modern atmosphere. Its charming log interiors perfectly complement Baguio's crisp, relaxing ambiance. Guest rooms are equipped with basic amenities, including complimentary breakfast for two and a 24-hour hot and cold water supply; suites have kitchens and verandas; apartelles offer complimentary breakfasts for four and are suitable for large groups. The hotel also boasts delicious delicacies created by their very own employees. You can book a stay in the hotel's guest rooms, suites, and apartelles.
February 2022 Update: Ridgewood Hotel still hasn't officially reopened. Follow them on Facebook, https://www.facebook.com/ridgewoodhotel/, to be the first to know when they resume operations!
Keep in mind that there are a few guidelines and requirements that you must comply with before visiting Baguio and Benguet to ensure that the coronavirus is kept at bay. Remember to follow these protocols responsibly, and you'll have a memorable summer in no time!
This article was originally published in Yoorekka on March 01, 2021.
Check out this video: