September 4 to 10 is an exciting week in Iloilo, what with a festival, a new mall, a classic play, and a kids' fashion show.
HEALTH NEWS
DPWH embarks on clean water campaign
The Department of Public Works and Highways (DPWH) is set to push its Sewerage and Septage Management Program to ensure that water bodies are safe from land-based waste sources. According to the government agency, this is their answer to Republic Act 9275 of the Philippine Clean Water Act of 2004.
The program is just one of the many initiatives of the agency that caters to the integrated framework for quality management. Apart from responding to issues on the safety of water bodies, the program also seeks to address various national issues on sanitation and treatment as well as disposal of waste water.
The program will call the attention of institutions whose septic tanks do not conform to the prescribed standards of the Department of Health.
TRAFFIC NEWS
Road repairs continue to affect traffic
The traffic situation in Iloilo City is yet to normalize due to massive road constructions on major highways. The construction along Luna St., La Paz is still ongoing, while the volume of commuters continues to be heavy, causing more traffic congestion. Adding to the said volume are students, since the area is where most educational institutions are situated.
Delgado St. in the city proper is also under repair. The delay caused by heavy rains and flash floods affect the routines of most commuters.
Travelers who would want to go to La Paz, City Proper and Mandurriao districts must add some leeway into their travel time for them to reach their destinations on the dot.
MAJOR AND MACRO ENTERTAINMENT
Ilonggo ingenuity seen in entertainment shows
The creativity of the people of Miag-ao in designing gowns from hablon, a type of woven cloth native to Iloilo, will be showcased through a pageant. Children will wear the creations of local artists through the Search for Little Miss Hablon 2016 Pageant Night on September 8, 7:00 PM at the Justice Ramon B. Britanico Hall, Miag-ao, Iloilo.
Through this event, organizers aim to celebrate Ilonggo ingenuity as visitors witness the glamour, beauty, and elegance of the Little Miss Hablon candidates.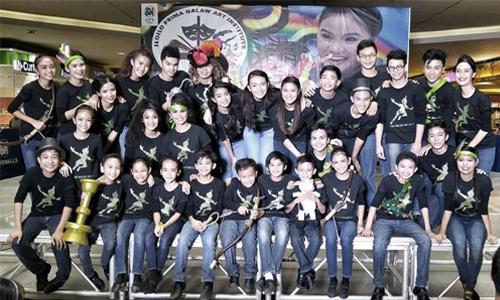 Major Iloilo theater group Iloilo Prima Galawis staging an adaptation of PJ Hogan's film Peter Pan at SM City Iloilo Cinema 6. From September 5 to 9, there will be four shows at 10:00 AM, 1:00 PM, 3:00 PM, and 7:00 PM
Local artists will take major and minor roles in the production. The show is run by Mr. Romie John Delariarte, a veteran theater director.
FESTIVAL
From August 21 to September 9, the Municipality of Cabatuan celebrates the Tinu-om Festival. Civic groups and government organizations will hold various activities for the celebration.
The Tinu-om Festival is celebrated alongside the town's Patronal Fiesta Celebration on September 10.
MAJOR MALL SALE & EVENTS
Robinsons Place Jaro is the newest mall in Iloilo that is set to open on September 8. Local celebrities Maja Salvador and Billy Crawford, and Miss Earth 2015 Angelia Ong will be gracing the grand mall opening. The mall is located at Eugenio Lopez Road, Jaro, Iloilo City.
WEATHER ADVISORY
Weather still not the best time for sightseeing
The average temperature for the week is 28C (82.4F), with clouds, showers, and thunderstorms expected to be seen. The public is advised to bring an umbrella and jacket in order to be safe and dry from the rain.
This week might not be the best time for tourists to go sightseeing. Instead, they can enjoy indoor activities in the city and the province. Tourists who want to cross Iloilo and Guimaras Island might want to avoid doing so on September 4, 9 and 10. September 5 or 7 are the safest days to travel by sea though stray thunderstorms may still occur.
Also read...