Stay safe as you travel! Make sure to follow social distancing protocols and observe health precautions wherever you go. Have a great trip!
The world-famous status of
Boracay
can be credited to its beautiful beaches with powdery white sands that don't get hot even on midday. However, another tourism thrust of the island is the wide variety of activities you can try whether in land, water, or air.
With options for both dry-season and
rainy-season activities in Boracay
, the island is a year-round destination. But since its main attraction is its beaches, summer is the best time to experience what the island has to offer. Below is a guide to activities that locals love to do when there's more sun in
Boracay
.
Cliff-jumping
Image: Ariel's Point
Those with an adventurous soul will surely enjoy the adrenaline rush when jumping off a cliff and plunging on crystal-clear waters. Though it's not for the faint-hearted, the experience is one thing you can add to your
travel bucket list
.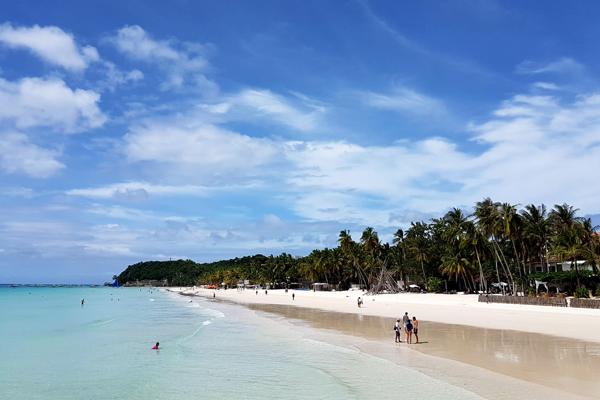 YOU MAY LIKE:
Where to book:
Ariel's Point
in the nearby town of Buruanga is one favorite spot for this activity. A day tour includes a buffet lunch with unlimited drinks. Guests can also do snorkeling, kayaking, and paddle boarding there. The tour costs PhP3,000 per person.
ATV rides
Image: Boracay Adventures
Driving an all-terrain vehicle (ATV) is another favorite inland activity that can be done with or without the sun. To cater to even non-professional drivers, ATVs usually have automatic transmission. Before each ride, guests have to undergo a practice drive on how to operate the vehicle safely.
Where to book:
ATVs can be rented for a tour at the
Mt. Luho
area or at
Ilig-Iligan Beach
. ATV rental fees usually cost PhP1,000 per hour. Among those who offer ATVs for rent is
Boracay Adventures Inc
.
Parasailing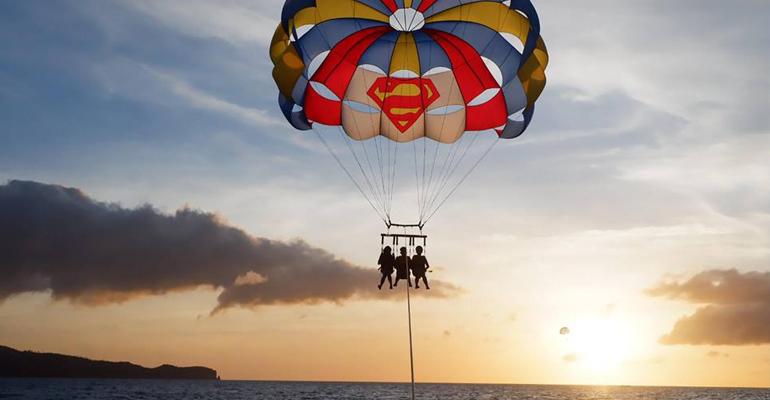 Image: Franko Josh Chicogo
If you want to take your adventure to the skies, you can try out parasailing. Parasailing is usually done by two or three people to keep the balance while the guests are on the air. A session usually lasts for 30 minutes. From White Beach, guests are taken to the middle of the Boracay seas via a speedboat. They are then suspended on air for about 15 minutes. Guests will be treated to a bird's eye view of the island.
Where to book: Parasailing usually costs PhP1,000 to PhP1,500 per person. You can book a session at Prince Boracay Adventures. You can find their booth either in Station 1 or 3.
Scuba diving
Image: New Wave Divers
With its rich marine resources, underwater activities are also famous in Boracay. Even non-swimmers can try it by using a self-contained underwater breathing apparatus or scuba. Scuba diving is an option for non-professional divers who want to see the underwater world of Boracay. Guests are usually taken to different diving spots on the island.
Where to book: Scuba diving is one of the courses offered by New Wave Divers. Rates start at PhP3,000 for their 'Discover Scuba Diving' course. New Wave Divers is located at the beachfront in Station 1. Note that it is not advisable for persons with medical conditions to go scuba diving.
Island hopping
Image: BPHT Booking Services
To make the most out of your stay, you can book an island-hopping activity which will give you a glimpse of the whole island and its neighboring islets. The tour lasts for about six to eight hours and usually starts at 9:00 AM. Most island-hopping tours start at Station 3 in White Beach, with the boat going around Boracay. During the activity, there will be a number of stopovers for you to snorkel, swim, or do cliff jumping.
Where to book: You can join jam-packed tours offered by Boracay Adventures for PhP3,800. You can also opt to arrange a private island-hopping tour online.
Go to
Yoorekka
to discover more things to do in Boracay.
With activities like these in Boracay, you'll never run out of things to do to beat the summer heat.
This article was originally published in Yoorekka on March 08, 2018.