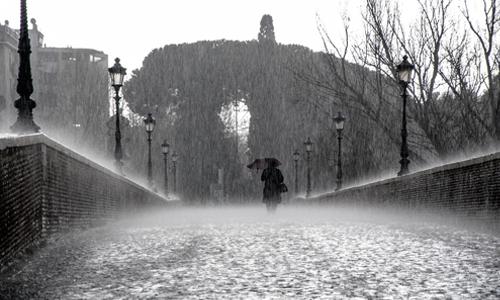 Weeks and weeks of scorching summer heat have made us all wish for much cooler weather. Now, as if on cue, the weather bureau just announced that sunny days are over and the rainy season has officially started. Finally! Here come the fluffy rain clouds for the mighty sun to rest its burning head, to temper the warmth we feel on the ground. However, the rain, still, has its own way of somewhat dampening our spirits. Gloomy afternoons and wet pavements don't go so well with outdoor activities, out-of-town adventures, or even simply going out for the malls. But hey, don't let the wet season rain on your parade. We've got some tips to help keep traveling fun and hassle-free for you.
Check the forecast. The weather cannot be perfectly predicted, but it is still helpful to check the forecast for the particular day or week when you are planning to go to the mall or out of town. There are websites that provide a lot of weather-related information. For instance, AccuWeather.com offers hourly forecasts for a particular city, province, or country. It will tell you if there's a chance of rain, with a report on the highest and lowest temperature that you can expect. By checking the forecast, you can better prepare for your activities.
Choose your destination wisely. One main concern when it's raining is the flood. Before heading out to your destination, make sure that the place is safe to visit even on a rainy day. When shopping within Metro Manila, check the status of roads and avoid the areas that are prone to flooding. You also need to have alternative routes in mind in case an unpaved road is not passable when the rain pours. Traffic apps such as Waze can also give you some valuable information regarding road closures and flooded areas.
Always bring your rain gear. From June to October, the chance of rain is generally high, so never leave the house without an umbrella or jacket during these months. If you are planning to go to a mountainous area, make sure to bring a raincoat and wear thick clothing to keep you warm if the temperature gets really low.
The rainy season also calls for boots and rubber slippers! Whether you're planning to go out to buy some stuff or go on a trip, keep your feet dry by wearing sturdy boots or waterproof footwear.
Bring medicine. Bringing personal medicine when traveling is really important, and even more so during the rainy season. Load up on medicine that can protect you from cold weather-related illnesses such as dengue, flu, cough, and viral infections.
Stay healthy. Whatever the season, it is imperative to stay fit and healthy. During the rainy months, being in tip-top shape means you'll have the energy that you need for your shopping and travel activities. (Because yes, braving the storm for that end-of-season sale or impromptu barkada getaway requires a lot of resolve and energy.) If you are physically fit, you do not have to worry about catching a cough or cold, simple things that can really affect any trip. Prepare yourself by eating more fruits and vegetables, and exercising weeks or months before traveling.
Bring extra money. Traveling during the rainy season can bring some inconvenience in the form of delayed flights. For this reason, it pays to have extra cash for emergency expenses, such as an overnight stay in a hotel while you wait for the next available plane.
Opt for a direct flight. Choosing a direct flight can put a dent on your wallet, but there is a reduced chance of delay when you do. A transit flight may be less expensive when you book your flight, but staying at the airport for a long time while waiting for your connecting flight that's been delayed due to bad weather will cost you additional money. Add to this the time spent on waiting for several hours—time that could have been spent on other important activities.
The rainy season normally spells gloomy days, but you can still enjoy doing your outdoor activities on a rainy day. Just plan ahead and don't let the rain stop you from having fun!