Everyone loves a good shopping escapade. With the awesome finds to purchase, the meaningful memories to make, and the surge of dopamine to experience, shopping—whether for clothes, food, or any of the like—is a venture that is generally universally liked.
What anyone does not like, however, are the long lines to endure during the excursion. Add that to the crowds of people to encounter. Having to navigate yourself through a sea of faces while still maintaining some personal space doesn't sound so appealing, does it?
Thankfully, there is a solution to these valid concerns:
night markets
. The metro has a long list of them, and while it is never guaranteed that there won't be a crowd to face, at least there is a good possibility that there'll be less people in the area than during the day. Add to the fact that these
markets
will give you something to do if ever you're out and about after the sun has gone down,
shopping
at a
night market in Metro Manila
not only sounds appealing but also exciting. Read on to know where you can head to when the day's end draws near!
1. Mercato Centrale
Locations:
Bonifacio Global City 25th Street corner 7th Avenue, Taguig City
Dolphin Park at Glorietta 4 Courtyard Drive, Makati
Eastwood City Orchard Drive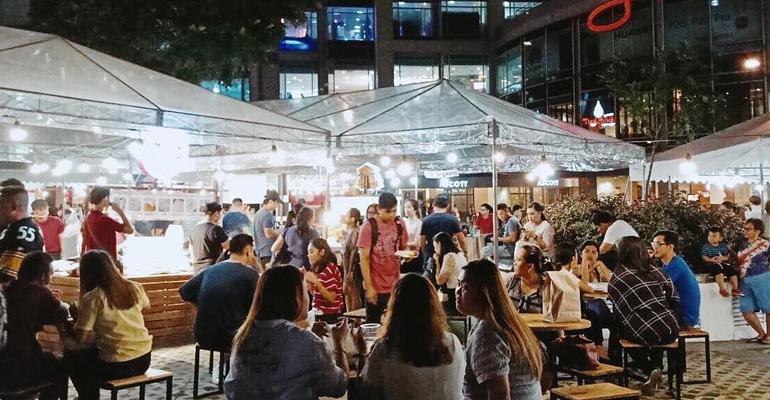 Image: @mercatocentrale
A good food trip is always one for the books.
Mercato Centrale
, which was established in 2010, is commonly open on the weekend until up to three in the morning (although operations may vary depending on the branch). Self-proclaimed as the metro's premiere night food market, Mercato supports home-based food vendors who are hoping to expand their businesses while also providing their patrons a gastronomical experience they won't soon forget.
2. Seaside Dampa
Locations: Lot 5, Diosdado Macapagal Boulevard, Pasay City
Images: @ddm_eyebrow and @iyel_cascalla
Another night market to score food—but this time, specifically seafood—is Seaside Dampa. Not only is there a bounty of fresh, delicious seafood up for grabs, customers can also have their purchases cooked for them for a small fee by restaurants nearby. Some of the available seafood include crustaceans, oysters, different fishes, and even scallops. The restaurants surrounding the market are usually open every day of the week until midnight.
5. Baclaran Market
Locations: Roxas Boulevard, Baclaran, Parañaque City
Images: @axelmod and @jeffreygalino
For a 24/7 shopping experience,
Baclaran Market
is the place to be. Here, you can find cheap goods such as clothing, shoes, home decors, and electronics. Haggling is even possible in some of the stalls. However, it is important to be very alert while shopping here, as the place could be rampant with pickpockets. The market is also at its most crowded during the weekends, especially during mass hours as the Baclaran Church is right next to it.
Whether it's for recreational purposes or an important purchase, night markets are a godsend when it comes to convenience, availability, and ease of access. They also make great destinations if ever it's already time for bed but a spontaneous trip just has to be made.
Which night market are you excited to visit for yourself? We'd love to hear about it in the comments below!