Aside from its
beautiful beaches
and amazing tourist attractions, Subic has remained one of the most wanted destinations in the country because of its rich culinary setting. If you're a regular in Subic, you may have grown fond of some of the local restaurants that have stuck around through the years. But if you've been accustomed to them and only them, then you might be missing out on the newer and fresher choices around town.
That's why ShoppersGuide compiled some of the restaurants that recently opened in Subic. They range from native choices to international cuisines; just make sure you're on an empty stomach when you visit the best restaurants in Subic!
1. Spencer's Gastropub
Address: Dewey Ave., Olongapo City, Philippines
Image: Spencer's Gastro Pub
Spencer's Gastropub
is located inside
Best Western Plus Hotel
, which is just a few minutes away from some of the major tourist areas in Subic. The restaurant's menu jumps from American, to Continental, to French, and of course, to Filipino cuisines as well. Some of the restaurant's must try are the assorted
sashimi
, pizza, house salad, pulled pork
quesadilla
, stuffed potato skins, triple cheese burger, beef tips, and poached salmon, just to name a few. For dessert, have a bite of their brownie
ala mode
or their Philly-style cheesecake.
Since it is located inside the hotel, you can also order food off their menu right at the comfort of your own suite. But, if you prefer to have the full experience of dining in, then get ready to be welcomed by the place's vibrant and cozy ambiance.
2. Grill N Sea
Address: 83 National Highway, Barrio Barretto Olongapo City, Philippines
Image: Subic Grand Seas Resort
Grill N Sea is one of the three in-house restaurants inside Subic Grand Seas Resort. When the year started, the outdoor restaurant opened its doors to diners. Since then, they've been enjoying the warm sea breeze of the resort every time they drop by to dine. Every Fridays to Sundays, Grill N Sea also features a variety of barbecue and grilled dishes. It also has other alluring appetizers that you can order for whole groups, so don't hold back!
3. Mr. Taste Halal Food & Restaurant
Address: Building 1143, Rizal Highway cor. Argonaut Highway, Subic Bay Freeport Zone
Image: Mr. Taste Halal Food & Restaurant
At first glance, Mr. Taste Halal Food & Restaurant seems to only cater to Muslims because of its name and the halal foods it offers. The place sets itself apart by offering halal foods, which means its food is lawful or permitted to be consumed by Muslims since it follows the dietary standard as prescribed by the Qur'an. Once inside, you'll realize that their food is perfect for practically anyone. The restaurant caters to all especially to those who are up for the exotic. Some of their must-tries are the beef masala (spice), chicken tandoori (a cylindrical clay oven), and sweet lassi (yogurt-based drink).
4. Crab and Belly
Address: Lincoln St, Subic Bay Freeport Zone, Zambales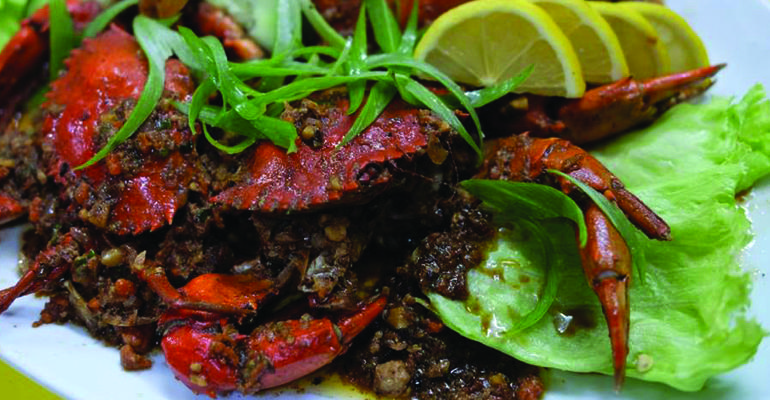 Image: Crab and Belly
Literally loyal to their name, Crab and Belly offers mostly variations of crabs and bellies in their menu. Get ready to savor some of their specialties such as the steamed crab, adobo crab (crab cooked in vinegar, soy sauce and garlic), and chili garlic crab. You can pair them with their sinigang na bangus belly (sour based milkfish belly soup), sinigang na pork belly (sour based pork soup), and grilled pork belly.
Aside from these, they also have breakfast specials and a wide range of group snacks to enjoy in bulk and various drinks and seasonal fruit shakes. To top off your dining experience, there are acoustic performances during weekends as well as open mic performances, where diners can sing along and perform onstage with the house artists. Now that's a dinner party!
Read: Six Bars and Cafes with Live Music: Your New Hangouts in the Metro
5. 1925 Gastro Pub
Address: Sampson Road corner Dewey Avenue, Subic Bay Freeport Zone Olongapo City, Philippines
Image: 1925 Gastropub
1925 Gastropub
is a modern Filipino restaurant that offers some of
our beloved Filipino dishes
fused with some of the finest culinary styles around the world. The restaurant's name signifies the year that a brotherhood of young men sharing the same passion of going outdoors, hanging out, drinking together, and enjoying good food, was established.
Some of its in-house specials that you can try are the balut ala pobre (duck egg and embryo), laing (coconut milk based dish with dried taro leaves) roll, longganisa aglio pasta (sausage or chorizo garlic pasta), malunggay (horse radish leaves) pesto, and sisig (chopped pork seasoned with calamansi, onions and chili peppers) tacos. It also has a wide selection of wines, spirits, and cocktails to further enhance the flavors of your meal. When inside, you'll behold a mix of rustic and modern interior design with cool ambient lighting that provides a relaxing atmosphere to all diners.
6. Teppan 101
Address: Bldg 1131 Palm St. Subic, Zambales
Image: Teppan 101
Another prominent hotel in Subic,
Le Charm Suites Hotel
, opened an in-house restaurant on its ground floor recently,
Teppan 101
, which mostly serves Asian fusion-inspired dishes. Here, the food is cooked the
teppanyaki
way.
"Teppanyaki"
is derived from the word
"teppan,"
which means "iron plate" in Nihongo, and
"yako,"
which means "grilled." The highly-trained chefs prepare and cook meals in front of guests with the best of ease, and the freshest of ingredients. Some of the bestsellers from its menu are the Thai chicken with cashew nuts, shrimps with asparagus, and seafood
kare-kare
(oxtail stew in peanut sauce).
7. Mi Tapas Restaurant
Address: Bldg 1131 Palm St. Subic, Zambales
Image: Le Charme Suites
Also in Le Charme Suites Hotel is Mi Tapas Restaurant, located on the third level. This restaurant features brunch (breakfast and lunch) specials with a vast array of food viands all lined up in a buffet setup. Included in the buffet spread are freshly baked breads, cereals, salads, fresh fruits, and other breakfast staples. There is also an egg and omelet station, where they cook your egg the way you want it while you wait. Guests are also treated to an unlimited refill of different fruit juices and freshly brewed coffee. Now that's how you greet the morning!
Before leaving Subic on your trip to the beach or your visit to the different tourist spots, why not head to these restaurants for a sumptuous meal first? It's one thing to visit the places you've grown to love, and it's another to surprise yourself with new places for new memories. So what are you waiting for? Dig in!
Let us know which of these new best restaurants in Subic you're heading to next by dropping a comment below!