Stay safe as you travel! Make sure to follow social distancing protocols and observe health precautions wherever you go. Have a great trip!
No one is old enough to not get excited to go to
theme parks
. It has everything for the brave and the bold: various rides and games, leisurely activities, adrenaline-pumping activities, energetic live shows, and terrific food kiosks. Whatever these
amusement parks
may look like, visitors from all over always have something to do and enjoy in them.
One thing common among parks is that they are big, which makes
Pampanga
's vast provincial space the perfect venue for them. The province not only has
plenty of restaurants
but also plenty of attractions for different types of people, and below we list the best
Pampanga
theme parks that can cater to all ages. Regardless of what you feel like doing, there's absolutely no reason to stop yourself from having fun!
Check out this video:
Image: Sky Ranch
Sky Ranch
is located inside the
SM City Pampanga
mall complex. It has 22 different rides, such as the Loop Roller Coaster, Super Viking, Wonder Flight, Music Express, and the main attraction, Pampanga Eye.
The Pampanga Eye is said to be the tallest and biggest Ferris wheel in the country at 65 meters tall and 50 meters in diameter. It has 32 air-conditioned gondolas that can carry four people inside. The whole Ferris wheel ride runs around nine to ten minutes, and will give you a very good view of the City of San Fernando and nearby towns. There are also different carnival game booths present in the park. Entrance to the park is free; price range for rides is from PhP50 to PhP150.
Image: Clark Dinosaur Island
Our country has its own version of Jurassic Park in the form of the Dinosaurs Island located in Clark, Pampanga. Unlike in the movies, the dinosaurs here won't chase or eat you alive, but you'll get to see how big dinosaurs like the Tyrannosaurus Rex and Triceratops are, since they were made based on their actual fossil sizes. To make it more realistic, you'll see their mouth and legs move around as well as hear loud roars and growling sounds.
Also found in the theme park is a small museum of dinosaur fossil replicas and images that depict the history of the extinction of the dinosaurs. The entrance fee to the park costs PhP350 for adults and PhP300 for kids.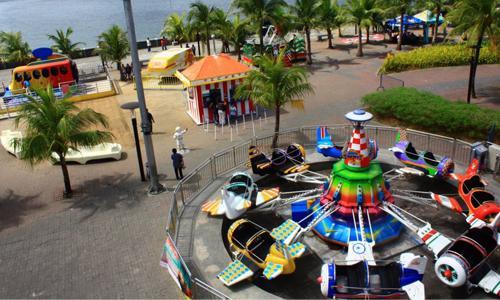 YOU MAY LIKE:
Image: Aqua Planet
Aqua Planet in Clark, Pampanga is said to be the largest water-themed park in Southeast Asia with over 38 water slides and attractions. Since it has eight shops and restaurants that sell souvenir items and offer food and drinks for park-goers, no outside food and drinks are allowed inside.
Some of the best water attractions in the theme park are the spiral ride, super bowl, flowrider, tornado, octopus racer, mermaid bay, lazy river, and boogie bay. The park only accepts guests on a walk-in basis and can only accommodate up to 3,500 guests.
As of February 2021, Aqua Planet is closed due to the pandemic. Please visit their social media pages for the latest updates.
Image: Nayong Pilipino Clark
Paradise Ranch brings you closer to nature. Located at the hills of Clark Sacobia Valley, Paradise Ranch is a nature and conservation park with a nice view of Clark Freeport Zone, Mt. Arayat, and Mt. Pinatubo. It has various attractions that feature an assortment of species of plants and animals, and an in-house swimming pool. Aside from a number of accommodation options, it also offers packages for group tours, field trips, company outings, retreats, team buildings, and different kinds of parties and celebrations.
Image: Nayong Pilipino Clark
Nayong Pilipino is now in Clark, Pampanga and still maintains its stature of being a miniature but magnificent version of the tourist spots in the country, as well as the representation of the diverse culture of the Philippines. It is divided into geographical sections such as Cordillera, Ilocos, Tagalog, Visayas, Mindanao, and many others, with each section represented by the popular landmarks in that place.
Also featured in Nayong Pilipino are replicas of the residences of some of the country's famous heroes and political figures. At an entrance fee of PhP150 for adults, PhP120 for senior citizens, and PhP100 for children, you'll be able to have a quick glimpse of the whole Philippines in one majestic venue.
Image: Fontana Leisure Parks
Fontana Leisure Parks and Casino offers recreational facilities for all ages. For the water lovers out there, it has a water park with giant slides, wave pool, lazy river, and water playgrounds perfect for families to enjoy in. If you just want to relax and have a refreshing dip in the pool, they also have hot spring swimming pools. Outdoor and indoor sports facilities and a playground are also available here, where you can play your favorite sports like basketball, volleyball, badminton, billiards, darts, and table tennis.
For adults, Fontana has its own casino within the leisure complex. A day may not be enough to experience all the activities it offers, that's why Fontana also has accommodation options for an overnight stay, even longer.
Image: El Kabayo Horseback Riding
Featuring a replica of an old western town and horseback riding, you'll get to experience being a cowboy for a day here at
El Kabayo
. If you're a beginner in riding a horse, you can rent it with a guide who will give you basic training in horseback-riding and will give you a ride around the area. The park also has its own restaurant that offers Western meals like barbeques, steaks, and ribs, complete with an old Western ambiance.
Image by Writer
For thrill-seekers from far and wide, SandBox can be your ideal choice of amusement park. It is an outdoor attraction of Alviera in Porac that features fun and thrilling rides and challenging obstacle courses. You can avail of packages or individual attractions like the roller coaster zipline, giant swings, ATV rides, wall climbing and rappelling courses, free fall, high rope adventure courses, and archery ranges. It also has an open field where occasional concerts, events, workshops, and health and wellness programs are held.
Entrance fee is PhP100, while individual rates per attraction cost anywhere from PhP100 to PhP300. Price starts at PhP450 for package rates.
You don't need to find the perfect time to visit Pampanga. It's always open and welcome for visitors who are looking for cheap but exciting ways to have an adrenaline-filled weekend, or just a laid-back day to rest and unwind. So what are you waiting for? Tick these amusement parks off your checklist!
This article was originally published in Yoorekka on April 19, 2018.