Going to Negros Occidental, but missing "Visit 'The Ruins'" in your to-do list for lack of time? Read here how you can spend only an hour to enjoy The Ruins, known as the Taj Mahal of Negros, and even included in a list of the 12 most fascinating ruins in the world, and realize why it's a visit you shouldn't miss.
Learn why it is called the "Taj Mahal of Negros" (10 minutes)
Learning about the history of a place by reading is one thing. Learning through exploring the place itself is another.
In 2010, I had the privilege of revisiting The Ruins during my senior's trip (now you can do the math with my age!). As a Negrense who lives just a city away from Talisay City, where The Ruins is located, it is easy for me to get there and enjoy the view, but touring a place led by witty tour guides is always a welcome treat. The experience is always made special because of the useful and note-worthy information they share in the most entertaining way possible.
In that tour, we were guided by Roger, a tour guide known for his wit and effective use of puns, who is now an endorser of a pasalubong shop giant in the island.
From that tour, I learned how The Ruins was built. Tour guide Roger recounted the story of Don Mariano Ledesma Lacson, a Spanish sugar baron from Molo, Iloilo who met a Portuguese woman, Doña Maria Braga from Hong Kong. They had 10 children and were supposed to have 11 but Doña Maria unfortunately slipped in the bathroom during the full term of her eleventh pregnancy, which led to her and the unborn child's death.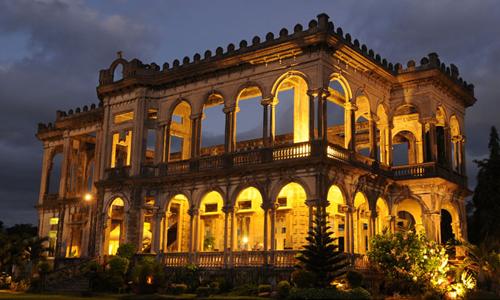 built the mansion for Doña Maria, thus it is called the Taj Mahal of Negros, an immense mausoleum of white marble, built in the 1600s by order of emperor Shah Jahan in memory of his favorite wife.
Enjoy listening to the pun (fun) guide. (10 minutes)
Recently, I took another trip to The Ruins with my friends. It was most of my companions' first time to visit The Ruins while it was my nth time but I joined the tour again anyway. Entrance fee for those with Student ID is at PhP40*/ $ .89** while the regular fee is PhP95/ $ 2.11.** while the regular fee is Php 95/ $ 2.11. This time, our tour guide was James, who was as humorous as Roger.
James said that the mansion was purposely burnt down during the Japanese occupation in 1942 (World War II) so that the Japanese forces won't be able to use the said mansion as their headquarters. It took three consecutive days to burn the mansion's roof and floors, enough to dissuade the Japanese from occupying it.
The ruined mansion was abandoned for more than six decades until it was put into restoration by the Javellanas headed by Raymund, grandson of Mercedes Lacson-Javellana, third offspring of Don Mariano and Doña Maria.
James proceeded to express some gratitude to destiny for burning down the mansion, because if it wasn't burnt down, he will never get the job as a guide—a statement which he, of course, said in a deadpan humor like one of the humor treatments in the 1959 film Some Like It Hot.
Towards the end of the tour, James pointed to a four-tiered fountain and mentioned that it is the original fountain as old as the mansion.
A few months ago, entering the belvedere (a part of a building where people can look out upon pleasing sceneries) was still allowed, so my friends and I were able to proceed upstairs. As of December 2015; however, visitors have been forbidden to enter the area. It is only understandable as the friendly staff members and guides of The Ruins are only looking after their guests's safety.
Grab a grub (20 minutes)
Just a few steps away from The Ruins is the Zone 15 Bistro which serves mostly Filipino dishes. Their breakfast offerings, Negros Chorizo – Recado, Chicken and Pork Adobo, Boneless Bangus Lamayo (semi-sun dried Milkfish), and Corned Beef, served with egg, rice, and brewed coffee or juice start at Php 225 ($5). Zone 15 Bistro's specials include Pork Estofado (PhP 245/ $ 5.44), Beef Kare-Kare (PhP 275/ $6.11), Chicken Binakol (PhP 265/ $5.89), and K-B-L (PhP 255/ $ 5.67).
Zone 15 Bistro's specials include Pork Estofado (Php 245/ $ 5.44), Beef Kare-Kare (Php 275/ $6.11), Chicken Binakol (Php 265/ $5.89), and K-B-L (Php 255/ $ 5.67).
The bistro is ventilated enough to cool you down from the heat when touring the rest of The Ruins.
Take those Instagram-worthy pictures. (10 minutes)
The Ruins appeared in several motion pictures, including two movies directed by Negrense director Peque Gallaga. Some scenes from ABS-CBN's 2014 TV Series Ikaw Lamang starring Coco Martin and Kim Chiu were also shot there.
Truth be told, you don't have to be a celebrity to have your photographs and videos taken in this picturesque structure.
Taking pictures around this place takes about 10 minutes, especially if you are not the type who takes too long to document important moments… and selfies.
Take something with you. (10 minutes)
Of course you can't take the entire Ruins with you, but you can take a piece of it through their souvenir shop. They sell customized t-shirts from PhP250 toPhP350 ($5.56 to $7.78), tote bags from PhP200 to PhP320 ($4.44 to $7.11), and mugs for PhP200 ($4.44). Religious articles and locally-produced accessories are also available.
So far, the most expensive souvenir I have discovered is a necklace with Quartz pendant, which costs PhP 5,000 ($ 11.11).
More Tips!
If you are the kind of person who panics like a toddler lost in the mall when you realize you have taken forever to post a new photo of you in your social media accounts, and you happen to be in Negros Occidental, The Ruins, will save your day.
Remember to feel the columns as among the materials used for it include egg whites for a smooth, marble-like finish.
And that's how you can explore The Ruins in an hour.
How to get there: There are regular flights to Bacolod City daily. From the airport, take a 20-minute taxi ride to The Ruins. From Northbound Terminal, you can ride a taxi which typically costs PhP150 ($3.33) while one-way fare per person for tricycle costs PhP 15 toPhP50/$.33to $1.11.
---
*Prices mentioned are subject to change without prior notice.
**($1 = PhP5)