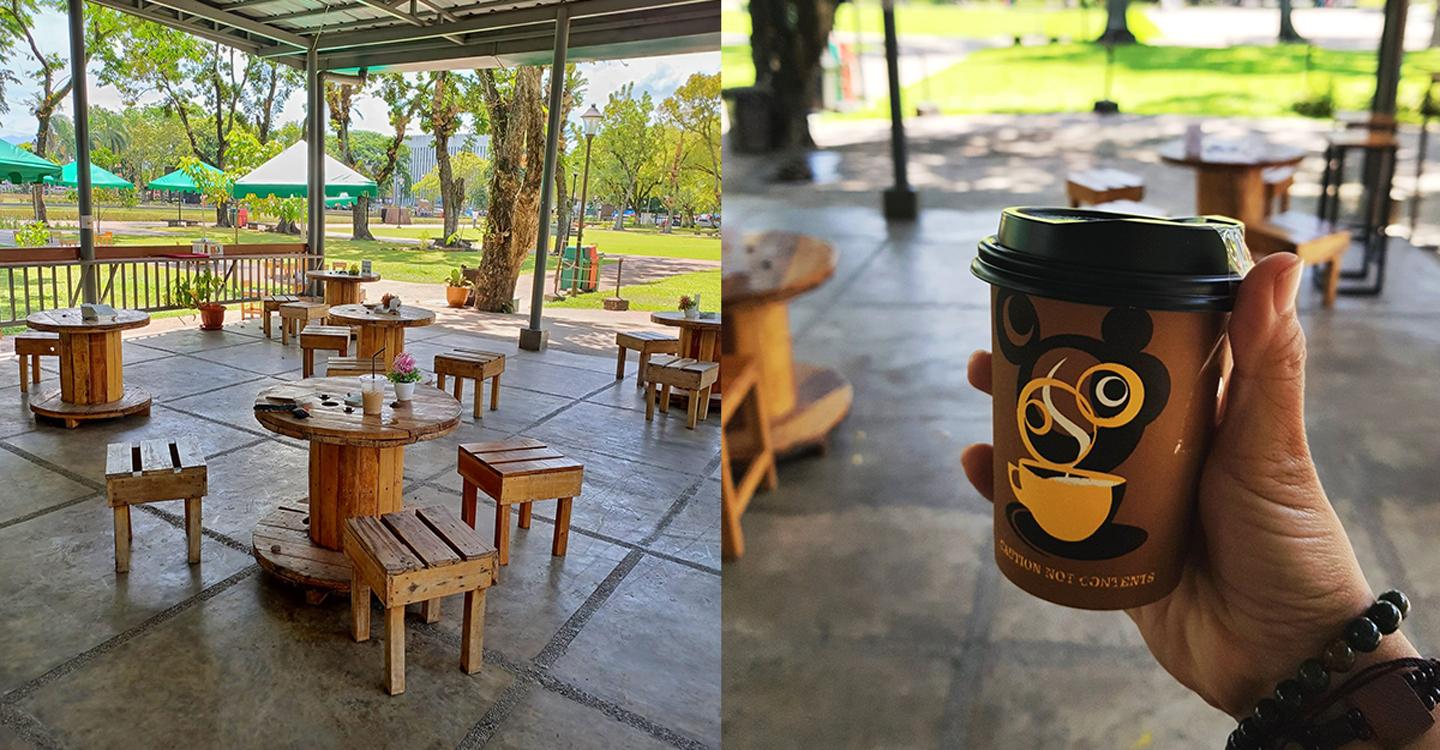 Image: Cafetolyo (L); Jon's Gallery (R) Facebook pages
The satisfying aroma and taste of coffee are what you are always looking for every time you go to work, hang out with friends, or study out. Coffee is undeniably everyone's favorite drink, a beverage fit for whatever your mood is. Having your coffee iced, hot, or freshly brewed is always better, especially when paired with a chill, outdoor ambiance. Meanwhile, in the City of Smiles, the iconic Capitol Park and Lagoon has reopened a chill
coffee shop
for hanging out any day, plus the affordable drinks and relaxing outdoor atmosphere—the
Cafetolyo
!
Cafetolyo, reopening and brewing again at Capitol Park, Bacolod.
Image: Cafetolyo Facebook page
Cafétolyo is gladly back after a one-year hiatus, ever since the aftermath of the pandemic. If you missed the relaxing
outdoor
ambiance of the Capitol Park and Lagoon, you would surely be delighted to revisit and revive the tranquil yet enjoyable nature of Capitol Park, especially now that it has an in-house, outdoor coffee shop!
Cafétolyo initially launched last 2021 but was later closed following the closure of Capitol Park. At present, living under the new normal paved the way for the
coffee shop
and the nostalgic Capitol Park to reopen its gates and welcome Bacolodnons to sit back and relax and have a cup of coffee on a chill afternoon.
Cafétolyo is wittingly derived from the word 'capitol', since the outdoor coffee shop is located just in front of the Negros Provincial Capitol. The outdoor coffee shop also has baked goods to pair up with your favorite coffee blend.
The cityscape view at the heart of Bacolod City and the lush, outdoor ambiance of the Capitol Park and Lagoon is refreshing, making every cup of coffee enjoyable and relaxing. The coffee shop is ideal if you want to hang out with your peers and colleagues after work, chat with a few pals, or simply have a hot cup of coffee after a morning jog.
Images: Cafetolyo Facebook Page
Cafétolyo offers refreshers and
drinks
aside from coffee, such as juices and sodas.
This outdoor coffee shop serves various must-try beverages, starting with Iced Choco at PhP65, Iced Coffee at PhP50, Iced Café Mocha at PhP65, Iced Coffee Jelly at PhP55, Brewed Coffee at PhP30, and Hot Chocolate at PhP45.
Cafétolyo boasts of its
locally produced
coffee beans
, passionately brewed to create luxury coffee blends to satisfy your insatiable taste for coffee.
The iconic Capitol Park and Lagoon is located at the heart of the City of Smiles, which makes Cafétolyo accessible to everybody. Although the view is simple, the overall outdoor ambiance of the lagoon brings back the childhood memories you had at the playground of Capitol Park. Now that adulting hits you already, you are shifted to enjoying the quiet surroundings while sipping your cold, creamy, iced coffee.
Facebook: https://www.facebook.com/cafetolyobcd
Address: Capitol Park and Lagoon, Lacson St, 6100 Bacolod City, Philippines
Price Range: PhP30 to PhP65
Living and accepting the new normal ways also pave the way for businesses to restore, not only to revive the economy but also to relish the times on how it was before the pandemic era. But for now, let's have coffee at Cafétolyo! Cafétolyo is a coffee shop that symbolizes hopeful expectations yet to come here in Bacolod City and brings back smiles to the people.
Stay safe as you travel and dine-in! Make sure to follow social distancing protocols and observe health precautions. For now, keep safe!
Check out this video: