Due to changing quarantine measures, the activities, destination/s, store/s, establishment/s featured in this article might be temporarily prohibited or closed under the latest government policies. LGUs might also implement health protocols and travel requirements. Please get in touch with the establishment/s before visiting. Stay safe!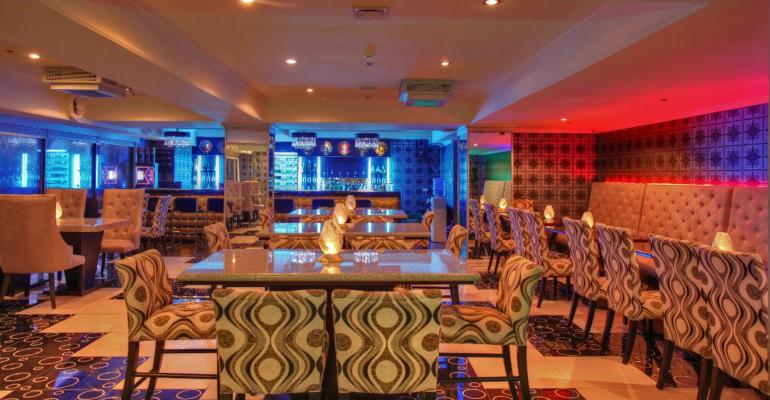 Image: Le Monet Hotel Facebook Page
Baguio, since time immemorial, has been a top vacation destination. The cold weather makes it convenient to roam around during the day and explore the different sights and scenes in the city.
At night, though, when it can get too cold to bear, everyone's out and about searching for a place where they could hunker down and hug a drink to warm up.
But given Baguio's popularity, everyone else might be out thinking the same thing. So, the next time you're
spending the cold nights in the City of Pines
, consider these hotel bars in Baguio so you don't have to go too far anymore.
1. Piano Bar at The Manor
Address: Ordonio Drive, Camp John Hay, Baguio City
Image: Camp John Hay Facebook Page
Staying at
The Manor
, which is one of Baguio's luxurious hotels, means you're given premium treatment the second you walk in until the second you step out, and this includes getting pampered in their
Piano Bar
. Here, you can enjoy a drink or two with friends while listening to live piano music exquisitely played by talented musicians. The fireplace adds a nice touch to the place and keeps you warm and cozy during Baguio's cold nights. And with
Le Chef
just around the corner, you can also pair your drink with excellent choices of appetizers.
2. Par 7 and Verandah at the Baguio Country Club
Address: Country Club Road, Camp John Hay, Baguio
Image: Bob Guerrero
Baguio Country Club
does not have just one, but two places where you can get a drink –
The Verandah
and
Par 7
. The Verandah mainly offers al fresco dining, with themed buffets during the weekends, as well as a wide a la carte menu. Its unique ambiance makes it a great place to unwind after a day of fun or business around the city. Enjoy the featured Drink of the Month at the restaurant's main bar or order your favorite cocktail as a nightcap.
Meanwhile, Par 7 is known as a favorite spot for golfers, but it also welcomes non-golfers just the same. Unlike the privacy that The Verandah provides, the atmosphere in this cocktail lounge bar is best for hanging out with your friends and peers.
3. The Malt Room at Le Monet
Address: Ordonio Drive, Camp John Hay, Baguio City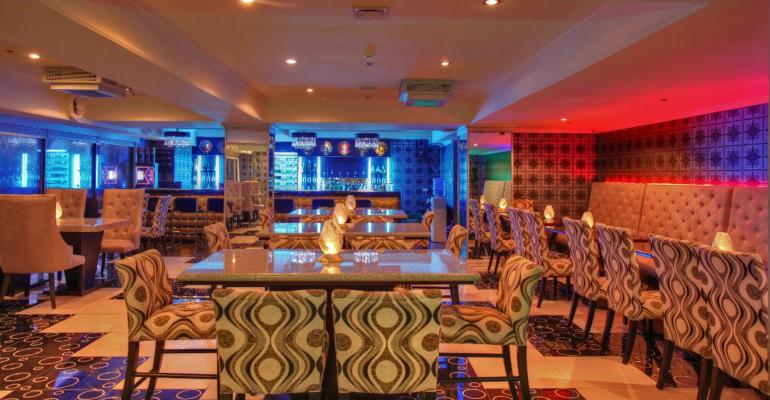 Image: Le Monet Hotel Facebook Page
The Malt Room
is one of two restaurants inside
Le Monet Hotel
, and while both restaurants serve gourmet cuisines, The Malt Room has the upper hand when it comes to serving a wide array of drinks for the late-night diners.
Its stylish interiors match the rest of the hotel's outlets, and the place remains a favorite rendezvous point and a venue for intimate gatherings. Its snug chairs and comfortable atmosphere will make you and your partner want to stay and chat for hours.
4. 8 Degrees Bar Lounge at Azalea Residences
Address: 7 Leonard Wood Road (near Teachers' Camp), Baguio City
Image: Azalea Residences Baguio Facebook Page
Azalea Residences
is located about 10 minutes away from the city center which makes it the perfect choice for staycations. If you want to go out and explore but are intimidated by all the options, then you'll probably want to settle down at their
8 Degrees Bar Lounge
instead.
The name comes from the fact that Baguio City is always 8 degrees cooler than the temperature in the lowlands, particularly in Manila. The lounge only seats up to 20 people so it never gets too crowded or rowdy, giving you all the peace and quiet you'll need to enjoy your sweet time over a glass of cocktail or a
bottle of wine
.
5. The Bar and Room 601 at Citylight Hotel
Address: 245 Gen. Luna Road, Baguio City
Image: Citylight Hotel Baguio Facebook Page
Citylight Hotel
is one of the many hotels located near the city's central business district. Up until late 2017, the hotel only had one bar, succinctly named
The Bar
, within its premises. The Bar boasts of leather-lined seats and a stocked bar where friends will never run out of options on what to drink and how to enjoy their time together.
Room 601, the hotel's newest bar, is an executive bar which not only provides exclusivity within its walls but also has a sumptuous menu to offer its patrons. Its bartenders concoct exclusive takes on famous cocktails as well as one-of-a-kind alcoholic shakes. So if you are looking for a more VIP bar experience, this is the place for you.
6. Champs Sports Haus at Crown Legacy Hotel
Address: Montinola Street corner Kisad Road, Baguio City
Image: Champs Sports Haus Facebook Page
Crown Legacy Hotel
is one of the newer and bigger hotels in Baguio. If their in-house options for cuisines and beverages look a little bit thin, it's only because their bars are what seals the deal for them. At the hotel's first floor, guests can choose from a wide array of bars to cozy down on a chilly weekday afternoon, or on an intimate Friday night.
One of their bars is Champs Sports Haus, a sports-themed bar. Its casual atmosphere is perfect for a night out with friends, fooling around with a beer in hand. Aside from being able to watch sports events, buddies also get to play various drinking games.
7. Ridgewood Hotel's Bar
Address: 17 Julian Felipe St., Barangay Lualhati, Baguio City
Image: Ridgewood Hotel Facebook Page
But if you prefer to stay in, then their bar might be the best option for your hideaway. It is part of the hotel's restaurant and is decorated with accents reminiscent of a log cabin in the mountains. After some sightseeing around the city, rest your tired body in the hotel bar, order your favorite drinks, and unwind to the sights of a comfortable cabin for the rest of the afternoon.
8. Eurotel Hotel's Bar
Address: Abanao Street Extension, Brgy. Rizal Monumento, Baguio City
Image: Eurotel Hotel Baguio Facebook Page
Eurotel
is known as a businessman's hotel which offers a convenient and economical option for the frequent traveler, and its central location in Baguio City isn't any different as it remains a great choice for business travelers to the City of Pines. During the day, the hotel's restaurant serves up the usual meals for its guests, but come the night, it becomes a place to wine and dine and enjoy some good company after a long day. Although there are plenty of drinking places near the hotel, the hotel bar still remains a worthwhile contender and a convenient choice for the tired tourist who's already had their fill of touring for the day.
9. Hotel Urban and Superclub
Address: 106 Naguilian Road, Brgy. Campo Filipino, Baguio City
Image: Hotel Urban Baguio Facebook Page
Hotel Urban
along Naguilian Road features not only a bar for you and your friends to hunker down for a drink, but also a dance club for you to get down and dance with them. It's definitely a change of scene if you've been accustomed to the usual itinerary of exploring Baguio's serene and spectacular sights. In here, there's nothing but the raving music and the bright strobe lights to fill you with adrenaline all throughout the night. Cheers!
10. Te Quiero at Microtel by Wyndham
Address: 5 Marcoville, Upper Session Road, Baguio City
Image: Microtel by Wyndham – Baguio Facebook Page
Microtel by Wyndham
's restaurant is the only tapas bar on our list which serves up Spanish dishes, and rightfully so. Tapas remain
Te Quiero
's best-sellers because these dishes are best paired with wine, your favorite cocktails, and even beer, which makes for a good, heartwarming meal in the low climate of Baguio. What's more, Te Quiero also hosts live music events, as well as buffets featuring a sumptuous assortment of Spanish and Filipino dishes, so dig in!
Which of these hotel bars in Baguio will you definitely go to on your next trip to the city? Leave a comment below and let us know!