Due to changing quarantine measures, the activities, destination/s, store/s, establishment/s featured in this article might be temporarily prohibited or closed under the latest government policies. LGUs might also implement health protocols and travel requirements. Please get in touch with the establishment/s before visiting. Stay safe!
Image: Venus Garden Facebook page
Baguio
has always been a favorite destination when it comes to quick getaways and quiet retreats. Not only are there plenty of
best spots to visit in Baguio
for a meditative trip, but the cool weather and flourishing greenery also make the Summer Capital more peaceful and inviting.
This New Year, give yourself time to pause and escape your hectic lifestyle. After going through so much last 2021, it's about time that you give your weary soul the rest that it needs. If you're planning to embark on a self-healing journey this 2022, here's a list of the best spots to visit in Baguio. Read on!
Location: 25 Sto. Tomas North Road, Imelda R. Marcos, Barangay 2600, Baguio City
Image: Maryknoll Ecological Sanctuary Facebook page
One of the recommended
places to visit in Baguio
is an elementary school turned ecological attraction;
Maryknoll Ecological Sanctuary
provides a quiet environment for anyone who wishes to find inner peace. The place offers various meditative programs, including Cosmic Journey, a two-hour trek through 14 stations that teach about the relationship of humans with the universe. Another program is the Sanctuary Gallery, an exhibit that showcases nature and life-inspired art mediums. There is also Earth Recollection, a one-day activity under the Earth Spirituality program that begins with Cosmic Journey and allows you to go on a contemplative walk in one of the gardens.
Location: Forest House, Loakan Road, Camp John Hay, Baguio City
Image: Forest House Facebook page
Whether you are on
quick getaways
or a long stay in Baguio, the
Forest House
must be of your hotel options. This accommodation is a European-inspired bistro and bed-and-breakfast. Its rustic wooden interiors give off a warm and cozy vibe that can truly make you feel at ease. The place doesn't just offer comfy accommodations for tired souls, but it also serves mouthwatering dishes for hungry tummies. The Forest House Bistro and Cafe's menu has a wide selection of sumptuous dishes, including clubhouse sandwiches, filet mignon, surf and turf, and soups like bouillabaisse and potato cheese chowder. While eating, you can also enjoy the captivating view of Camp John Hay from the balcony dining area.
Location: #28 Gulf View Loop, Gulf View Horizon, Baguio City
Image: Venus Garden Facebook page
If you're looking for a more serene and intimate place where you can enjoy both Baguio's peaceful scenery and tasty dishes, then Venus Garden is the place for you. Venus Garden is a private restaurant situated far away from Baguio's hustling capital area. Here, you can enjoy a more personal dining experience while getting a taste of the city's fresh produce. The dining area overlooks one of the most scenic golf courses in the province, satisfying both your senses of taste and sight. Note that the resto only accepts dining by the reservation made three days in advance with a 50% deposit.
YOU MAY LIKE:
Location: Dominican Hill Road, Baguio City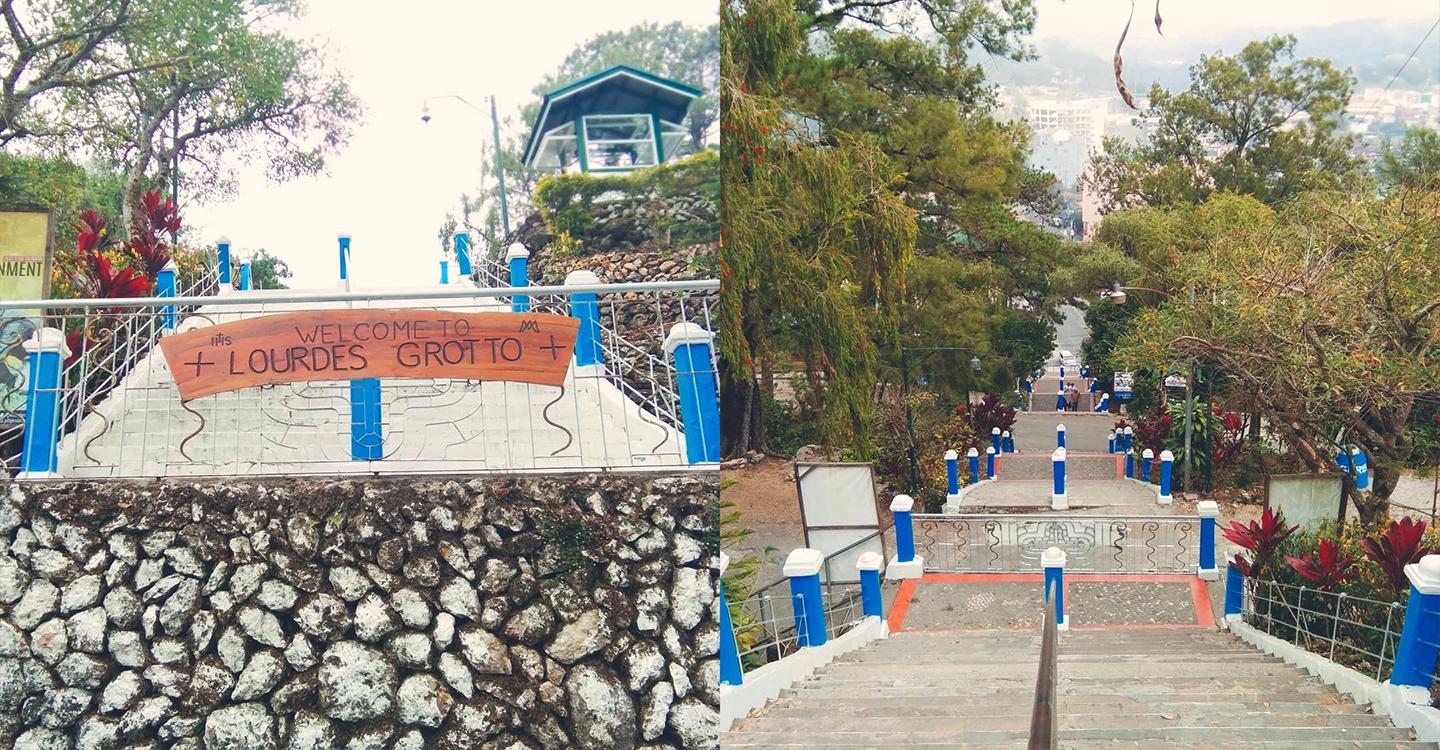 Images: @eu_fre
Prayers truly have healing powers, and there's no better place to pray in
Summer Capital
than at the
Our Lady of Lourdes Grotto
. Home to a life-sized statue of the Blessed Virgin Mary, the grotto is a popular pilgrimage site among faithful and devotees. What makes the grotto remarkable is that it is located on a hillside, and one must climb 252 steps of stairs to reach Mama Mary's statue. While the climb may be tiring, nothing can beat the mesmerizing view and the sense of accomplishment when you finally reach the top.
Location: 25 Chuntug Street, Brgy. Rizal Monument Area, Baguio City
Image: Cafe by the Ruins Facebook page
Here's another crowd favorite that can help bring comfort to your restless soul through good food and refreshing beverages. As one of the best spots in Baguio for foodies, Cafe by the Ruins has a sophisticated ambiance that is relaxing and comforting. The food at the place is inspired by Cordilleran dishes and is mostly vegetable, fish, and chicken-based. You can match your chosen dish with hot beverages that can soothe your soul at the first sip, such as the Ruins Coffee, Arabica coffee mixed with cardamom, whipped cream, and cinnamon; and Rizal's Tsokolate-eh (Rizal's chocolate), a chocolate drink made with Malagos cocoa and carabao's milk.
Café by the Ruins is open daily for dine-in from 7:00 AM to 8:00 PM.
Going on a little break isn't wrong, especially if you know that you've been nothing but strong and brave for the past year. This 2022, take the time to heal so you can prepare for what the New Year has in store for you. Happy New Year!
Visit
Yoorekka Magazine
for more travel and dining options in Baguio and Northern Luzon!
Stay safe as you travel! Make sure to follow social distancing protocols and observe health precautions wherever you go. Have a great trip!
This article was originally published in Yoorekka on January 01, 2021.
Check out this video: