Aside from its powdery white sand and pristine blue waters, Boracay is best known for its vibrant nightlife. At sundown, the beachfront transforms into a gastronomic paradise for diners and concert grounds for partygoers. But there is one thing that definitely makes each night in the island hotter, brighter, and unforgettable—the nightly fire dancing shows at the beach.
Throngs of professional fire dancers grace Boracay sands every night with a multitude of acts—fire juggling, fire breathing, fire eating, fire poi, fire hoop, and more fire show tricks and stunts.
Some fire dancers are hired by establishments to entice guests to eat and grab a drink at their place, but there are also independent dancers who "busk" or perform at the beach for tips coming from diners and passersby. They either perform solo or in groups. If you want to see Boracay fire dancers perform live in your visit this March, check these beachfront establishments that have regular fire dancing shows.
1. Astoria Boracay (For a public show)
Astoria Boracay, located in Station 1, entertains their guests with a nightly performance from its own fire dancing team. The fire dance show starts at 7 PM and runs until 9 PM, just in time for dinner. The show is open to the public so after every show, a member of the group usually roams around with the tip box.
2. Hawaiian Bar-B-Que (For an early start)
This restaurant in Station 1 is usually jam-packed during dinner time for its popular pork ribs and the regular fire dancing show in its beachfront setup. They are among the earliest restaurants in the island to start their fire dancing shows every night, starting just a little after the sun goes down at 6:30 PM. Another set is scheduled at 7:30 PM, which can sometimes extend up to 9 PM. The show is also open to the public so you can watch and take some photos while walking along the area. You can easily spot the restaurant because it is located just adjacent to Yellow Cab in Station 1.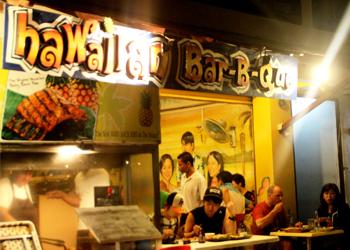 3. Sand Bar (For an exclusive show)
If you prefer a more exclusive chill out place with regular fire dancing shows too, Sand Bar Beach Club Boracay or just Sand Bar is the place to go. The resto-bar in Station 1, beside Nandana Boracay Resort, has a beachfront setup with shows at 8:45 every night. Guests can have a closer interaction with the fire dancers while enjoying their dinner. Since their beachfront setup is covered with a white cloth, the performance is just exclusive for the bar customers. The fire dancing show usually lasts for 30 minutes.
4. Boracay Uptown (For families, and if you want fire balls near your face — don't worry they are safe!)
Another place you can see Boracay fire dancers regularly is at Boracay Uptown in Station 2. The small business district houses various restaurants and kiosks where you can grab a bite while enjoying the show. You can find Sbarro, Loco Frio, Bo's Coffee, Golden Cowrie, and Paradiso Grill among others in the area. Because of the variety of food selection, it is a good spot even for families with the younger ones.
Fire dancers perform every night in three sets, for 30 minutes each set. They have shows at 7 PM., 8 PM. and 10 PM. While performing, they usually come closer to each table and twirl the fire ball near a guest's face or above their head. They will even allow you to get a snapshot of the moment. After their every performance, prepare some bills for the tip. The other group members will roam around with a box for your tip, which they divide fairly to each member. The group's energy rises when you give a little extra tip.
5. Hookah Bar (For late night drinking and fire dancing shows)
Although with just a small space, Hookah Bar gets the attention of tourists passing by because of the usual loud cheers from its guests. The bar, which can be found before reaching Boracay Uptown, starts their fire dance show at 7:30 PM. Each dancer or group performs for at least 30 minutes per set. They don't have a regular number of sets each night, but they usually perform until 11 PM. This beachfront bar is suited for those who prefer a night of booze with lots of drinking.
6. Bucos Bar and Grill at Boracay Mandarin Hotel (For a live band before fire dance)
This beachfront bar of Boracay Mandarin Hotel located in Station 2 has regular fire dancing shows every 9 PM. The fire dancers perform while guests are enjoying the restaurant's menu. Their acts usually start right after the set of the restaurant's live band.
7. Bar Time at Paradise Garden (More live bands and different themes)
In Station 3, regular fire dancing shows happen at Bar Time, the beachfront bar of Paradise Garden Resort Hotel and Convention Center. You can catch the fire dancers' performances at 8 PM and 11 PM every night. Just like in other bars, the shows also last for 30 minutes for each set. It is open to the public so even passersby could witness the show, but the place usually gets crowded when it starts. While waiting for the fire dancers, guests are entertained by live bands, singing different themes each night.
Fire Dancers for Special Events
While some resorts in Boracay don't offer it regularly, fire dancing is a common treat of every resort during special occasions or gatherings. Estacio Uno in Station 1, for example, offers a fire dance show when they host buffet dinners or weddings. Their dinner is set at their beachfront area so anyone can witness the performance.
For your own special event, you can actually hire a fire dancer for a 30-minute set for at least Php1,500. The prices, however, could go up depending on the type of your event or the number of fire dancers you want.
A picture taken with a fire dancer is a souvenir you should not miss in your vacation, especially if it's your first time to watch a fire dance show. Fix also your camera settings to capture the trails of light left behind by swinging, flaming objects. Finally, enjoy the show and don't try these fire tricks at home! Fire dancing is done only by professionals as you can tell from the mix of graceful, steamy, and dangerous, but all exciting performances of the great fire dancers of Boracay.