Due to changing quarantine measures, the activities, destination/s, store/s, establishment/s featured in this article might be temporarily prohibited or closed under the latest government policies. LGUs might also implement health protocols and travel requirements. Please get in touch with the establishment/s before visiting. Stay safe!
When on a vacation in Boracay, what you absolutely have to include in your itinerary is to go on a
culinary adventure
. Restaurants line the island left and right, ready to offer your taste buds a treat.
However, given the volume of people, this may be a tiresome option to take. And besides, it can be a more comfortable option and
less expensive
to cook something up yourself with the company of friends and family.
Today, there are resorts which have facilities ready for cooking and dining in. Listed here are just some of the best Boracay rooms with kitchens that you can book if you prefer prepping your own special meal.
1. Azalea Hotels and Residences
Address: Station 2 Sitio Manggayad, Barangay Balabag, Boracay Island
Price: Starts at PhP6,696 per night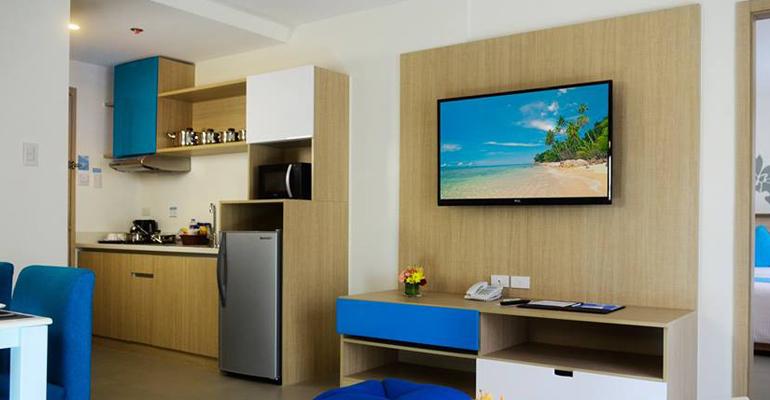 Image: Azalea Hotels and Residences Boracay
Azalea Hotels and Residences
is a 4-star apartment hotel along the main road of Station 2. It has 285 all-suite rooms, all equipped with kitchen and dining facilities. They have one, two, and three bedroom suites perfect for families and small groups. All rooms have complete kitchen facilities with electric cooktops with range hood, as well as microwave ovens and rice cookers. Guests can also request for additional pots and pans if need be. All rooms also have sets of dinnerware and silverware. For that well-deserved rest and recreation, the apartment hotel also has two rooftop pools for children and adults. They also have rooms suited for persons with disabilities (PWDs).
2. Fairways and Bluewater Newcoast Boracay
Address: New Coast, Barangay Balabag, Boracay Island
Price: Starts at PhP4,229 per night
Image: Fairways and Bluewater
Fairways and Bluewater Newcoast Boracay
is among the oldest and the biggest hotels in the island. Currently, they have more than 700 rooms of 16 different types. Most of their rooms are equipped with basic kitchen facilities like microwave ovens, refrigerators, and electric kettles.
The resort is best known for its 18-hole golf course, which is a frequent venue of international tournaments. They also have a private white sand beach, swimming pool, and al fresco restaurants. Aside from its spa, gym, and convenience store, the resort also offers outdoor activities for guests. For guests wanting to move from place and place with ease, they have a 24-hour shuttle service within the resort.
3. Cool Stay Inn
Address: Zone 5-A, Bulabog St., Barangay Balabag, Boracay Island
Price: Starts at PhP1,350 per night
Image: Cool Stay Inn Boracay
Built in 2014,
Cool Stay Inn
is one of the newer accommodations on the island. The one-star hotel has 14 rooms equipped with modern amenities, six of which have their own kitchen facilities. Guests are provided with double burner gas stoves, rice cookers, electric kettles, and kitchen wares, all within the comforts of their own quarters. The one-star hotel is situated just a short walk away from both White Beach and Bulabog Beach. Guests can also ask the locals for advice on what recreational activities they can do on the island during their stay.
4. Villa Sunset
Address: Sitio Manggayad, Balabag, Boracay
Price: Starts at PhP4,500
Image: Villa Sunset Boracay
Villa Sunset
is an apartment resort located in Station 2, and has been operating since 2003. They have eight rooms all with a terrace, four of which—the two garden and the two family apartments—have kitchen facilities. Their garden room is good for three people while the family room can house up to six people. The villa also has a private swimming pool and a restaurant surrounded by a tropical garden.
5. LuxeView Hotel
Address: 586 Bulabog Road, Barangay Bulabog, Boracay Island
Price: Starts at PhP6,000 per night
Image: Villa Sunset Boracay
LuxeView Hotel
, located along Bulabog Beach, has been operating for almost five years now. Since then, it has grown to consist of 17 rooms, all with a balcony offering a magnificent view of the sea. Each suite room has its own kitchen, dining room, and living room, all separated from the bedroom. Their kitchen also has basic dining utensils. Other kitchen necessities such as electric stoves and rice cookers are also available to be rented upon request. The resort has its own restaurant and a landscaped garden where guests can lounge around and spend their lazy day. Guests can also inquire with the hotel management for available windsurfing and kitesurfing lessons.
They say the fastest way to a man's heart is through his stomach. If that's the case, it will be no surprise if staying in these rooms while on Boracay in will make his heart swoon in seconds. What will you be cooking for your next vacation?