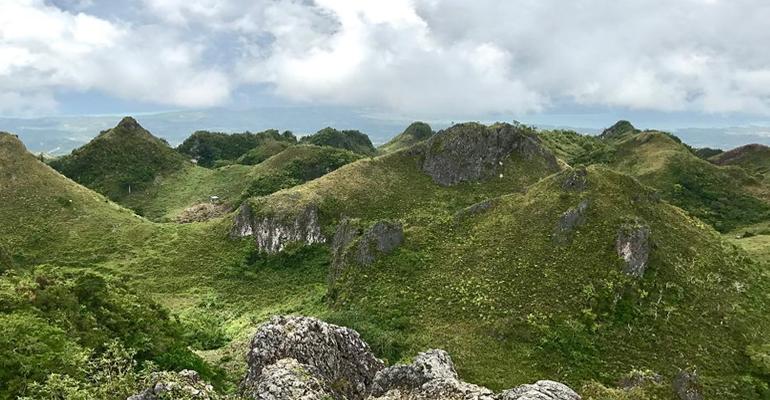 Image: @kaito_0414
Even though scattered rain showers and thunderstorms may still affect Cebu, the sun may finally start to make its presence felt this week. Temperatures are also expected to rise with the onset of summer. Residents and visitors to Cebu may not have to suffer from traffic congestion as the first LRT project in Cebu is expected to start soon. This is good news since tourist arrivals are expected to increase with the upcoming launch of direct flights between Cebu and Shenzhen by Air Asia on May 9. With the increase in the number of tourists in Cebu, local officials are also working on improving the management of areas with tourist traffic, including
Sumilon Island
and
Osmeña Peak
.
Weather: Cloudy weather in Cebu continues to dominate the week
As we approach the end of April, rain showers and thunderstorms will continue to affect Cebu, but the sun will try to make its appearance throughout the week. The week will start off with cloudy weather and thunderstorms affecting parts of the city. Tuesday will be partly sunny even as rain showers are expected in the evening. Wednesday and Thursday will have cloudy weather before the sun tries to make another appearance on Friday. The weekend will be mostly cloudy with some thunderstorms expected in the evening. Temperatures for the week will range from 25 0C up to 34 0C.
Traffic News: Cebu LRT will have an elevated-subway system
The first Light Rail Transit (LRT) project in Cebu will combine a subway and elevated system. The subway section is planned for the central business district of the city while the elevated portion will run along areas outside Cebu City. It will be implemented in two phases with phase one comprising of the Central Line running from Carcar City to Danao City and the Airport Line, which crosses the Mactan Channel. The second phase is dependent on a number of factors, including population, economy, and future transportation needs. To be implemented by a consortium of local and foreign companies, the LRT project is expected to start in 2019 after all the necessary permits and documents are completed.
Travel Updates
Air Asia to start Cebu-Shenzhen direct flights on May 9
Tourism in Cebu is expected to get another boost as Air Asia is set to start direct flights between Shenzhen and Cebu and on May 9. This is the first route of the budget carrier from China to the Queen City of the South and vice-versa. The new route is one of the ways the airline is strengthening its operations outside of the country's capital, according to Dexter M. Comendador. The Air Asia Philippines head added that the flights also give Cebuanos the chance to experience the modern wonders of "China's Silicon Valley." Shenzhen is located in the Guangdong Province and links mainland China to Hong Kong.
Tourist in Sumilon Island to be limited
A recommendation to limit the number of tourists visiting Sumilon Island and other areas with heavy tourist traffic was made by Joselito Costas, head of the Provincial Tourism Office (PTO). Costas said only 522 tourists should be allowed to visit the island every day. In addition, Apolonio Baclayon of the Provincial Environmental and Natural Resources Office (PENRO) of Cebu said visitors should only stay a maximum of three hours. The move comes after around two tons of garbage was collected during a coastal clean-up program in Sumilon Island's sandbar and adjacent areas.
Local executives urged to ensure the safety of tourists
After a tourist from Hong Kong fell at least 15 feet while trying to take a selfie in Osmeña Peak, local government officials were urged to implement suitable visitor management processes and to set up a first aid station in the mountain. In addition, Cebu Association of Tour Operation Specialists (Catos) president Alice Queblatin said accident-prone or hazard areas should be cordoned off. Local guides should also accompany tourists visiting the highest peak in Cebu.
Passed Ordinance: Motor taxi regulations pushed
Being a convenient mode of transportation in Cebu, the motorcycle taxi or habal-habal can be seen just about anywhere in the city. However, after concerns about safety and fare rates were raised, a city councilor is set to propose an ordinance to allow barangays to regulate these vehicles. Cebu City Councilor Pastor Alcover, Jr. said the proposed ordinance will require drivers to get an accreditation from the barangay by presenting their driver's license and motorcycle registration.