CURRENT NEWS
End of Ramadan is expected to be declared as national public holiday.
Eid al-Fitr or the festival of breaking of the fast is on July 6, Wednesday. This event, also known as the conclusion of the month-long Ramadan, is a public holiday in the Philippines. It will be a non-working day, except for malls and restaurants usually open even during holidays.
ENTERTAINMENT
Entrance to the National Museum is now permanently free.
The National Museum will also be open during the said holiday and is inviting visitors to see the Bangsamoro Art at its permanent display exhibit called "Faith, Tradition and Place. Entrance to the National Museum is now permanently free for all visitors, Filipinos and foreigners alike.
FIBA Qualifying Tournament starts on July 5
The International Basketball Federation (FIBA) Olympic Qualifying Tournament in the Philippines is scheduled on July 5 to 10, 2016. The tournament will take place at the Mall of Asia Arena, Pasay City, at 6:30 PM from July 5 to 9, and 9:30 PM on July 10. July 8 is rest day. Teams that will be playing are from Turkey, France, Canada, Senegal, New Zealand, and Philippines. Tickets are available via Mall of Asia website and smtickets.com. However, it may be already difficult to secure tickets at the moment, except for the VIP tickets with prices from PhP5,000 (regular game) to PhP14,000 (finals).
TRAFFIC NEWS AND ADVISORY
Pasig City government launches free bus service around Central Business District.
Pasig City government has launched a bus service program that will carry passengers around the Central Business District for free. This program aims not only to reduce the volume of vehicles passing through the district but also to promote clean air in the area— fewer cars in the area means less carbon emissions. The free bus service is divided into four designated routes in nearby areas:
Green route – From San Miguel Avenue to Exchange Road, Jade Drive, Service Road, Julia Vargas, Meralco Avenue, H. Javier Street, Capitol Commons, Shaw Boulevard, Escriva Drive, Goldloop, Escriva Drive, Shaw Boulevard and back to San Miguel Avenue
Red route – Frontera Verde, Julia Vargas, Meralco Avenue, Ortigas Avenue and back to Frontera Verde
Blue route – Garner Road to Emerald Avenue, Ortigas Avenue, Meralco Avenue, Exchange Road, Jade Drive, Amethyst Street, Pearl Drive, Goldloop, Escriva Drive, back to Goldloop, Pearl Drive, Lourdes Street, San Miguel Avenue to ADB Avenue
Yellow route – Shaw Boulevard to Meralco Avenue, Julia Vargas, Lanuza Avenue, St. Martin Street, H. Javier Street to Oranbo Drive
As of writing, the buses only operate on weekdays with the following schedule: 6:00 AM to 9:00 AM; 12:00 NN to 2:00 PM; 4:00 PM to 7:00 PM.
EVENTS AND CONVENTIONS
Travel and film events are slated this week
Travel Madness Expo 2016
Travel junkies have a chance to get huge travel promos, discounts, and incentives at this year's Travel Madness Expo. This will be a three-day event which will take place from July 8 to 10, at SMX Convention Center in Pasay City. Admission fee costs PhP50 while senior citizens can get in at PhP40.
Eigasai 2016
EIGASAI: The Japanese Film Festival, one of the highly-anticipated film festivals in the Philippines, is set to happen on July 7 to August 21, 2016. More than 80 screenings will hit different cinemas nationwide, plus Director's Talk with Japanese filmmaker, Masato Harada. Admission is free on a first-come, first-serve basis. However, admission process might be different per venue.
Screening Locations:
• Shang Cineplex
• Abreeza Mall Cinema, Davao
• Cinematheque, Davao
• Cultural Center of the Philippines
• SM Baguio Cinema
• Cinematheque Baguio
• Ayala Center Cebu
• UP Film Institute
Screening schedules are available at Eigasai PH Facebook page.
MALL SALES
Get up to 70% off on select items at SM End of Season Sale.
SM Malls offer up to 70% discounts on their End of Season Sale. Shoppers can get top fashion finds and other items in over 800 stores in SM Mall of Asia, SM Megamall, and SM North Edsa. Sale runs until July 10, 2016 only.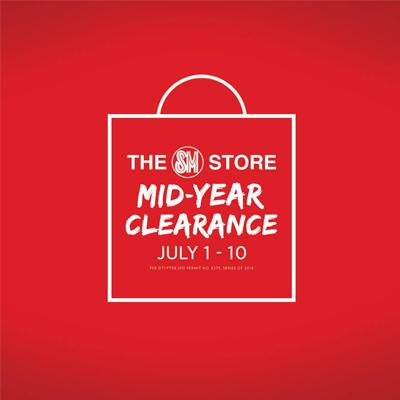 Meanwhile, all SM Department Stores nationwide (but except San Jose Del Monte & Trece Martires) are having a mid-year clearance sale from July 1-10. Items are discounted up to 50% off.
WEATHER
One to three tropical cyclones may arrive this month
Cloudy skies dominate the week with 60% chance of thunderstorms every day. Temperature can still go as high as 33°C or 91.4°F though the rains can temporarily cool down the weather. The country's weather bureau, PAGASA, made a forecast that a minimum of one to a maximum of three cyclones may enter the Philippine Area of Responsibility this month. The country's first storm this year called Ambo landed over provinces in Luzon on June 26. The affected areas are placed under storm signal number 1. Ambo gradually weakened into low pressure area as of June 28.
Disclaimer: All articles in the Consumers Magazine of Yoorekka are for general information and entertainment purposes only. Although careful research has been made in writing them, Yoorekka does not make any warranty about the completeness and accuracy of all information presented in our articles. Our content is not intended to be used in place of legal, medical, or any professional advice.