Due to changing quarantine measures, the activities, destination/s, store/s, establishment/s featured in this article might be temporarily prohibited or closed under the latest government policies. LGUs might also implement health protocols and travel requirements. Please get in touch with the establishment/s before visiting. Stay safe!
A swimming pool is one of the hotel amenities that attract young and young at heart vacationers. So it's no surprise hotels are prioritizing making their pools not only refreshing looking but also visually-striking. Fortunately,
hotels with pools in Palawan
offering breathtaking views are aplenty.
But it's really time-consuming and draining to scour through the internet just to look for one that gives value for your hard-earned money. So to make your search easier, we've rounded up five hotels in gorgeous places like
Puerto Princesa
and El Nido that have picture-perfect pools worthy of your attention.
Address: South National Highway, Barangay Tiniguiban, Puerto Princesa City
Estimated travel time: 5 to 10 minutes from Puerto Princesa airport
Rates:
Standard Twin Room - PhP 2,254
Superior Double Room - PhP 2,480
Deluxe Family Room - PhP 3,516
Image: Citystate Asturias Hotel Palawan
Within the comforts of Citystate Asturias Hotel, lose track of time as you cool down in its outdoor swimming pool. You can also tag along your special someone with you and warm up on a cold night in its rejuvenating Jacuzzi. Citystate Asturias also offers massage services if you want to further relax your tensed muscles.
In case you're feeling hungry after a refreshing swim or body massage, get your fill at the hotel's Pescados Restaurant that serves appetizing culinary delights. Citystate Asturias also has 62 well-appointed, cozy guest rooms; all equipped with a private toilet, shower, and other bathroom amenities.
Address: Sitio Sabang, Barangay Cabayugan, Puerto Princesa City
Estimated travel time: 1 hour from Puerto Princesa airport
Rates:
Superior Room - PhP 6,360.87
Deluxe Room - PhP 6,758.43
Deluxe Pool View Room - Php 7,155.98
Palawan Suite - PhP 9,938.86
Palawan Executive Suite - PhP 10,733.97
Sabang Premiere Suite - PhP 11,529.08
Image: Sheridan Beach Resort and Spa
Sheridan Beach Resort and Spa's signature swimming pool is 340 feet long, the largest and one of its kind in Palawan. It's a nice alternative to the beach, especially when there's undertow and frolicking in the sea waters is prohibited. The hotel's well-appointed rooms feature classic yet contemporary design that exudes luxury and sophistication.
Championing environmental sustainability, Sheridan is nestled between towering mountain ranges and the clear blue waters of the West Philippine Sea, and lies inside the world-renowned Puerto Princesa Subterranean River National Park.
Address: BM Road, Barangay San Manuel, Puerto Princesa City
Estimated travel time: 15 to 20 minutes from Puerto Princesa airport
Rates:
Superior Premiere Room- PhP 2,409.84
Deluxe Room Non-pool View - PhP 3,098.36
Deluxe Room Pool View - PhP 3,442.62
Presidential Suite - PhP 3,959.02
Family Non-pool View Room - PhP 3,442.62
Family Pool View Room - PhP 3,614.75
Image: Aziza Paradise Hotel
Aziza Paradise Hotel's 375-square-meter pool is ideal for parties, especially soirees. To see the hotel's pool in all its awesome glory, go night swimming and witness its colored lights that give to it a lively, inviting personality. Sample pizzas at its poolside Mazabor Pizzeria, or grab a cup of aromatic coffee at Kahve Brew.
Aziza boasts of 125 vibrant guest rooms, all set in earth colors and lush hues, which would make you instantly feel the tropical island paradise vibe once you settle in. Its restaurant, Demeter Diner, offers Filipino, Asian, and other international cuisines that provides a delectable gastronomic experience.
Address: Barangay Concecpcion, Busuanga, Palawan
Estimated travel time: 45 minutes to 1 hour from Busuanga airport
Rates:
Two-bedroom Villa - PhP 40, 985
Bayview Bungalow - PhP 9,427
Clubhouse Suite - PhP 11,066
Clubhouse Superior - PhP 7,992
Hilltop Suite - PhP 10,246
Waterfront King - PhP 8,607
Waterfront Twin Room - PhP 11,066
Image: Busuanga bay Lodge
Set on a hill overlooking the bay, Busuanga Bay Lodge is one of the best boutique hotels in Busuanga town. Bask in its outdoor infinity pool spanning 10x5 meters late in the afternoon, and be amazed as the fiery sun sets over Busuanga Bay. At the pool deck bar, you can sample its savory snacks, such as gourmet burgers and sandwiches, and the freshest seafood from the town's teeming seas.
If the sun becomes too much, you can then escape the heat with its signature frozen cocktails, and refreshing fresh juices that promise a sweet reprieve. The luxury resort offers 41 guestrooms spread across the lush property.
For more stunning places in Palawan, check out
Yoorekka
!
Address: Balinsasayaw Road, Barangay Maligaya, El Nido, Palawan
Estimated travel time: 20 minutes from El Nido airport
Rates:
Deluxe Room - PhP 6,400
Deluxe PWD Room - PhP 6,400
Deluxe Queen - PhP 7,040
Deluxe Loft - PhP 6,800
Premier Room - PhP 7,040
Premier Loft - PhP 7,600
Premier with Balcony - PhP 7,200
Premier Balcony with Bathtub - PhP 9,600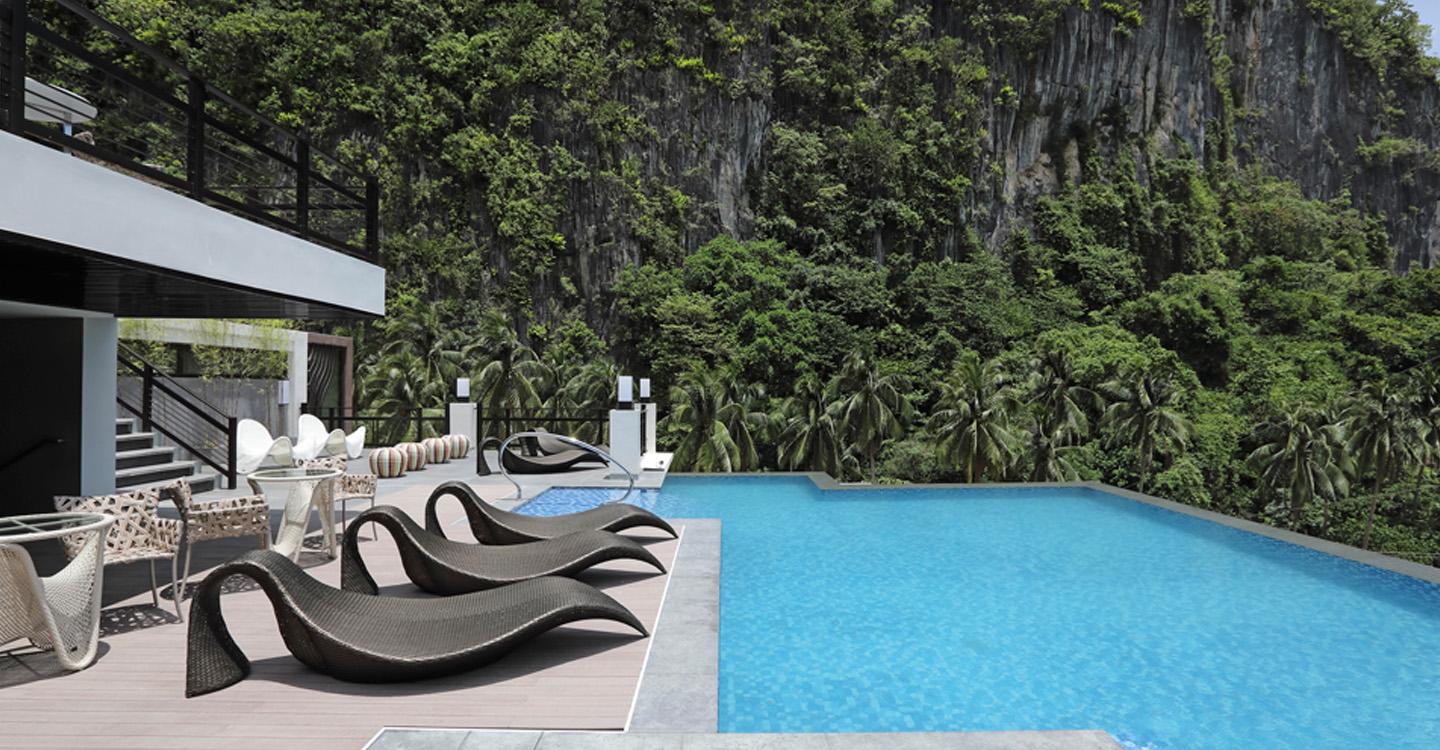 Image: Lagun Hotel
One of the perks of staying in Lagun Hotel is the chance to chill out in its roof deck infinity pool and bar that offer dramatic limestone cliff views. The hotel has a total of 37 well-appointed rooms where Palawan's native hues and textures thrive.
YOU MAY LIKE:
Lagun's Habi Restaurant is packed with dining surprises, from its mouth-water food selections to its visually-pleasing interior design. Other than that, you can also make the boutique hotel your jump-off point to El Nido's stunning island destinations, including the iconic Small and Big Lagoons.
While all hotels are different, one thing stays the same: if the hotel has a pool worthy of being photographed, it definitely makes the entire vacation a bit more memorable.
This article was originally published in Yoorekka on May 31, 2019.