Due to the COVID-19 pandemic, the establishments featured in this article may implement temporary closures and/or a set of safety requirements according to changing protocols. Please make sure to abide by the guidelines to stay safe.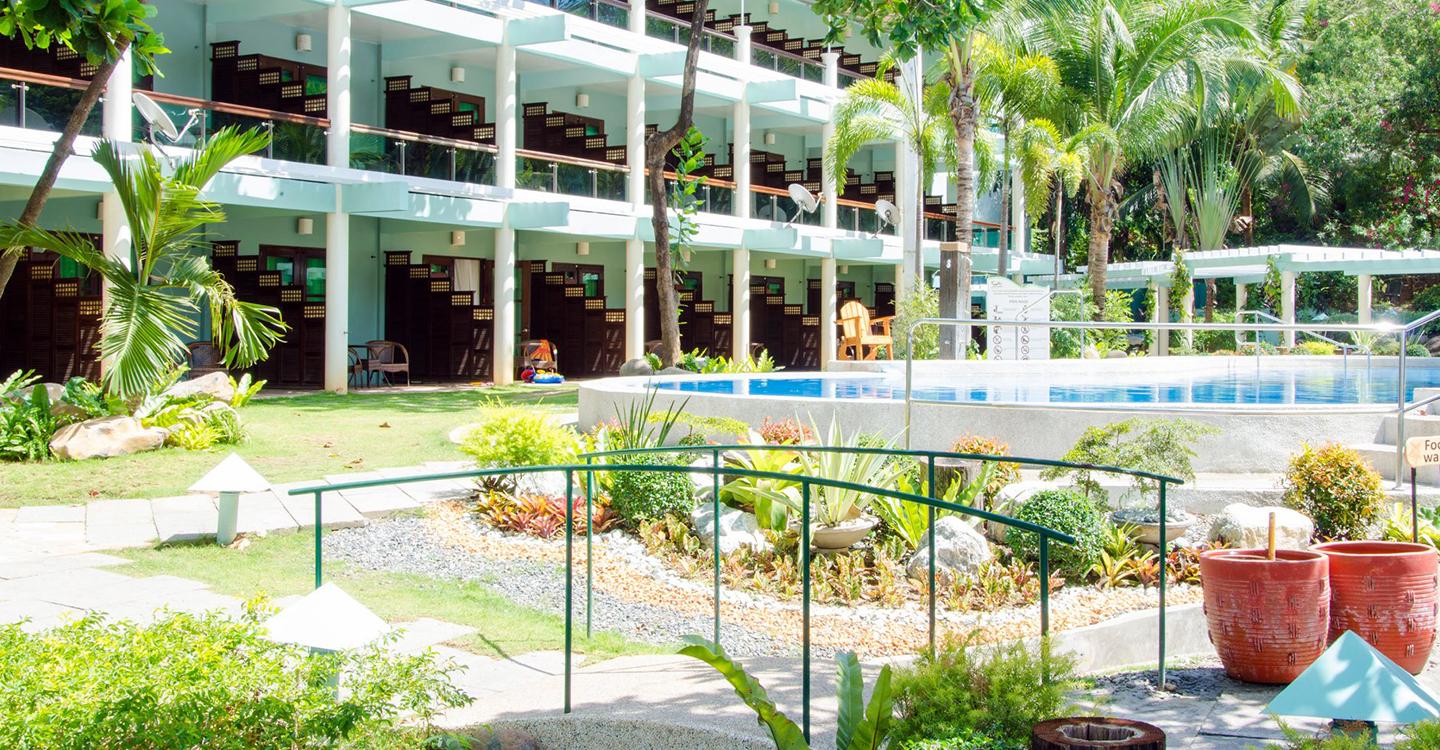 Images: Camayan Beach Resort Facebook Page
When you're living in a country where it's hot and humid all year round, no one can blame you for always wanting to feel cool and refreshed and escaping the eternal sweaty feeling from the sun's heat. Good thing there are places that you can easily travel to from the metro for a good dose of relaxation!
One such place is
Subic
, where it's forever summer with the numerous resorts you can go to. Aside from swimming, you can also opt to have a weekend
staycation
or go on a food trip and sightseeing adventure. Excited to go? Ready your swimsuits and head to these
resorts and hotels with pools in Subic
!
Address: AYC Compound National Highway Santo Tomas, Subic, Zambales
Image: Subic Waterfront Resort
Subic Waterfront Resort and Hotel has two sets of pools: one is the kiddie pool that's two to three feet deep, and the other is a bigger pool that's up to five feet deep. The resort also has a bar and café area near the pool so you can go grab a drink to add to your refreshing time by the poolside.
You can also stay overnight at the resort, with room rates starting at PhP2,000 for a regular suite and up to PhP8,500 for a family suite.
Address: Camayan Wharf, West Ilanin Forest Area Subic Bay
Image: Camayan Beach Resort
Camayan Beach Resort's stunning swimming pool, which opened just in time for summer last year, is the most recent addition to the resort. The pool has a total area of 116 square meters, which is three to five feet deep and has a great view of the bay. It is adjacent to Camayan's Reef Restaurant, so you can chow down on your favorite meal right after taking an afternoon dip in the pool.
Day tour rates cost PhP500 per head for adults and PhP300 per head for children. For overnight stays, prices of their rooms start at PhP5,500.
YOU MAY LIKE:
Address: Baloy Long Beach Olongapo, Barrio Barretto, Philippines
Image: Bluerock Resort Website
Bluerock Resort
sits along
Baloy Long Beach
, the strip of shore which serves as the venue for the most magnificent pool resorts in Subic. The swimming pool is a recently added feature of the resort to complement its hospitable hotel accommodation and awesome water sports activities. What's more, they also have a floating bar where you can go have a drink and listen to live-band sessions all while marvelling at the great view of the bay.
There are a lot of room options if you're planning to stay for the night, with prices starting at PhP1,800 per night. If you booked an overnight stay, you get to enjoy the pool, which is open from 8AM until 8PM.
Address: Purok 3, Matain, Subic
Image: Whiterock Beach Hotel + Waterpark
Whiterock Beach Hotel + Waterpark has a number of cool features and amenities for anyone who loves taking a plunge in the water especially during hot days. It has an array of pools to choose from, such as two infinity pools, a kiddie pool, and the so-called "Aqua-drenaline" pools, which consist of two wave pools and the raging river. It also has waterslides to give you that extra pump of adrenaline while swimming.
The entrance fee is PhP800 for the day tour. Daily operating hours for the beach and water park are from 6:30 AM until 6:30 PM. Hotel room rates start at PhP7,800, and this already includes the use of resort amenities.
Address: Blk 5 Lot 1 Moonbay Marina Ave, Waterfront Road, Subic Bay Freeport Zone, Zambales
Image: Moonbay Villas
Moonbay Marina the Villas features a heated swimming pool that has its own waterfall and a slide. The resort also has a jacuzzi overlooking its heated swimming pool. Just last year, the resort also opened the largest wave pool in Subic, which measures an astounding 3,000 square meters in area and also has a raging river. Given the resort's spacious land area, it serves as an ideal destination for company and family outings.
Entrance fee for the water park is PhP350. The resort also has villas with complete amenities for an overnight stay which starts at PhP4,000 to PhP5,000.
Address: Baloy Long Beach, Barrio Barretto Olongapo, Zambales, Philippines
Image: Treasure Island Resort
Treasure Island Resort aligns itself with other world-class resorts seated along Baloy Long Beach in Barrio Barretto. Both kids and adults can enjoy its Mickey Mouse-shaped swimming area that can accommodate many groups and families at a time. It has a size of 50 to 70 square meters with an estimated depth of 5 feet at the center of the pool.
You can book a room in its hotel at PhP2,000 to PhP4,900 per night. Use of swimming pool is free for hotel guests, but if you're just going for a day-long swim, the entrance fee is Php300.
Address: 123 National Hi Way, Barretto Olongapo City, Philippines
Image: iCove Beach Hotel
What iCove Beach Hotel proudly brings is their very own infinity pool that has a stunning view of the beach. It is not as big as other swimming pools in other resorts, but the view it offers is always picture-perfect whether you choose to swim at day or at night. Opt to sit back and rest the day away on one of their lounge beds by the pool areas, or chill by the Jacuzzi while marvelling at the turquoise-blue reflection of the water.
The resort also has nice rooms for your overnight stay. Room rates range from PhP2,204 to PhP6,404 per night.
Address: Baloy Long Beach, Barrio Barretto, Olongapo, Philippines
Image: David Warren
After enjoying the sand and the sun along Baloy Long Beach, you can then swim a few laps in Wild Orchid Beach Resort's outdoor swimming pool. It has a lush tropical garden setting surrounding the pool that's suited for your leisure, and that's also an ideal venue for outdoor parties. For rooms, their price ranges from PhP3,999 to PhP8,999.
Address: Cabitaugan Cawag, Subic, Zambales, Philippines
Image: Katara Zuko
What sets Club Morocco Resort and Country Club apart, quite literally, is that it's far from the crowded beach areas in Subic. It is located 30 minutes away outside Subic Freeport Zone, inside an exclusive residential village, but it opens itself to the public, for a more private summer getaway. It has a nice swimming pool with tall trees giving ample shade so you don't have to worry about getting sunburnt. For accommodations, their rooms cost PhP4,100 to PhP7,000 per night.
Even if summer is over, you can still go to these pool resorts, as they are open all year round in any kind of weather. You can go for weekend getaway or on a holiday with your family, friends or workmates.
This article was originally published in Yoorekka on May 17, 2018.