Due to changing quarantine measures, the activities, destination/s, store/s, establishment/s featured in this article might be temporarily prohibited or closed under the latest government policies. LGUs might also implement health protocols and travel requirements. Please get in touch with the establishment/s before visiting. Stay safe!
Bacolod City is a foodie haven in the province of Negros Occidental.
Various delectable dishes
are found in homegrown restaurants where locals and visitors can taste and experience authentic Bacolod food and hospitality. Do you know any
native delicacies
from Bacolod? Have you ever wondered what they taste like? If you do, here's good news for you: it's easy to find these delicacies since they're all over Bacolod City's public markets! Read on and check out this list of native delicacies you can find in Bacolod City.
1. Kadios, Baboy and Langka (KBL)
Kadios, Baboy and Langka or KBL
is a
popular Ilonggo stew
that commonly uses dark purple
kadios
(pigeon peas) to make it tastier. It's also a good source of protein. Another ingredient for the recipe is
baboy
(pork) where any part of the pork can be served depending on your choice. Unripe
langka
(jackfruit) and a sour fruit locally known as
batuan
(garcinia morella) are used to make KBL extra special. Small and local restaurants serve the dish usually during lunchtime, so when noon comes, all you need to say are three letters: K-B-L.
2. Chicken Inasal
Wondering where to eat chicken
inasal
in Bacolod City?
Manokan Country*
is the most popular answer to that question, and it is just a five-minute drive from Bacolod City Central Public Market. It is home to dozens of stalls serving Bacolod's most sought-after chicken
inasal
. The most recommended stalls are usually named after women like Aida's, Nena's Rose, Nena's Beth, and Carmen. Of course, the experience will not be complete without eating with your bare hands, and dipping your inasal in tasty
sinamak
(Visayan spiced vinegar).
3. Ensalada
Ensalada
is one of the
delicious appetizers
or side dishes to try here in the City of Smiles. One should have a taste of this dish when visiting the city. Ensalada is suitable for vegans as it is made of blanched and chopped banana heart, shallots, tomatoes, and chilies mixed together with
calamansi
(calamondin) juice and coconut milk. This appetizing and colorful dish is typically served in local restaurants and eateries found in the city's public markets.
4. Kalamayhati
Kalamayhati
is a sweet delight made from ground sticky rice, muscovado sugar, and coconut milk, and sometimes, sesame seeds. Kalamayhati is a
native delicacy
that is brown in color. The name of the delicacy comes from the words
kalamay
(sugar) and
hati
(to halve), because of the coconut shell that needs to be split in half before consuming this sweet treat. Kalamayhati is also sold in plastic containers at the local markets. Prices range from PhP10 to PhP30.
5. Baye-baye
Baye-baye is a mixture of sugar and toasted milled glutinous rice or corn that is pounded in a mortar until soft and incorporated. Strips of young coconut are also added to make it extra special. Making it is strenuous, and this is why tasting it is a one of a kind experience as well. Usually served as a snack, baye-baye is also cooked during special occasions, especially during the Tigkalalag (Day of the Dead) and Holy Week, to signify that our love for the Lord and late loved ones would stick just like the baye-baye.
6. Cansi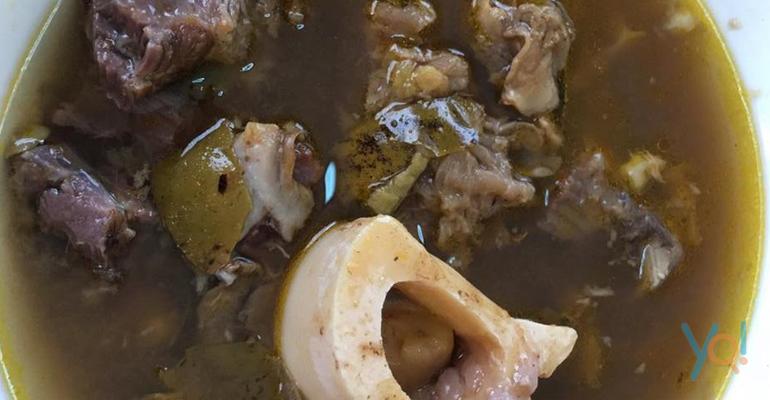 One thing you shouldn't miss whenever you are in a public market is eating in a cansihan. Tourists visiting the city must not miss to try cansi, Bacolod's version of bulalo (beef shank soup). Cansi is a hot bowl of bone marrow soup with a special ingredient called batuan that gives it a unique sour flavor. Some recommended homegrown restaurants are Sharyn's Cansi House and Eron's Cansi House, both located near the Capitol Shopping Center and the Bacolod City North Public Market.
Make sure to visit
Yoorekka
to learn and find out more about the best native delicacies in Bacolod.
Among the native delicacies featured, what dish would you definitely try on your next visit in Bacolod City? Let us know in the comment section below!
* Prices may change without prior notice.
This article was originally published in Yoorekka on May 24, 2018.
Check out this video: