Image: Resorts Negrense Facebook Page
Are you itching for a great summer vacation near the hustling and bustling streets of Bacolod City? You can have it! Tucked in the southern part of the city is a hidden gem—a wonderful destination that will keep your smiles warm all throughout the year. This gem is
Resorts Negrense
, a 14-hectare resort and hotel located at Barangay Punta Taytay, Bacolod City. Situated beside the sea, this resort gives guests magnificent views of the calm waters and the vibrant sunset.
Resorts Negrense
aims to attract visitors with its well-maintained amenities, challenging activities, and its restaurants' gastronomic delights. It offers a haven for those who seek to relax and explore water activities without having to leave the city. With its offerings, it's easy to have the most splendid time and the
best vacation
with your family and friends this summer! See what Resorts Negrense offers and take a look at its best-rated facilities when you read on!
1. Inviting Swimming Pools
Images: Resorts Negrense Facebook Page
Splash onto the resort's swimming pool (PhP80/head) with a man-made waterfall or climb around the tower amidst the blue leisure pool and see things from a different view. Off to the side is also a kiddie pool which features a smiling statue representing the iconic smile of Bacolodnons. If you'd like an
Instagram-worthy photo
, you can also use inflatables!
2. Scenic Lagoon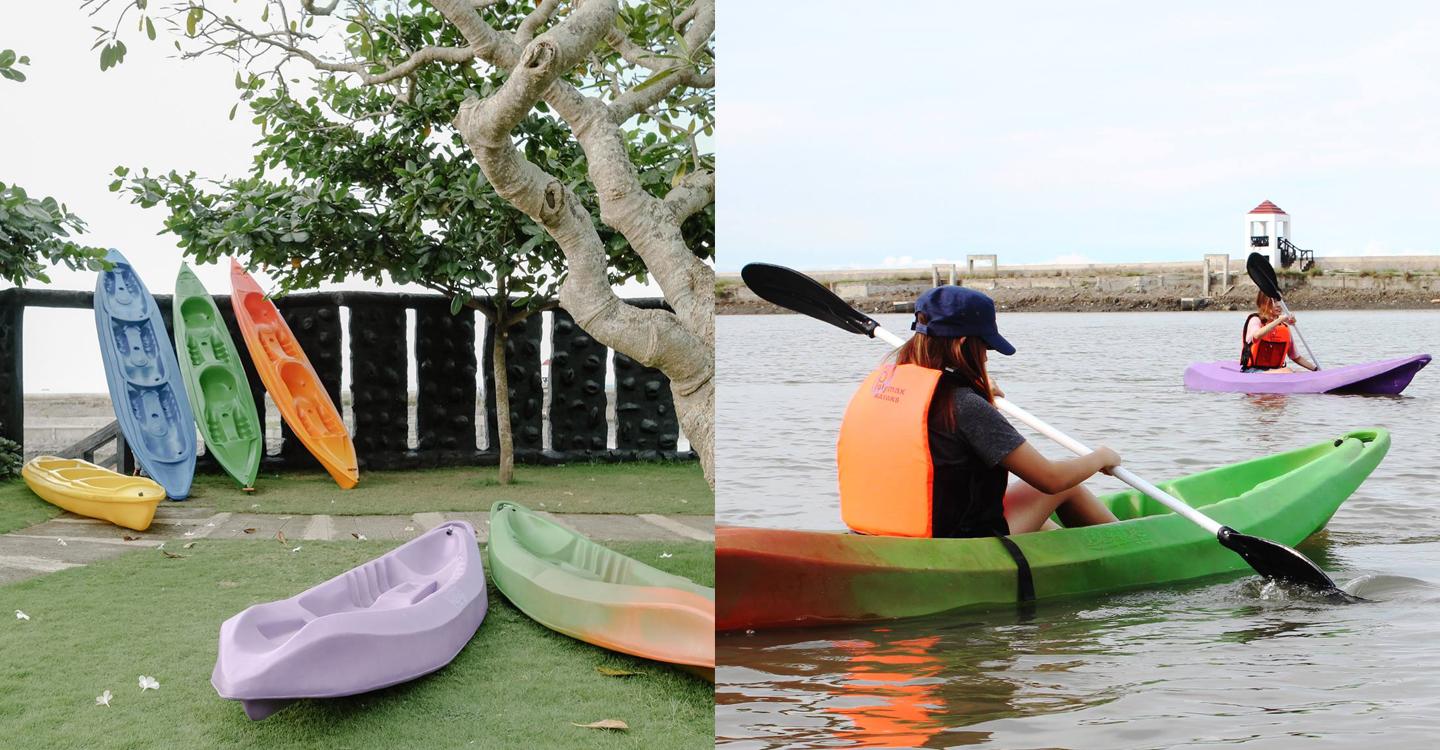 Images: Resorts Negrense Facebook Page
One thing Resorts Negrense guarantees: boredom won't strike you during your visit. If you're up for a challenge, try the rentable kayaks (PhP100/head for 40 minutes) and paddle your way around the four-hectare lagoon with a scenic walkway that overlooks the ocean. If getting wet is not your thing, you can opt to walk beside the lagoon during sunset and be mesmerized by how the sky paints itself before dark.
3. Fun Facilities for Kids and Kids-at-Heart
Images: Resorts Negrense Facebook Page
Having fun doesn't end when you grow up. In Resorts Negrense, visitors can have fun like children at the playground, table tennis lounge, billiard tables, and dartboard area (PhP100/game). If you want a competitive afternoon, gather your group and head on to the resort's beach volleyball court. You can also reach for the skies and glide through the zipline (PhP150)!
4. Comfortable Huts and Cottages
Images: Resorts Negrense Facebook Page
For simple celebrations or gatherings, Resorts Negrense's Nipa Huts (PhP1,000) are good for six people. Meanwhile, if there are eight of you, you can get the Umbrella Hut (PhP1,300). They also have cottages good for 10 people (PhP1,800), 20 people (PhP3,200), and 30 people (PhP6,000). If you want to be situated beside the pool, they also have a poolside canopy (PhP1,600) good for 10 people.
5.Luxe Rooms and Suites
Image: Resorts Negrense
After a tiring day of making the most out of the resort's leisure and
thrilling amenities
, ease off at one of the resort's hotel rooms and suites. Resorts Negrense has luxurious and affordable accommodations that don't compromise the guests' needs.
You can choose to stay at the Superior Room (PhP3,500) with a shower or the Premier Room with a bathtub (PhP4,500), which both have two queen beds. If you want a more spacious accommodation with a living room, you can book the Junior Suite (PhP7,000) that has a queen and a sofa bed and a shower. For a luxurious stay, book the Master Suite (PhP9,000), which has two queen and two twin beds, a shower, and a bathtub.
6. Restaurants
Images: Resorts Negrense Facebook Page
After paddling and trying out the resort's facilities, you deserve a decent meal at a reasonable price. You can get just that in the resort's two restaurants: The Comedor, which specializes in
international cuisine
, and The Grill, which serves Filipino cuisine. They also sell raw food if you want to cook your own meals in the grilling areas.