Due to changing quarantine measures, the activities, destination/s, store/s, establishment/s featured in this article might be temporarily prohibited or closed under the latest government policies. LGUs might also implement health protocols and travel requirements. Please get in touch with the establishment/s before visiting. Stay safe!
Looking for a place for a relaxing weekend staycation without breaking the bank? Don't worry there are
budget-friendly hotels
with pools in the City of Smiles where you can relax and enjoy. While most might
hit the beach
for that fresh Instagram post, these affordable hotel pools can also bring you the those likes nonetheless. Want to know more about these hotel pools? Read on as ShoppersGuide gives you the list of budget-friendly Bacolod hotels with a swimming pool that are perfect for staycation.
1. Luxur Place
Image: Luxur Place Hotel
Luxur Place
is located in the southern part of Bacolod City. It has proportioned rooms that offer comfort and convenience to guests. Each room has an access to Wi-Fi connection. There are also restaurants surrounding the hotel. If you are looking for entertainment options, Goldenfield Commercial Complex is just a walking distance. What makes this hotel an ideal place for staycation is it features a beautiful landscaped garden with a 25-meter lap pool. Since the pool is surrounded with coconut trees, the place is giving you a beach vibe even if you are just in the metro.
2. Avenue Suites Hotel
Image: Avenue Suites Hotel
Avenue Suites
is a boutique hotel that has a beautiful architectural view, and designed with a blend of contemporary style and unique classic touch. What makes Avenue Suites noteworthy for tourists is its proximity to all important hubs and attractions of the city. Aside from having comfortable and spacious rooms, their state-of-the-art facilities are also impeccable. Among them is their swimming pool. It may appear simple during daytime, but it looks luxurious during nighttime.
3. Circle Inn Hotel and Suites
Image: Circle Inn Hotel and Suites
Circle Inn, from the name itself, is a hotel with prominent round windows and inns. The hotel rides on a trend known in 2004, the year it was established. Staying at Circle Inn will provide guests a comfortable, pleasant, and memorable experience because of the quiet, spacious, and easy-access to businesses near the south terminal of Bacolod City. Surprisingly, with its limited space, Circle Inn managed to put up a swimming pool in the hotel. A wave-shaped pool in the middle of the establishment makes it Instagram-worthy, and can make your staycation look classy.
Read:
4. Sugarland Hotel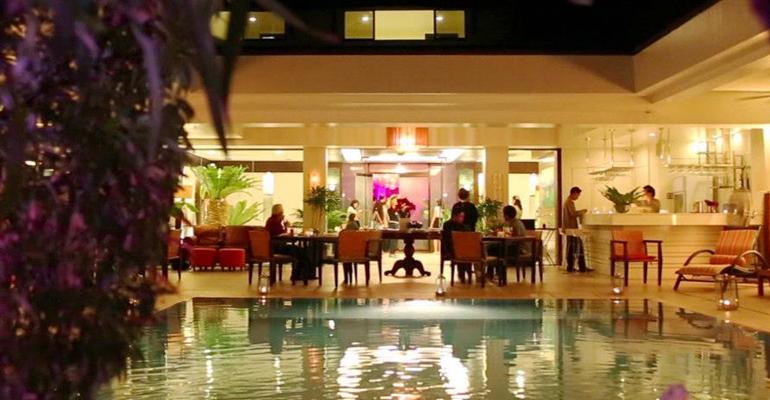 Image: Sugarland Hotel
Sugarland Hotel
is located in the southern part of Bacolod where one can enjoy being away from the business district of the city. The hotel is about 30-45 minutes away from Bacolod-Silay Airport, 15 minutes away from both the Bredco Sea Port and Lacson Tourism Strip. One of the facilities that distinguish the hotel is their small swimming pool inside beside their breakfast and buffet area. A morning swim after having breakfast by the pool is recommended.
5. Palmas Del Mar Resort
Image: Palmas Del Mar
Palmas del Mar Resort
is one of the go-to hotel resorts for tourists and locals in Bacolod City. This five-acre resort offers various amenities such as a five-lane lap pool with slides, two kiddie pools, and a Mediterranean pool with its own Jacuzzi. The Mediterranean pool looks luxurious whatever time of the day. So if you are up for day or night swimming, there's no need to worry, you can still get the luxurious vibe that you want.
6. Kundutel
Image: Kundutel
Goldenfield Kundutel
is a hotel in Bacolod City that never fails to satisfy its guests and vacationers. If you are staying here with kids, this could be a perfect spot since the hotel features a child-friendly mini swimming pool. There is also a small waterfall on the side where children can have a splash and enjoy some showers. The poolside design is edgy which is great when you take some pictures.
7. Caribbean Waterpark and Resotel
Image: Caribbean Waterpark and Resotel
Caribbean Waterpark and Resotel
is the place to be if you want to enjoy a peaceful vacation without leaving behind the sophistication and grandeur of the urban scene. The resort's three marvelous swimming pools have two big slides and an outdoor jacuzzi. You can have a blast in their grand pool where you can just enjoy by yourself or with friends.
Budget friendly hotels with pools are really great, especially for staycations. Which one in the list is your favorite?
* Click the store links to see the exact addresses and contact numbers of featured establishments.
* Photos/Images are from the official websites and/or Facebook pages of featured establishments and/or organizers.