Baguio City is celebrating Panagbenga Festival this month
The Panagbenga Festival is a month-long festival in Baguio celebrated in February every year. Historically, Baguio never had a festival or fiesta that usually celebrated a patron saint, owing to the city being established originally by the Americans during the American colonial period. A few years after the 1990 earthquake however, Baguio constituents proposed that a yearly festival be organized to celebrate Baguio's resilience as well as promote the city as a tourist destination once again.
For Love of Flowers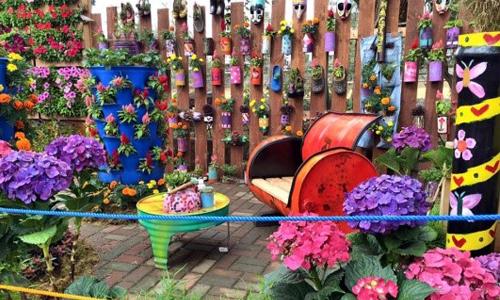 The Baguio Blooms Exposition and Exhibition also started on February 1 and will continue until March 5. Located on Juan Luan and Lake Drive in Burnham Park, the show features various exhibits of landscaping art and arrangement. Visitors can marvel at the ingenious arrangements done by local landscape artists and designers.
Where to eat
Several restaurants are situated close to Burnham Park. First up is the family friendly and affordable Good Taste Restaurant. The main branch on Carino cor. Otek Streets is walking distance from Burnham Park. There is another branch near Baguio Center Mall, Magsaysay Street. Good Taste serves family style Chinese and Filipino food at very affordable prices.
Yet another famous Baguio restaurant is 50's Diner, which has branches in 166 Military Cut-Off and 92 Upper General Luna, and more recently, Porta Vaga Mall along Session Road. Now, visitors can savor their American diner dishes such as burgers, pancakes, and milk shakes while enjoying traditional diner décor in every branch.
Where to stay
Based on initial inquiries with hotels, some hotels are already fully booked for the period and these include El Cielito Inn and Benguet Pine Tourist Inn. The following hotels:
City Travel Hotel
and the
Burnham Suites Baguio
still have available rooms during the time of inquiry [*] but may likely be fully booked soon. Visitors can also check out small transient houses for bookings, some of which have Facebook pages.
Interesting places to visit
The Summer Capital of the Philippines is not short of interesting places to visit. Just a few hours are enough for exploring Tam-Awan Village along Long Long Benguet Road. This village features authentic Ifugao and Kalinga huts, where one can find local arts and crafts on display. Snacks are available in the village's gallery-café. Guests can have their sketches done by one of the resident artists.
Another interesting place to visit is the old
Diplomat Hotel
on Dominican Hill, Diplomat Road. This is the site of the former hotel which has been abandoned. It is said to be one of the most haunted places in the city. Currently being remodeled by the city government, it is now called Dominican Heritage Hill and Nature Park.
Where to shop
Pasalubong shopping is an important part of any travel itinerary. And in Baguio, the shopping stops are Baguio City Public Market and the Maharlika Trade Center near the city center. For great ube jam and other sweets, the place to visit is Good Shepherd Convent in Gibraltar Road, near Mines View. For more adventurous shopping choices, there is the Night Market along Harrison Road, which is open from 9:00 PM to 12:00 midnight.
Important travel tips
Due to the Baguio Blooms Exhibition, Burnham Lake Drive and Juan Luan Drive will be closed for the duration of the exhibition. This also means that traffic near this area may be a little congested, so it is best for revellers to find a nearby parking spot, and walk to Burnham Park. Parking along Session Road is allowed from 9:00 AM to 4:00 PM and from 7:00 PM onwards.
Weather in Baguio this week
February is the time of year in the city when the temperature can drop to a pleasant 19 or 20°C during the day. According to the week's forecast on Accuweather, visitors can expect pleasant and cuddle-friendly weather, with temperatures ranging between a low of 13°C and a high of 20°C. Light rains are in the forecast on February 5 and 6, as well as February 10 and 11.
For light rains, an umbrella or a rain-proof jacket will be useful. On rain-free days, something warm such as a jacket or a sweater id necessary. Layering outfits is advisable so one can just take off a layer when the weather gets warmer.
* Inquiry on hotel bookings was made last February 1, 2017.
Click the store names to see their exact addresses and contact numbers.