Due to changing quarantine measures, the activities, destination/s, store/s, establishment/s featured in this article might be temporarily prohibited or closed under the latest government policies. LGUs might also implement health protocols and travel requirements. Please get in touch with the establishment/s before visiting. Stay safe!
Have you ever really been to a place if you didn't seize the chance to try out their local food?
Many would argue that a trip is incomplete without treating your taste buds on a trip. Baguio is one such place; with the
variety of food choices
and cuisines to try out, you'll definitely have your fill with every meal. Here's a list of the must-try
Baguio food delicacies
that you should definitely taste the next time you take a
trip to the City of Pines
!
1. Everything strawberries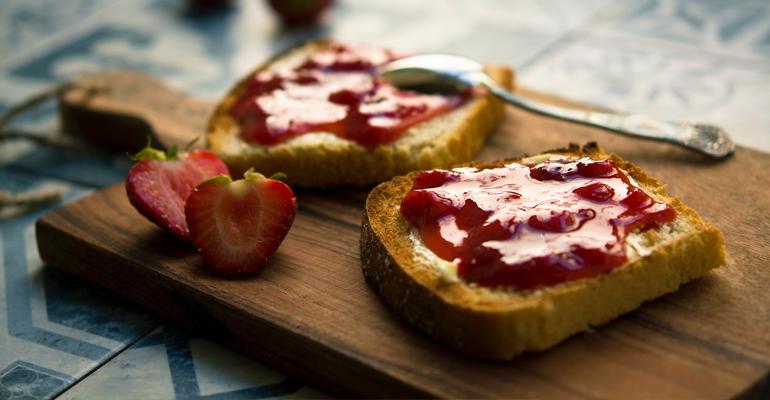 Since Benguet has an abundance of strawberries, Baguio also gets to partake in the bounty, especially when the fruit is in season.
Fresh strawberries
are available in the public market for as low as PhP100 per kilo when in season, usually around November to May. One useful hint when buying fresh strawberries for
pasalubong
(take-home gift) is to pick the ones that haven't ripened yet, so that they survive the trip back to the city. Also, store them somewhere dry—strawberries spoil easily once it gets too humid or if they get wet.
When you have fresh strawberries, expect that there will also be all types of strawberry products available. The most popular of course are the strawberry jams and preserves, which are also a big hit in Baguio. Jams are made of strawberry pulp cooked with sugar while preserves are whole strawberries cooked in sugar. If you want to get the best value for your money, buy these at Good Shepherd Convent in Gibraltar.
Image: @valeriecruz__
Our favorite
taho
also gets its own twist in Baguio: with just a dollop of strawberry jam, the morning staple becomes a new favorite:
strawberry taho
. Most taho vendors in
Burnham Park
and other tourist spots sell this, and you better treat yourself to a cup too!
For cake and dessert lovers, the divine strawberry shortcake from
Vizco's Restaurant
is probably the best transformation of strawberry yet. The restaurant, located at
Porta Vaga Mall
along Session Road, uses fresh strawberries to create its own divine version of the popular dessert. Locals who have lived with strawberries all their lives love it, so that should be proof enough of how good it is. Vizco's also has a branch in
SM City Baguio
.
August 2020 Update: Vizco's Restaurant is now open for take-out, dine-in, and delivery.
2. Sweet stuff to bring home
Image: Missishane Alcaraz
Whenever someone mentions Baguio, what immediately comes to mind are
pasalubongs
, specifically the
sweet desserts
in plastic jars. There are lots of them, but one of the sure standouts is the
peanut brittle
, which is essentially chopped or whole peanuts cooked in sugar and butter, then formed into a crunchy candy. Good Shepherd is one of the best quality brands that sell peanut brittle, but
Romana's
variant is also a best seller.
Ube (purple yam) jam, particularly that from Good Shepherd, is also in demand among Baguio visitors. Nothing beats the creamy and buttery taste of purple yam made at the Mountain Maid Training Center.
Another butter-based delicacy is the lengua de gato (literally "cat's tongue"), or butter cookies that are shaped like a cat's tongue. When visiting the local market, you can buy jars of lengua de gato from the best brands such as Rico's or Tartland.
YOU MAY LIKE:
3. Fresh and healthy produce
Good news for veggie lovers out there: organically-grown vegetables are now readily available in Baguio City. Groups such as the La Trinidad Organic Producers (LATOP) and Mountain Grown Natural Food Store sell locally grown vegetables like lettuce, carrots, spinach, as well as fresh herbs. LATOP has a stall in the public market, while Mountain Grown is located at the cathedral level of the Sky Zone, Porta Vaga Mall.
Pair off your fresh veggies with the
homemade salad dressings
by
Iggy's
, which are sold at the
Mountain Grown Natural Food Store
. Some of their must-tries are the French dressing and the strawberry vinaigrette, which is unmistakably a true
Baguio specialty
.
August 2020 Update: Mountain Grown Natural Food Store is now open.
4. Coffee beans
If you haven't tried it out yet, Baguio is also a great place to get good coffee beans at an affordable price. Garcia's Pure Coffee at the public market is the best local source for this. Here, you can buy their signature Benguet blend or their House Blend Arabica (dark roast). They also have beans harvested from Sagada and Kalinga. Brew your own coffee at the comforts of your own home and taste the distinct Baguio blend.
August 2020 Update: Garcia's Pure Coffee is now open.
YOU MAY LIKE:
5. Cordilleran dishes
For a closer and a more memorable taste of
Baguio's local food scene
, try dining at any of these restaurants which serve home-style Cordilleran cuisine.
Image: Café by the Ruins
Café by the Ruins Dua along Upper Session Road is a favorite must-try restaurant among Baguio visitors. Through the years, it's made a name for itself with its freshly baked breads made of camote (sweet potato) and squash, which go great with its homemade spreads. Try the restaurant's version of pinikpikan, a Cordilleran chicken soup, and its salads made of fresh Baguio veggies. The place also offers Baguio longganisa (FIlipino-style sausages made of ground pork, sugar, and spices) and Baguio bagnet (deep fried crispy pork belly), which will surely satisfy any proud carnivore.
August 2020 Update: Café by the Ruins Dua is now open for dine-in, take-out and delivery.
Image: Moe Abellera
Another local favorite
,
Café Yagam
, located at J. Felipe St., Gibraltar, is quickly becoming a go-to place for lovers of authentic Cordilleran cuisine. Among the
local dishes
they serve are
pinuneg
, or pork blood sausage, and
kiniing
, or
etag
as called by the Ibaloi, which is smoked and cured pork. All dishes come with a serving of red rice or boiled
camote
. Make sure to leave room for local desserts too, which is usually made of sticky rice: Kalinga's
inandila
(glutinous rice cake) and Ifugao's
kiniwar
(sweetened sticky rice). They also roast their own coffee, so you can enjoy a warm, freshly brewed cup with your sweet dessert.
July 2020 Update: Cafe Yagam is still closed until further notice.
Make sure to visit
Yoorekka
to learn and find out more about the best delicacies of Baguio.
Which of these Baguio food delicacies have you tried already? Share us what you love best about it in the comment section below!