Image: @ben_der_done_that
This February, all roads lead to the country's Summer Capital as
Baguio
City blooms once again for the 25th anniversary of the
Panagbenga Festival
. With Panagbenga Festival 2020 having the theme "Blooming Through the Years," the silver celebration of the annual flower festival promises the most extravagant exhibition of colors, costumes, and culture in the fete's history.
The festival opens as soon as the first day of February hits.
Panagbenga Festival 2020
has a one-of-a-kind celebration in store for participants, so read on to find out some of the much-awaited highlights so you can plan ahead! As always, the month-long celebration will weave through the entire highland city, so wherever you may be, you'll have every chance to join the festivities.
1. Baguio Blooms Exhibition: Landscaping Exhibition and Competition
When: February 1 to March 8, 2020
Where: Baguio Convention Center Parking Area
Image: @igyannick.exe
The Panagbenga Festival got its moniker from a Kankanaey phrase which means "season of blooming." The flowers of the Cordillera are truly distinctively beautiful, which makes it apt that the Baguio Blooms Exhibition is the month-long main event of the annual festival. In the exhibition's vibrant history, the presenters would always observe healthy competition by displaying the best of the best: curated and landscaped gardens of greens, adorned by rare and vivid species of flowers, which tell a story or carry their advocacy.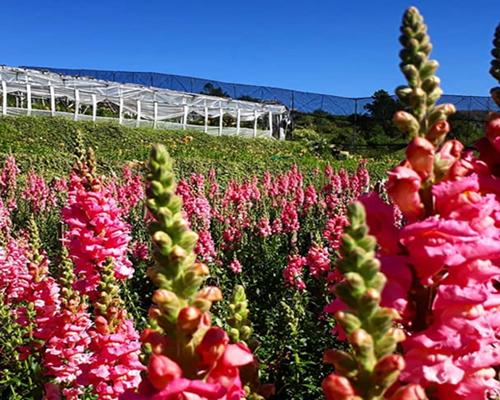 YOU MAY LIKE:
Their green thumbs never hold back, and this year, the exhibition will once again see Baguio's best gardeners and horticulturists hedge it out in a landscaping exhibition and competition. You can also purchase local species of seeds, buds, and potted plants at the venue so don't forget to bring some spare money!
2. Session Road in Bloom
When: March 2 to 8, 2020
Where: Session Road
Images: @jeremyrimando18
Speaking of flowers, a floral exhibition will take place in another famous landmark of the city: the Session Road. Here, tents upon tents of stalls selling potted plants, fruits, seedlings, and herbs make the entire stretch of Session Road both sweetly scented and visually stunning.
There's more than just plants and flowers, though. Food, clothing, accessories, footwear, and even books are sold inside this massive trade fair. Chances are, most of the goods are on sale too, so you better bloat your budget a little to accommodate all the great deals here! And if you run out of cash in just one day, don't fret: the fair runs for a week so you can come back again and again!
3. Handog ng Panagbenga sa Pamilya Baguio Family Fair
When: February 16, 2020 (Sunday)
Where: Melvin Jones Grandstand and Football Grounds
Image: PIA Cordillera
Another staple event in the upcoming Panagbenga Festival is the day-long Handog ng Panagbenga sa Pamilya Baguio ("Panagbenga's Gift to the Baguio Community") family fair. Any true-blue Baguio festivity wouldn't be complete without a family-centered activity. That's why the event is packed with various programs that are meant to bring families closer.
The annual "Let a Thousand Flowers Bloom" open painting exhibition remains the highlight of the event. Hordes of families are enjoined to paint their vision of hope and harmony onto canvas, which will then be used to spruce up Panagbenga parades and floats. Also filling the day are an open kite-flying competition, a Panagbenga cultural variety show, and, to cap the day off, a spectacular fireworks display above the Melvin Jones Stadium. Admission is free, so come one, come all!
4. Panagbenga Festival Annual Pony Boy's Day
When: March 7, 2020 (Saturday)
Where: Wright Park
Image: Rhon Madli Demandente
Anyone who has been to Baguio can attest to the huge role that horses play in the city's thriving tourism. That's why they get their own day in the festival too—through the Panagbenga Pony Boy's Day, happening in Wright Park. During every Pony Boy's Day, the city's local government and the festival-goers pay tribute to the horses as well as their riders and ranchers through fun and interactive activities with the horses themselves. Tourists get to watch and cheer in horse pageants, horse race competitions, and parlor games suited for both people and ponies to play in.
5. Panagbenga Cultural Dance Competition
When: February 22, 2020 (Saturday)
Where: Melvin Jones Grandstand and Football Grounds
Image: Zaldy Comanda
Culture shines amidst the festivities as dance troupes and cultural groups clash at the Panagbenga Cultural Dance Competition also taking place at the Melvin Jones Grandstand and Football Stadium. What used to be part of the Panagbenga Street Parade has now built an audience for itself, and is now set as the stage for the region's rich cultural background and heritage. Marvel at performances of banga ("pot dance"), cañao, tarektek, and other local folk dances, and even join in on the fun!
As a bonus, there will also be a Flower Tee Golf Tournament happening on the same day over at Baguio Country Club. Check out these events while the sun's out!
6. Panagbenga Grand Street Dance Competition and Parade
When: February 29, 2020 (Saturday)
Where: Panagbenga Park – DILG-Session Road – Magsaysay Avenue – Harrison Road – Baguio Athletic Bowl
Images: Karl Vincent Angaye, Rrie Ghar
The closing stages of the Panagbenga Festival are usually shared by two enormous events, the first of which is the Panagbenga Grand Street Dance Parade. The parade will roll through the city's major roads, with the final dance showdown taking place at the Baguio Athletic Bowl. If you have the dancing fever, then you definitely do not want to miss this!
Groups from various elementary and secondary schools as well as community-based teams will be battling it out for the top prize in the elementary, high school, and open division.The winner will receive glory and cash prize, although the crowd's approving chants and the throbbing community spirits remain the best awards to be had.
7. Panagbenga Grand Float Competition and Parade
When: March 1, 2020 (Sunday)
Where: DILG-Session Road – Harrison Road – Melvin Jones Grandstand and Football Grounds
Image: @iwillservegod
Part two of Panagbenga Festival's two-part main event is the Grand Float Competition and Parade, which will start from DILG Road and will conclude at the Melvin Jones Grandstand. In recent years, the float parade has also been a platform for top stars and celebrities to promote their recent shows and projects, thereby driving more audience to the spectacle, both locals and foreigners alike.
As traffic is put to a standstill, up to 20 giant mobile floats conquer Baguio's major avenues, their bodies bearing elaborate designs and surrounded with vibrant flower arrangements. The best one in the big float category earns the recognition as well as the cash prize. The streets will get crowded, so plan your position to get the perfect photos!
YOU MAY LIKE:
Go to
Yoorekka
for more updates about the Panagbenga Festival.
Make your Hearts Month more memorable by spending it with loved ones in the biggest celebration of the Panagbenga Festival yet!