Dubbed by the Department of Tourism as Asia's 24/7 island, Boracay, with its consistently gratifying azure skies on sunny days, fine white sand, and immaculate waters, always has something new to offer, round the clock. So take a glimpse of the new things you can see and experience in the island before your next Boracay getaway.
Hotels and Resorts
Along the busy highway in Station 2 of the island, you will find the new Azalea Hotel and Residences Boracay. The apartment-hotel has deluxe rooms for shorter stays and suite-rooms for long vacations. Suite-rooms come with furnished kitchens and entertainment and dining facilities.
Meanwhile, also in Station 2, Henann Lagoon Resort opens its new wing with 102 rooms. The Henann Lagoon Resort, which is also the latest addition to the Henann Group of Resorts, has a swimming pool and a VIP Lounge. But the hotel's new wing has a suite with a private plunge too.
Restaurants
Sisig Fries and Apple Pie Lumpia ala Mode are among the offerings of Café Vinchi, a modern-looking restaurant that offers a fusion of Filipino and American food in Boracay. Café Vinchi opened in September 2015 and is located on the ground floor of Jeffrey S. Hotel across the lake in front of D'Mall.
Subo Boracay meanwhile offers traditional Filipino dishes with a twist. This new restaurant with an antique-like setting is located along Calle Remedios in Station 3, just a few steps away from the tourist assistance center. It offers traditional dishes like Kare-kare and Adobo, with serving sizes meant for sharing. Also in its menu are vegetarian meals and a selection of wines and refreshments.
Stores
Forth & Tay Boracay, formerly located at the D Mall market has transferred to Lot#490 in Station 2, Bolabog. The store offers a selection of imported wines.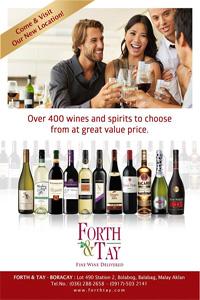 In this resort island, new businesses keep on sprouting as the famous white beach continues to attract tourists from all over the world. A year or two after your last Boracay trip, new attractions and establishments will welcome you, but the warm reception from the locals and a memorable beach paradise experience can be expected in the island every time.