If you want some tan, Instagram-worthy photos, and great shopping finds, especially for a quick vacation, Boracay can surely be on top of your list. Even if you happen to have visited this world-renowned island a number of times already, you're sure to find new things that will get you thousands of "likes" and "hearts" in your next vacation post.
Restaurants
There's a newly opened Arabic restaurant just a few steps from the entrance of D'Mall—Baharat Kabsa Steakhouse. The place offers the traditional Kabsa rice dish of Saudi Arabia. Aside from several Kabsa variations—beef, chicken, or goat—they also offer other Mediterranean dishes that are all Halal.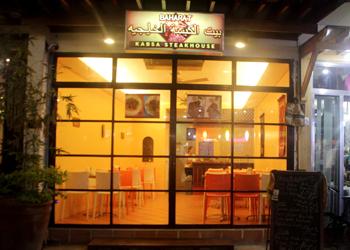 Another new restaurant around D'Mall is Texas Steakhouse, located in the same space formerly occupied by Sa'Neh Thai Bar & Restaurant. You can find it before reaching the beachfront area of D'Mall. Aside from steaks, they also have pasta dishes and wine selections and serve breakfast, either Texas- or Filipino-style.
For a Filipino-style dining experience, Hoy Panga is now open along the main road of Station 2. You will easily spot the place because of the human-sized image of owner and popular Youtuber Bogart the Explorer at its entrance. True to its name, the restaurant's specialty is grilled "Panga" or Tuna's jaw and Tuna belly.
Hotels
The Lind, promising to offer "luxurious comfort" to its guests, is now on its soft opening. Located in the beachfront of Station 1, the hotel is the newest addition to the high-end resorts in the area. However, some areas and facilities in The Lind may not yet be accessible to guests as it is still doing some finishing works.
Meanwhile, in Sitio Bulabog, Barangay Balabag, Ferra Hotel can be easily noticed for its modern-minimalist architecture and design. The 37-room boutique hotel is about six minutes away from Bulabog Beach. Their roof deck houses The Ruf Resto Bar, which offers Asian cuisine and where guests can enjoy some chill nights.
Activities
Another thing to try is the boat parties of Boracay SunCruiser. Their 65-footer outrigger fiberglass boat is equipped with world-class facilities and amenities and can accommodate up to 60 passengers. They also have a Super Slide—the first and the only one in Boracay—and a Jump-Off Pad where guests can take turns plunging into Boracay's blue waters. You can join their regular "Rock the Boat" party every Saturday or charter it for your private parties and group celebrations.
Along Calle Remedios in Station 3, there's now a 7-Eleven store for your quick shopping and snacking needs. It's right beside the Fashion Rack Designer Outlet.
During Saturdays, locals showcase their organic products, arts and crafts, and other homemade goodies at the Boracay Community Market. The community market is situated at Doz Mestizos Compound also in Calle Remedios.
There you go. Even if visiting Boracay may be a yearly habit, you will surely never run out of new memories to keep after the trip.