Due to the COVID-19 pandemic, the establishments featured in this article may implement temporary closures and/or a set of safety requirements in alignment with changing protocols. Please make sure to abide by the guidelines to stay safe.
Images: Damires Hills Tierra Verde Leisure Farm Facebook Page
In Western Visayas,
Iloilo
is most known for its historic churches and grandiose architecture. But this age-old province will also surprise you with the luxury and splendor of its hidden treasures. Embedded in the culture-rich municipalities of the former Queen City of the South are
luxury resorts
that boast of unique offerings. These places are where serenity, tranquility, and opulence converge.
Where: Sitio Anhawan, Oton, Iloilo
Adhara Eco Boutique Resort is hidden inside the popular Anhawan Beach Resort in Oton, Iloilo. Fifteen minutes away from the buzzing city life, it is an oasis for those who wish to commune with nature. The resort offers therapeutic wellness services with yoga classes and an in-house spa. Guests can enjoy themselves at the pool or beach, or try some of the outdoor activities like diving and kiteboarding.
The resort provides ample space for guests who love to stay in and catch up on lost sleep. It is also a haven for vacationers seeking to forge deeper bonds or individuals taking time off for some soul-searching. Guests can expect the quality of service that is characteristic of an authentic luxury resort.
Room rates range from PhP3,360 to PhP6,960 for four persons with complimentary breakfast for two.
Where: Buray, Oton, Iloilo
Couples can make their dream wedding come true at this Balinese-inspired boutique resort in Oton, Iloilo.
Sheridan Boutique Resort
offers seven private casitas, two deluxe rooms, and one presidential suite. A favorite among honeymooners, the resort is also frequented by couples and families. Their event pavilion is an ideal venue for conferences, weddings, debuts, and various special occasions. Guests can enjoy in-house dining at
Ayanna Garden Restaurant
, which serves
Iloilo specialties
with their own unique twist. Sheridan Boutique Resort provides world-class service with true Ilonggo hospitality.
Room rates start at PhP3,200 for two guests. Day use pool packages are also available from PhP250 to PhP1,500 per person. The resort also offers tour packages for interested tourists.
Where: Lawigan, San Joaquin, Iloilo
The fast and active life in Iloilo City can sometimes feel monotonous. Even those who live in neighboring areas can get tired of city life at some point in their lives. This is why The Assemblage Point Resort and Convention Hub was constructed. It aims to provide people with an alternative escape from the hustle and bustle of urban living.
The Assemblage Point Resort and Convention Hub offers the luxury you crave on your days off. Here, you are pampered with the lavishness that you deserve after all your hard work. You can enjoy kayaking, swimming, snorkeling, scuba diving, banana rides, island hopping, and other activities while staying at the resort. The Assemblage Point Resort and Convention Hub aims to offer relaxation, facilitate learning, and foster a love for nature.
Room rates vary from PhP2,000 to PhP15,000 depending on your preferences.
Where: San Joaquin, Iloilo
GarinFarm Pilgrimage Resort in San Joaquin prides itself in being the only resort in the country that integrates agriculture, leisure, and pilgrimage. It gives tourists a unique holistic getaway. It is a destination that accommodates people from all walks of life. The inland resort features air-conditioned glass-walled rooms with views of the sea or the surrounding terrain. The rooms are designed for tourists to take delight in Mother Nature.
YOU MAY LIKE:
GarinFarm Pilgrimage Resort features a wide swimming pool for both adults and children. Visitors can enjoy boat rides, sport fishing, and kayaking at the 5,000-sq. m. man-made lagoon. The resort also has provisions for horseback riding and zip lining.
Room rates range from PhP1,500 to PhP3,500, plus additional fees for entrance and resort activities.
Where: Damires, Janiuay, Iloilo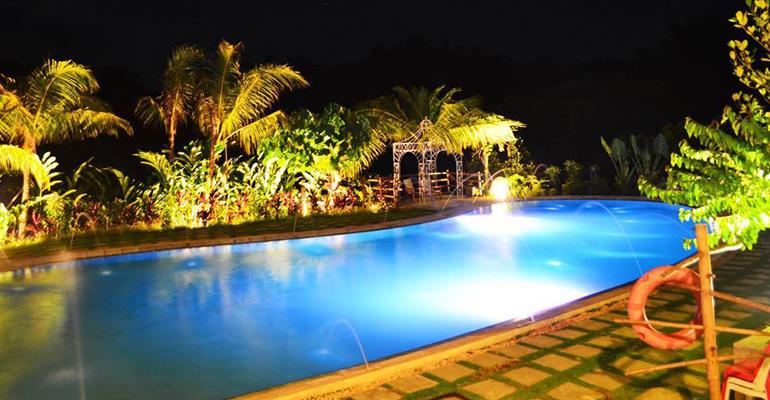 Situated 40 minutes away from Iloilo City is a hidden paradise called Damires Hills Tierra Verde. This Filipino farm resort offers an ultimate back-to-nature adventure getaway. It merges the ambience of a typical farm resort with the contemporary standards of Filipino hospitality and world-class luxury.
The seven-year-old resort is a prime destination for local and national
team building
events. It can accommodate small to large groups, with facilities for meetings, trainings, and seminars. It is also a favorite getaway for thrill-seekers who come to enjoy the zip line, canopy walk, and ATV adventures.
Daytime and overnight accommodations are available. Rates can range from PhP2,000 to PhP8,000 depending on the type of accommodation and number of guests.
Luxury resorts on this side of the country undeniably have one thing in common. All of them allow tourists to commune with nature. Whether it's in Oton, Janiuay, or San Joaquin, expect the place to showcase the best of Iloilo's natural beauty. On top of that, whichever luxury resort you choose to stay at, you will surely receive the warmest Ilonggo hospitality.
* Click the establishment names to see their exact addresses and contact numbers.
* Photos/Images are from the official Facebook pages of featured establishments.
* Prices may change without prior notice.
This article was originally published in Yoorekka on January 17, 2018.
Check out this video: