Mention Cebu and what comes to mind
are luxurious beach resorts
. This is almost a given as Cebu is consistently named as one of the top tourist destinations in the world. This year alone, Cebu landed in the sixth spot in the Travel + Leisure list of the World's Best Islands, while it ranked fifth in the Condé Nast list of Best Islands in the World.
While beaches remain to be one of the draws that attract tourists to Cebu, there are lots of other things to do than getting your dose of sun, sea, and sand. If you want to get away from the city on a shoestring budget, you can head to the municipality of Argao. Whether you go nature trekking, take a heritage tour or just try out the
local food
, there are lots of things to do in this small town in the south of Cebu. Since going there won't cost you an arm and a leg, it's ideal for a quick weekend getaway.
Attractions to Visit
Balag sa Agta Cave
Cost: PhP1,200 for two persons
If you're up for adventure, try exploring Balay sa Agta at the foot of Mount Lantoy. Reservation with the Municipality of Argao Tourists Assistance & Information Center is required at least a day prior to your visit. Their office can be found at Cabecera de Argao, just beside the giant torta. You can get there via a short tricycle ride from the bus stop. Guests going to Balay sa Agta Cave must register here before traveling for about an hour to Brgy. Conalum where the cave is located. Once there, they must register again in the barangay hall.
Before exploring the cave, the tourist guide will give you trekking gear to put on, such as a helmet with a headlight and a pair of carabiners. A short orientation will follow on how to use the gear. The way to the mouth of the cave is a narrow footpath with a steep cliff on the side. Thus you have to make your way guided by climbing ropes which the guide secures to nearby rocks.
At this point, it might be a good idea to slather on insect repellent since there are ants which can creep up your shoes. A water bottle can be strapped on to the harness as well since all that climbing can leave you thirsty. Trekkers must remember to leave their hands free for climbing so gadgets like cameras and cell phones must be hung around their neck.
Once at the mouth of the cave, a distinct smell fills the air: that of guano, or the excrement of cave-dwelling bats. Stepping inside, one will notice that the air gets cooler, or "natural air-conditioning" as the tour guide Kuya Nazer put it. Further down the cave is a flowstone, an ecru-colored rock formation smoothened by flowing water. Nazer explained that at this time of the year, flowing water passes through the rock. But during the summer, the water source dries up, making the rock glisten. During this time, they forbid guests to touch the rock since the acids from human hands are harmful to the rock.
At the middle of the cave is a spot where the sunlight comes in. This is courtesy of a hole in the roof of the cave. Stalactites and stalagmites can also be seen in the depths of the cave.
While preparing for the last stop ahead, Nazer warns that guests have experienced their cameras working intermittently or not at all when trying to take pictures at the darkest part of the cave. Then he tells the story of Maria Cacao, who according to folklore, lived in this cave with his husband Mangao. One day, she rode away on a golden boat filled with lots of cacao and never returned. And so, it is said that to this day, Mangao is still waiting for his wife to come back. He then asked us to turn off our headlights and look above, where there was a rock formation resembling a big man's shadow, sitting on a rock as if waiting for someone to return.
Exploring Balay Sa Agta takes approximately two hours. Visitors can also trek to nearby Bugasok Falls where they can go rappelling.
Sombria River Cruise
Cost: Php650 per person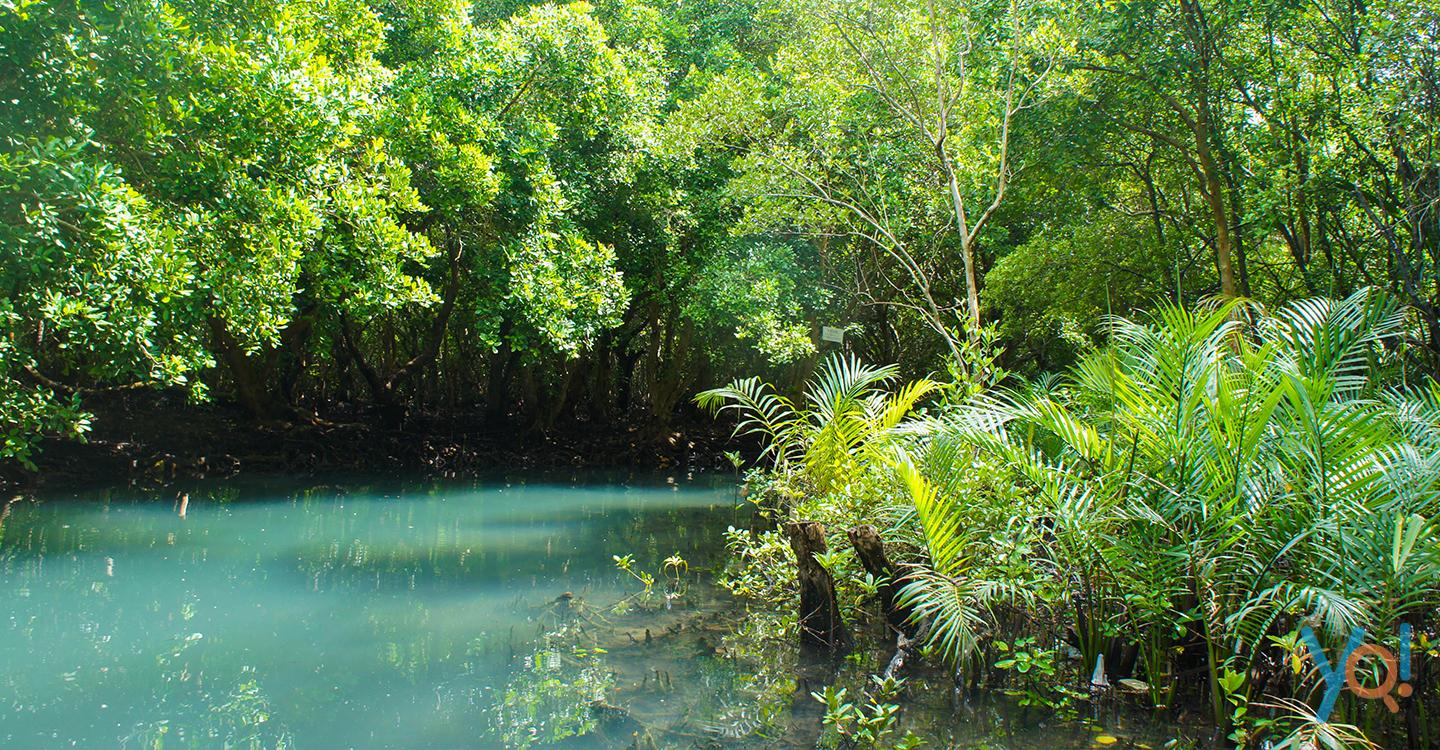 Another way one can appreciate nature is by riding the Sombria River Cruise in Brgy. Taloot. This 15-minute ride takes you through a guided tour of a mangrove site before heading out to sea at a floating restaurant for lunch.
At Sombria River, there are 20 species of birds like punay (yellow-breasted fruit dove), alimokon (local pigeon), tamsi (olive-backed sunbird), kingfisher, and night heron. During our trip, we were lucky enough to spot two night herons perched at the topmost branches of the trees. Our tour guide and boatman Kuya Jimmy explained that fishermen even give the herons fish to eat from their catch when they pass through the river. There are also seven kinds of bats, some of which migrate from Bohol, including kabog, a kind of fruit-eating bat. Exotic animals like wild pythons and monitor lizards likewise roam in the area.
The mangrove trees in the area, which have been inspected by the Department of Environment and Natural Resources, include pagatpat, bungalon, and tabigi, to name a few. Fishes use the knee roots of the mangroves as a breeding ground, while the skin of the mangrove, locally known as tungog, is used as a preservative for tuba (coconut wine). Near the surface of the water, there can be found protrusions called pneumatophores, which serve to separate the water from the river from that of the sea.
Even in the mangroves, the local folklore of the agta (a tall, black-skinned mythical creature) still figures prominently in the imagination of the townspeople. Legend has it that an agta lives in the 200-year-old pagatpat tree, which locals say is his chair.
The Sombria River flows out into the Cebu Strait, so expect a change from calm to rough waters. It would be best to apply sunblock or to bring a pair of shades or wide-brimmed hat for some sun protection.
The cruise ends with a sutukil lunch at Bienmar Sea Culture & Seafood Restaurant. Our group had a sumptuous lunch consisting of grilled fish, kinilaw (ceviche), fish tinola (fish soup), shrimps, and saang (spider shell).
Local Products
Costs vary, but starts at PhP25
Image: Right, Argao Guilang's Tableya Facebook Page
One of the best-known products from Argao is the tabliya, or cocoa tablets . You can buy a batch at Argao's Guilang Tableya, where prices are lower than those sold in Cebu City. Tabliya sold here costs PhP25 for 40 pieces, PhP80 for 50 pieces, and one tube for PhP135.
Another Argao delicacy is the torta, a mini-cake that can be eaten as a snack or dessert. There are two schools of thought in the making of this dessert. Traditional bakers like Jessie's Homemade Torta use pork lard in the batter, while non-traditional bakers like Chitang's Torta Bakery use vegetable oil and top their torta with raisins and cheese aside from the customary sprinkling of sugar. Jesse's sells torta at PhP25 per piece, while Chitang's sells them in two variants: PhP25 for small, and PhP35 for large.
Argao is also famous for their hablon products. You can watch weavers go through the seven steps of making hablon at Lamacan, Argao. Hablon products can be bought from the Paglaum sa Panginabuhian Center. Shawls cost PhP300, while shoes made in Carcar which carry the Argao-made hablon weave range from PhP350 to PhP550.
For local wine and condiments, you can head to Sukarap Vinegar Mfg. in Brgy. Talaytay. They sell suka (vinegar) at PhP45 per bottle, and tuba (coconut wine) and mango wine at PhP50 each.
Where to Stay
Coal Mountain Resort in Brgy. Linut-od, Argao offers a commanding view of the mountains. Resort amenities include two pools, mini-zoo, zip line and hanging bridge. Their main attraction is the coal adventure tour, which you can experience for PhP80 with complete mining gear or PhP30 with basic mining gear. If you plan to stay for a night or two, room rates start at PhP1,000 per night.
Baluarte de Argao Beach Resort
If you opt to stay in the town center, the
Baluarte de Argao Beach Resort
is within walking distance to heritage sites like St. Michael the Archangel Church, Casa Real (Barangay Lungsod sa Argao) and the Argao Hall of Justice (APTA Building). The resort is located just behind the Argao Church Watchtower, a national heritage site made of coral stone. Room rates start at PhP1,700 per night.
Visit
Yoorekka
to find more hidden gems in Cebu!
You don't have to break the bank to experience something new in your locality. The sights and sounds of Argao are just waiting to be discovered by the adventurous yet budget-savvy traveler.
Special thanks to the Municipality of Argao Tourists Assistance & Information Center for arranging the writer's itinerary and accommodation.
Prices are subject to change without prior notice.
Stay safe as you travel! Make sure to follow social distancing protocols and observe health precautions wherever you go. Have a great trip!
This article was originally published in Yoorekka on November 19, 2016.