Due to changing quarantine measures, the activities, destination/s, store/s, establishment/s featured in this article might be temporarily prohibited or closed under the latest government policies. LGUs might also implement health protocols and travel requirements. Please get in touch with the establishment/s before visiting. Stay safe!
Image: Cebu's Original Lechon Belly
The
lechon
(roasted suckling pig) is synonymous to Cebu. The metro is littered with restaurants offering their own versions of
lechon
. While many
local restaurants
offer the classic version of the well-loved Cebuano dish, some of them offer
lechon
with a twist to maintain their competitive edge. The following restaurants offer their own
lechon
-inspired dishes that may pique the interest of food enthusiasts.
1. Cebu's Original Lechon Belly
Image: Cebu's Original Lechon Belly
Cebu's Original Lechon Belly
was conceived in August 2011 when Mr. Marlon Gochan thought of offering a deboned
lechon
belly in the market. The restaurant received numerous awards, including Best Lechon Belly in the Sun.Star Best of Cebu 2016 Awards and the Certificate of Excellence for 2016 from Tripadvisor.com.
Boneless lechon belly is a whole pork belly or the side of the pig with the bones removed. It is then spiced with special ingredients before being slow-roasted over an open-charcoal fire. Boneless lechon from Cebu's Original Lechon Belly is priced from PhP95 for the original regular budget pack up to PhP3,860 for the large spicy boneless lechon. It is sold in all branches of Cebu's Original Lechon Belly in Cebu and Manila.
2. Enye by Chele Gonzalez
Image: Enye by Chele Gonzalez
Enye
is the Spanish-themed restaurant of
Crimson Resort & Spa
. While most of the dishes in the restaurant show the Spanish influence in the island, they also offer a unique dish that uses two
culinary icons of Cebu
.
The Lechon Cebu Tacos (PhP280) is a unique dish with the famous Cebu lechon as one of its main ingredient. The dish also contains another popular Cebuano food item, mango. Lechon Cebu Tacos is topped off with jalapeño frijoles (black bean) mousse and sour cream.
Enye is open from 6:00 PM up to 11:00 PM every day.
3. Tatang's Boneless Lechon
Image: Tatang's Boneless Lechon
The main product of
Tatang's Boneless Lechon
is the brainchild of its owner, Lorenz Florendo. After tweaking the recipe for several months, Lorenz created a product that was chosen as the Best Boneless Lechon Belly for 2013 by Sun Star Weekend. Aside from boneless
lechon
, Tatang's also offers other
lechon
-based dishes.
One of these is lechon flakes, or lechon sliced into strips then fried. Lechon flakes are priced at PhP95 for the value meal which comes with two pieces of puso (hanging rice) and one soft drink. It can also be ordered a la carte at PhP135. Lechon flakes are sold at all Tatang's Boneless Lechon branches in Cebu, Manila, and Davao.
4. Zubuchon
Image: Zubuchon Philippines
Zubuchon
lays claim to being home to the best pig in the world as declared by famed chef and TV host Anthony Bourdain. The name of the restaurant combines
lechon
with Zubu, the name of Cebu in old Spanish maps. Not resting on its laurels, Zubuchon has come up with innovative ways of serving
lechon
.
One of these lechon-based dishes is the sizzling squid stuffed with Zubuchon sisig. The dish brings together two well-loved dishes: sizzling squid and pork sisig (sizzling chopped pig's head). The restaurant uses their own lechon for the dish. It is priced from PhP280 up to PhP320, depending on the location.
Image: Zubuchon Philippines
Another lechon-based dish offered at Zubuchon is lechon sisig. Sisig is a well-loved Filipino dish made of parts of the head and liver of the pig. It is normally seasoned with chili peppers and calamansi (calamondin). At Zubuchon, they spice it up with their own secret ingredients. Lechon sisig at Zubuchon is priced at PhP200 up to PhP220, depending on the location.
Image: Zubuchon Philippines
Another dish you may want to try at Zubuchon is fried lechon siomai (PhP190 for seven pieces). It brings together a well-loved Filipino dish with a Chinese-inspired dish. For this dish, balls of siomai (dumplings) are stuffed with lechon and deep-fried to perfection. Sizzling squid stuffed with Zubuchon sisig, lechon sisig, and fried lechon siomai are sold at all branches of Zubuchon around the country.
5. Rico's Lechon
Image: Cebu Philippines Online
Rico's Lechon
first opened its doors to the Cebuano market in 1997 when Enrico Dionson sold his roasted
lechon
seasoned with leeks and garlic at the original branch in Highway 77. Rico's Lechon also offered the first
spicy lechon
in the market, which has become one of the best sellers of the restaurant.
The spicy lechon of Rico's spawned another lechon-based dish, the lechon chili rice (PhP240). It gives this typically uninteresting dish a new twist using Cebu lechon.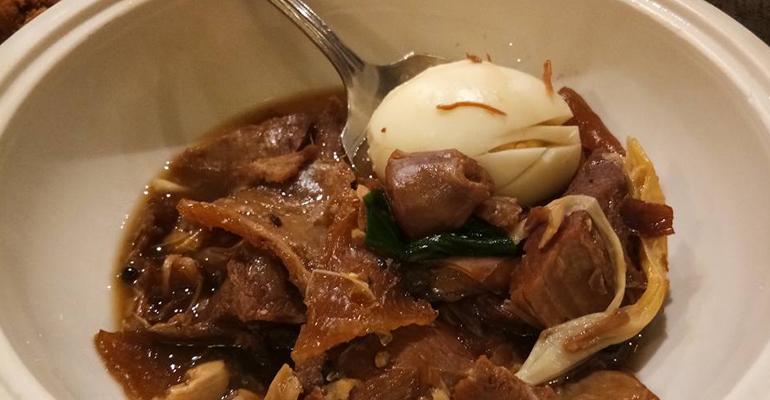 Image: Genelyn Retada
Another lechon dish with a twist at Rico's Lechon is lechon humba (sugar-braised pork). It brings this favorite Cebuano comfort dish to a new level using lechon as its main ingredient. Lechon humba at Rico's Lechon is priced at PhP240.
Lechon chili rice and lechon humba are sold at the Lapu-Lapu branch of the restaurant. Rico's Lechon is open from 9:00 AM to 10:00 PM every day.
Which of these lechon dishes with a twist have you tried? Tell us about it on the comments section below.
* Click the store names to see their exact addresses and contact numbers.
* Prices may change without prior notice.
Check out this video: