One proof of Filipino ingenuity is the
halo-halo
, a heavenly concoction of ube (purple yam), strips of buko (coconut), tapioca, and sliced bananas on top of (or topped with) shaved ice. It is typically in demand during the summer, especially now that the heat index in the Philippines has reached up to 42°C—a temperature enough to make you feel under the weather.
Kuppa Roastery & Cafe
proves to be more than just a place offering coffee. This
halo-halo spot in Bacolod
with a semi-modern and semi-rustic theme currently houses a refreshing halo-halo bar. Selection of toppings include ube, beans, banana, and cornflakes.
Their eat-all-you-can halo-halo costs PhP150 and is available from 2:00 PM to 5:00 PM, Monday to Sunday. Other than their halo-halo, you may also check out their wide selection of pastries and gelato. Their coffee items worth trying include Ben's cappuccino and white cloud mocha with prices starting at PhP80.
You may also want to try their pizzas and pastas. They have the Viva España pizza and prosciutto cotto e funghi (mozzarella, cooked ham, and mushroom) pizza. For pastas, they have chorizo arrabiata and classic carbonara, to name a few.
Location: #1 Tindalo Avenue, Capitol Shopping Center, near St. John's Institute, which is more popularly known locally as Hua Ming. For those in Manila, you may check out their branch in Bonifacio Global City, Taguig.
Contact No.: (+6334) 433-6562 (Bacolod)
How to get there: To get to their Tindalo Avenue branch, take a northbound jeepney to Libertad going to West Negros University. Get off at Ting Ting's Restaurant near Doctor's Hospital and walk towards St. John's Institute. If riding a taxi, tell the driver to take you to Kuppa near St. John's Institute.
YOU MAY LIKE:
Strategically located at Lacson Street, local favorite Bascon Cafe currently has a halo-halo station which is open from 2:00 PM to 6:00 PM daily.
The artsy café with hand-painted interiors has an unlimited halo-halo offer at PhP135. Their single-serve special halo-halo with ice cream is at PhP95, while their regular halo-halo is at PhP75.
For an alternative, you may also want to try their fried Oreos served with vanilla ice cream for PhP85
Location: Bascon is located at 27th Lacson Street near Rolling Hills Memorial Chapel and Tita Beth's PancitMalabon. They are open from 6:00 AM to 11:00 PM, Monday to Sunday.
Contact No.: (+6334) 433-2011.
How to get there: From North Terminal, take any jeepney going to Lacson Street and get off at Bascon after the bridge near Rolling Hills Memorial Chapel and ABS-CBN Bacolod. If you're taking the taxi going there from North Terminal, the fare would cost around PhP70.
YOU MAY LIKE:
Dana Buko Cocktail Restaurant
Dana Buko Cocktail Restaurant is a three-year-old restaurant that offers halo-halo in Bacolod which positions itself as a place for the family. For PhP69, you can get a large portion of their buko halo-halo which is served inside a coconut shell.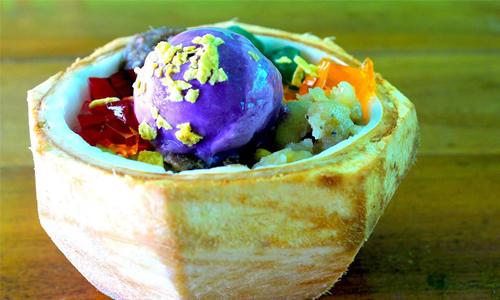 They also have buko batchoy which starts at PhP39. These are served in buko shells as well, which is one of their claims to fame as they rose in popularity through social media. Other than halo-halo and buko batchoy, they have beef kulma (PhP220) which is curry cooked the Tausug way. This dish, which is good for two to three persons, originated in Mindanao and is best served with rice.
They also have unlimited black coffee for PhP20 and regular brewed coffee with milk at PhP18.
Location: 2/F of Hi-Strip 3, Villa Angela I.T. Park, Circumferential Road, Brgy. Villamonte. It is found across Panasiatic Solutions building at New Government Center.
How to get there: Ride a jeepney going to Lopue's East. From North Terminal, there are jeepneys with routes going to *Bangga Pepsi to New Government Center. The fare costs PhP10.*
Another family-oriented and family-owned restaurant in this list is Bob's Restaurant . Their 50-year-old North Drive branch is one of three Bob's restaurants in the city. The other two are in Lacson Street and SM City Bacolod.
To beat the heat, they have regular halo-halo at PhP86 and special halo-halo at PhP101.
Bob's Restaurant is famous for its sate babe and Mongolian rice. They also take pride in producing one of the top sans rival cakes in Bacolod, which costs around PhP500 to 700 per piece or PhP75to 90 per slice.
The restaurant is good for groups and is conducive for meetings. Their North Drive Branch has function rooms upstairs for a private dining experience for groups of 10 to 30 people.
Location: B.S. Aquino Drive and is across Riverside Medical Hospital.
Contact No.: (+6334) 434-2409 or (+6334) 709-1307.
How to get there: Look for jeepneys heading to Riverside Medical Hospital, such as ones with routes from Northbound to Libertad and from Shopping to San Agustin.
Whether you are trying to cool off on a hot summer day or simply wanting to check out sweet and fruity Negrense offerings, it is best to get your fill of halo-halo during the afternoon. You may also want to check out these establishments' other food offerings to complement your *halo-halo.*
You can choose a restaurant that's near you or one you feel comfortable in, but either way, all of these halo-halo spots in Bacolod are worth going to!
Prices are subject to change without prior notice.