Due to the COVID-19 pandemic, the establishments featured in this article might be enforcing their own set of health protocols and requirements. Please coordinate with the management before visiting.
The City of Smiles, best known for its festive MassKara festival which happens every October, is a place every visitor will never forget. But even outside its festival month, Bacolod City proves to be a beautiful destination to explore. Whether you're in town at the right time to celebrate Masskara or are just visiting, here are some things you must do during your stay for an authentic Bacolod experience!
1. Stay right at the city center.
There are plenty of options on where you can stay in Bacolod. But if you want a hassle-free commute from the city's main plaza,
Sea Breeze Hotel
is a good choice. The hotel lies alongside the public plaza where MassKara competitions take place. It offers spacious rooms, affordable rates, and accessibility from both
SM City Bacolod
and
Bongbong's Piaya and Barquillos
.
It is advisable to secure your hotel booking early before you proceed to the city.
2. Shop like a local.
If you want to experience local shopping in Bacolod, head down to
Bacolod Central Market
where you can buy crafts and native products at reasonable prices. There are several downtown stores in the city where locals shop.
Plaza Mart
is one of the most favorite shopping places in town as it is in the downtown area. You can also shop at
Lopue's
,
Corona Top and Shop Inc.
,
Bacolod China Mart
, and
Limman's
.
3. Bring home pasalubong items.
Image: Bongbong's Piaya and Barquillos
Bringing home pasalubong (take-home gift) and memorabilia complete your travel. Piaya (muscovado-filled unleavened flatbread) is a good choice to take home from Bacolod. It is famous in Negros Occidental where it originated. You can buy piaya and other souvenir items at Bongbong's Piaya and Barquillos, one of the top souvenir stores in the city. Bongbong's also carries items like keychains, mugs, T-shirts, and other local products.
There are several branches of BongBong's in the city but the most accessible one is in the downtown area along Lacson Street. Other pasalubong shops in Bacolod include
Merzci
,
Pendy's
, and The
Negros Showroom
.
4. Join locals at Manokan Country.
Image: Aida's Manokan
Despite growing
restaurant hubs in Bacolod
,
Manokan Country
remains as the locals' top favorite dining place because of its iconic dish—chicken
inasal
! Manokan Country is a compound of dining stalls serving this local roast chicken dish and other grilled foods. It is located right across the SM City Bacolod and is a few blocks away from the downtown area.
Like piaya, chicken inasal is common in Negros Occidental where it originated. Because of its popularity to locals, the restaurant is normally jam-packed with diners on peak hours.
5. Eat the freshest seafood.
There are lots of seafood restaurants in Bacolod that you can dine in. One of the go-to seafood restaurants in town is
Hyksos Pala-Pala
. Hyksos has huge counters filled with various types of fresh scallops, shells, crabs, fishes, and prawns where you can choose the type of seafood you like. The seafood is ordered by kilo and cooked in any style you prefer, whether buttered, sauced, fried, steamed, grilled, and
kinilaw
(ceviche).
6. Indulge in the Bacoleños back rib dish.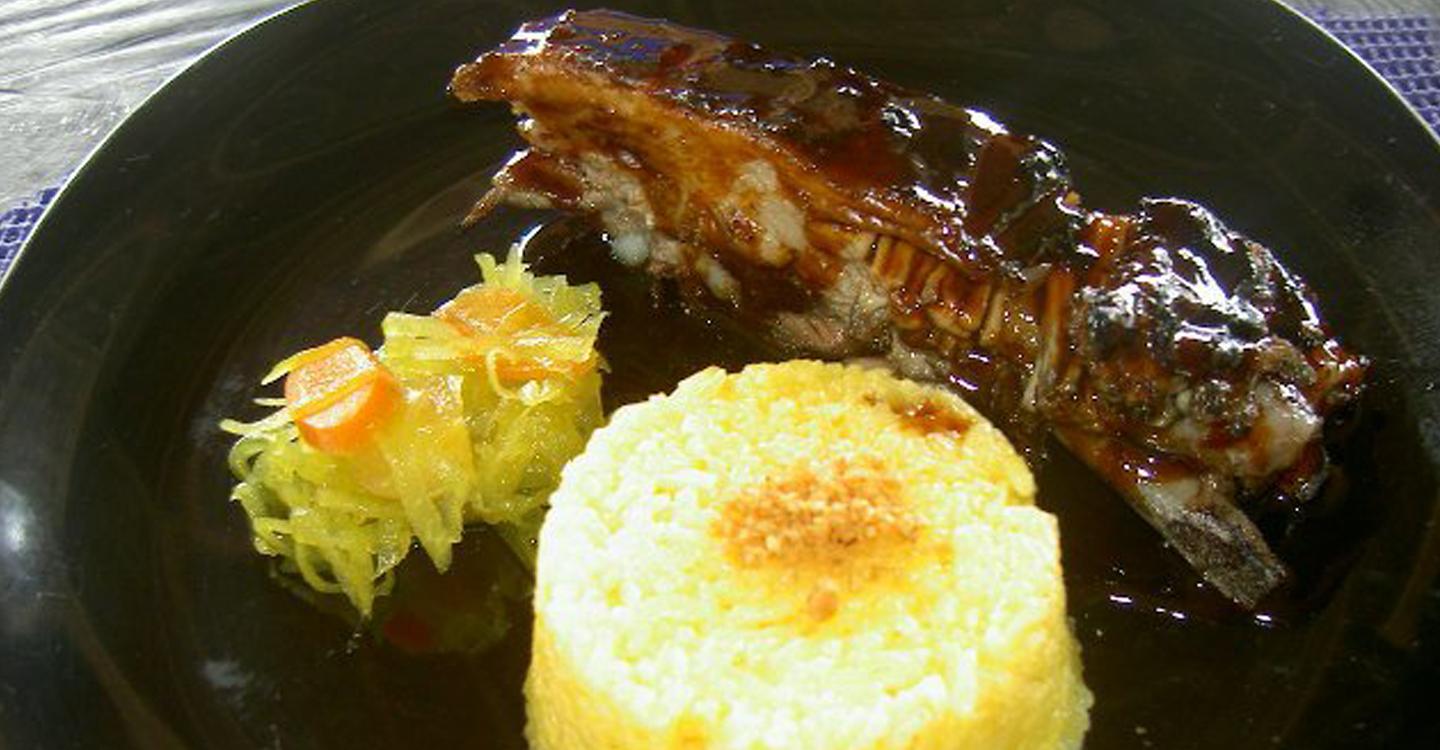 Image: Lord Byron's Backribs
Your food adventure doesn't stop in Manokan Country and Hyksos. If you fancy other dishes in Bacolod aside from chicken and seafood,
Lord Byron's Backribs
restaurant can be a good option. The restaurant is popular in Bacolod where it originated. It became a big hit to Bacoleños because of their affordable, tender, juicy serving, and generous cut of baby back ribs served with their signature flavored yellow rice.
The restaurant is a big native cottage with wooden chairs and tables, and huts that can be occupied by groups. Aside from Bacolod, they also have another branch in Dumaguete City.
7. Satisfy your sugar cravings.
If you want to satisfy your sweet tooth after your meal, there are several homegrown cake and pastry shops just around the corner of Bacolod streets. A "dessert triangle" sweet spot is located along Lacson Street where three well-known cake shops are just a stone's throw away from each other. The most famous one is
Calea
with their best-selling cake creations like blueberry cheesecake, choco caramel cheesecake, and many more. Other places where you can also spoil yourself with a sweet escape are at
C's by L' Fisher
and
Felicia's Pastry Shop
.
8. Tour the old mansion.
The Ruins is a go-to tourist spot in Bacolod known to be the "Taj Mahal of Negros." It is an old mansion built during the Spanish the era and intentionally burnt down in World War II. Over the years, the architecture of the mansion has been put into restoration. Because of its enchanting history and ancient structure, The Ruins serves as a place of attraction for both locals and tourists.
YOU MAY LIKE:
The Ruins is situated in Talisay City, which can be reached straight from the airport.
Do you have a noteworthy experience in Bacolod City? Share it with us in the comments section below!
Stay safe as you travel! Make sure to follow social distancing protocols and observe health precautions wherever you go. Have a great trip!
This article was originally published in Yoorekka on October 03, 2017.