Images: Palawud Resto Grill (L); Scarborough Seafoods Pala Pala (R) Facebook page
The merriest time of the year is coming just a few days from now. Family reunions, celebratory luncheons, and yearly Christmas dinners are hopefully being set on your calendars, but still pondering on where to have your Christmas food trips to? Look no more cause Bacolod City offers these five
seafood
restaurant
options to celebrate your Christmas luncheon or dinner. There are many seafood restaurants in the City of Smiles, and these five restaurant choices are worth trying out.
Address: Azalea Street, Corner Mimosa Street, Liroville Subd., Brgy. Singcang, 6100, Bacolod City
Contact Number: 03 44350760
Operating Hours: 10:00 AM to 7:30 PM
Budget: PhP45 to PhP1,800
Image: Aboy's Facebook page
Aboy's Restaurant
in Singcang, Bacolod City, is one of the top native
restaurants
that serve seafood dishes and Filipino cuisine. Aboy's Restaurant was established in February 1992 as a simple eatery in Burgos public market and started serving workers in offices within the area. Grilled seafood and
lutong bahay
(household food) are the main
dishes
served by the small restaurant back then, and the clientele was later increased because of the quality taste of the food served at very reasonable prices. People have been consistently raving about the restaurant's various dishes, from the main course to desserts. Other people took an interest in tasting the delicious dishes, now known among Bacolodnons.
When you have finally booked your plans with your family and friends for a Christmas seafood buffet dinner, Aboy's is one to go. At present, this
seafood
resto continues to bring the same and more improved seafood dishes in Bacolod City and expand its cuisine to cater to more customers. The classy ambiance and affordable food that this seafood restaurant offers continue to be loved by many, and you will surely do too.
Address: Lot 2, San Juan Street, Pala Pala area, (at the back of Ayala Capitol Central Mall), Bacolod City; Market Place Complex Tent 8, New Government Center, Bacolod City
Contact Number: 0923 7395368 / 0939 8900325
Operating Hours: 10:00 AM to 9:00 PM
Budget: PhP90 to PhP1,550
Images: Scarborough Seafoods Pala Pala Facebook page
A wide variety of
seafood
cuisine awaits in this restaurant! When you ask residents of Bacolod City where to go to eat delicious seafood dishes, many would mention
Scarborough Seafoods
. Their branches in
Bacolod City
New Government Center, and Pala Pala Street are perfect places to have your Christmas lunch or
dinner
with. Aside from the wide selection of seafood menu, this restaurant also offers the
Super Sulit
takeaway meals for only PhP220 each, and you can choose from among four variants. These meal selections provide a complete meal set, including rice and three seafood dishes, making this dish one of the bestselling menus in the restaurant. If you are alone and craving seafood, this option is for you. They also have various combo meals for big groups of people—ideal for
barkada
and families. You will be overwhelmed by the delectable seafood choices of this restaurant, and you should not miss taking your vacationing relatives here.
Address: Banago Rd 6100, Bacolod City
Contact Number: 03 44416506
Operating Hours: 8:00 AM to 11:00 PM
Budget: PhP80 to PhP4,990
Image: Palawud Resto Grill Facebook page
Palawud Resto Grill
is how exactly you would picture a seafood restaurant to be like. This seafood restaurant has a wide, expansive area with intricate, native wood designs and facilities. There is plenty of room for seating, and you won't have to worry about booking a reservation because this restaurant happily accepts walk-ins! It is best recommended to have your early
dinner
at Palawud Resto Grill to witness the sunset at this seaside resto. They offer various seafood choices, from buffet platters, grilled
dishes
, and more. Their seafood platters will surely satisfy avid seafood lovers out there.
Address: Aning, Pahanocoy or from Bangga Mays Garden, 6100, Bacolod City
Contact Number: 0948 9727821
Operating Hours: 7:30 AM to 10:00 PM
Budget: PhP65 to PhP3,450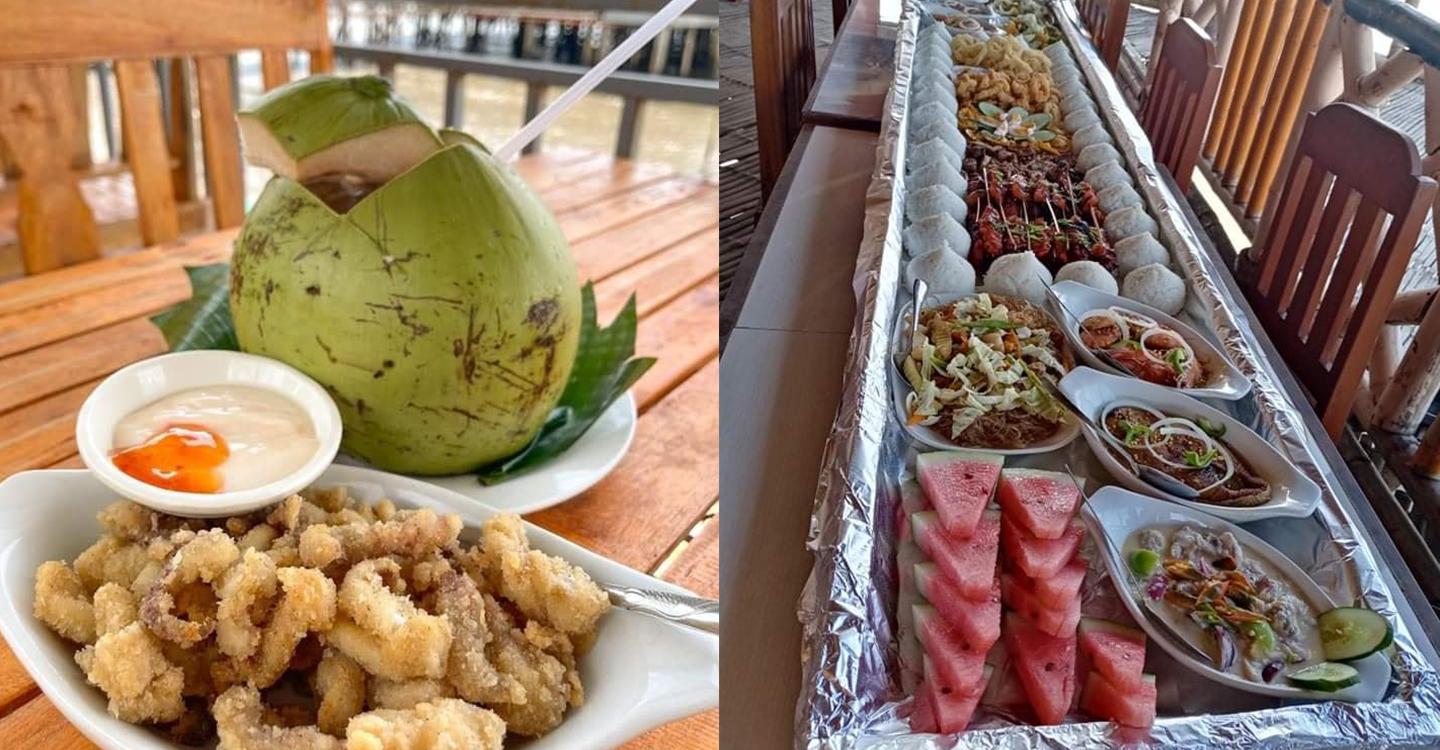 Images: Rojo's Beach Resort and Floating Restaurant Facebook page
Everyone has been raving about this new seafood restaurant in
Bacolod City
—the
Rojo's Beach Resort and Floating Restaurant
. You will be amazed by the stunning view and the delicious seafood
cuisine
this new restaurant offers. This seafood restaurant is a must-visit this Christmas since their menu offers boodle packages, perfect for family Christmas gatherings and
barkada
holiday reunions. This newly established seafood resto has al fresco dining, ideal for
Christmas
date nights or Christmas party celebrations. New and old customers have left good reviews about the restaurant's food, customer service, and overall ambiance. Their must-try dish is the
Kinilaw na Tangigue
, along with other delicious dishes.
Address: San Juan St., 6100, Bacolod City
Contact Number: 0920 4392581
Operating Hours: 9:00 AM to 11:00 PM
Budget: PhP130 to PhP900
Images: Gina's Seafoods Restaurant Facebook page
Bacolod City is home to a lot of seafood
restaurants
, and if you are on the search for one of the best, then
Gina's Seafoods Restaurant
is an underrated resto that you should visit. Customers have always loved this seafood restaurant's service and the outdoor ambiance, plus the fresh and delicious seafood
cuisine
. This humble eating place consistently brings high-quality and tasty seafood dishes to their customers, making them remarkable in the City of Smiles. The area is ideal for birthdays,
Christmas
party dinners, family holiday celebrations, or any like occasion.
These seafood restaurants in Bacolod City are sure to satisfy your seafood cravings while celebrating a festive Christmas dinner with your family or catching up with your friends this holiday. Your pocket and your tummy will surely not regret trying out the delicious dishes served at these restaurants!
Stay safe as you travel and dine in! Make sure to follow social distancing protocols and observe health precautions wherever you go. For now, keep safe!
Check out this video: