As of March 2021, Bakhawan Eco-Park is open. Guests are reminded that it may implement temporary closures and/or a set of safety requirements in alignment with changing protocols amid the pandemic. Please make sure to abide by the guidelines to stay safe.
Image: ASQ Bakhawan Eco-Park Facebook Page
Often falling off the radar of travelers reaching the Kalibo International Airport to go to
Boracay
, Aklan is the province's capital, Kalibo—where the airport itself is situated! Just after an almost two-hour drive from the airport to reach the town center, one will see that Kalibo is undoubtedly one of the best
tourist destinations in Aklan
, perfect for summer tours and retreat that locals are truly proud of.
For tourists who would like to expand their travel adventures in Kalibo, there is a hidden sanctuary that will draw you closer to nature and is waiting for you to explore: the
Bakhawan Eco-Park
! Read on to learn more about this understated destination.
Bakhawan Eco-Park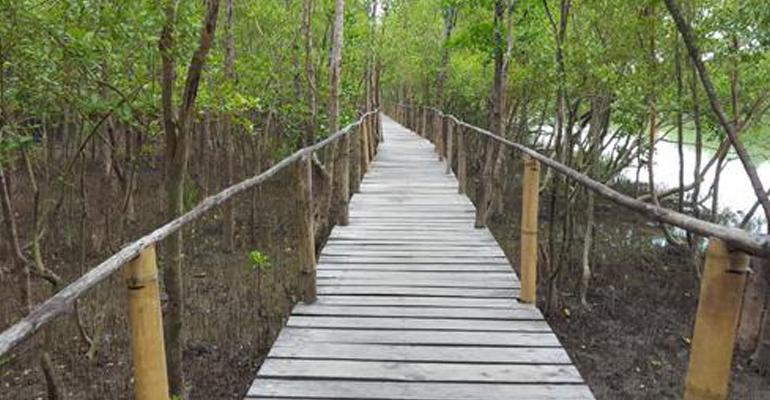 Originally secluded as a muddy shoreline of Barangay New Buswang, Bakhawan Eco-Park has been transformed into a 220-hectare mangrove forest site developed thru the collaborative efforts of both local government and non-local government organizations (NGOs). Since 1990, the project has been continuously expanded until it became one of the most popular tourist attractions in the area.
The park welcomes you with lush greenery of mangroves (which is locally named as bakhawan) and blue skies ideal for an eco-tourism adventure. It is developed for the initial purpose of preventing storm surges whenever typhoons hit the community. Later on, it opened its doors for visitors looking for a unique and educational trip with a relaxing view of nature.
A few steps from the entrance is a souvenir shop offering paintings, photographs, and other souvenir items you can choose from. After you spend the day in the park, don't forget to get back here for some worthy takeaways of your tour apart from your selfie pictures!
The 1-Km Bamboo Trail
The main feature of the eco-park allows you to take the 1-kilometer bamboo trail that brings you further into the mangrove plantation. As it is designed to be a friendly eco-tour spot, a simple bamboo lounge is built for every 100-meter walk so you can rest your foot and enjoy the scenery.
Down the trail, the park will enchant you with various types of mangroves and wildlife creatures consisting of birds and aquatic species. A "Pla-pla and Bangus Culture" station can be spotted in the middle part of the trail where visitors are allowed to feed the fishes in the pond. You will also come across children who are selling seafood fresh from their harvest.
An exciting part of the tour is passing the bamboo bridge of the Aklan river which will bring you closer to the Bakhawan Base Camp. For guests who plan to spend overnight in the camp, a tent good for 2 pax can be rented for PhP500 only. Rest rooms are also available and an open bar is readily accessible for your snacks and drinks. Indeed, the site is also an ideal place both for daytime and nighttime picnics.
The Rewarding View of the Beach
While the stroll is nearing its finish line, you might wonder what's in store for you at the end. Surely you will agree that the mesmerizing scenic view of the beach and the Sibuyan Sea is enough reward for finishing the trail! Finding yourself at a lovely beachfront place with the sight of a sandbar across it is a breathtaking moment that will complete your experience. This sandbar, opened just 3 years ago to the public, can be crossed thru bamboo rafting available anytime. You can walk along this sandbar and be amazed with the oceanic view of the place. Just make sure to bring extra clothes so you can catch a swim and sunbathe under the sun.
There are also available cabanas (huts) if you come in a big group. While sitting and enjoying the picturesque spots, you can also take a quick snack available at the humble restaurant area. They serve simple orders like fresh buko, halo-halo, kikiam, hotdog, squid ball, fish ball, junk foods, and tamilok.
Tamilok, also known as woodworm, is a famous delicacy in Aklan. It often grows in mangroves and is one of the exotic foods in the area. If you are an adventurous eater, you can ask the counter to do a demo on how to serve it fresh from the mangroves for PhP300. If it is your first time to eat an edible worm-like creature, then tamilok can be an exciting highlight of your trip too!
Nice to Know
Bakhawan Eco-Park is dubbed as the Philippines' most successful mangrove reforestation and is hailed as one of the exemplary forests managed in the whole of Asia and the Pacific by the United Nations Food and Agriculture Organization. [1]
Opening Hours and Entrance Fees
You can visit Bakhawan Eco-Park from 7:00AM to 5:00PM daily, however, the beachfront area closes at 6:00PM. General admission is PhP150/ head while Aklanons can get in for PhP100 only. Senior citizens and students can avail their discount privileges.
How to Get There
Ride a tricycle anywhere around the downtown of Kalibo and ask the driver to drop you at Bakhawan Eco-Park. The fare only costs Php40 for a single trip. It will only take you about 10 minutes to get there.
Summer has always been one of the most awaited seasons we are looking forward to yearly. It is the perfect chance to take your vacation, unwind, and get away from stresses that come from your daily activities.
If your wanderlust genes are now craving for travel and adventure, why not list Bakhawan Eco-Park for your next nature tripping?
All photos are from the writer.
This article was originally published in Yoorekka on April 15, 2017.