Visiting the City of Smiles could be exciting, what with the historical landmarks to see, the restaurants to try, and the beaches and highlands to explore! With such a jam-packed itinerary, who would not be exhausted by the end of the day? Because of that, travelers need a comfortable
hotel
in a good location while exploring the city—a hotel like
North Tourist Inn
.
Judging by its name alone, you'd already know that this place is clearly designed for travelers. Whether you are a businessman setting up for your next meeting, a group achieving your
barkada
(group of friends) travel goals, or just a lone traveler wanting to explore the wonders of Bacolod,
North Tourist Inn
will adequately suit your needs and wants. Read on to see what this new hotel welcomes you with.
1. Located along Lacson Street, the hotel is near famous spots and transportation hubs.
The hotel is located beside the Mandalagan Flyover and is just a 2-minute walk from the Ceres North Bus Terminal. It is near The Ruins, a famous historical landmark, and is a 30-40 minute drive to Campuestohan Highland Resort. Public transportation can never be an issue, for jeepneys pass by the hotel 24/7.
YOU MAY LIKE:
Since the hotel stands along Lacson Street, food hunters will have easy access to recommended restaurants and cafes within the area such as Pendy's, Calea, and Chicken House. Travelers are not the only ones who would find this hotel ideal; businessmen and event attendees can take advantage of the location as well. Most call centers, government offices, and workplaces are also a ride away from the hotel. Convention attendees and concertgoers staying in the hotel are also close to popular venues like the SMX Convention Center and the University of St. La Salle Coliseum.
Want to discover attractions in Bacolod for your itinerary? Check out
Yoorekka
!
2. The rooms' decors are modern and minimalist.
Isn't it great to rest in a well-designed space after a tiring day out in the city? In North Tourist Inn, relaxation begins once you set eyes on the visually appealing modern interiors. Designed by the owner herself, the rooms are painted in colors of cream, gold, and brown.
The hotel offers 36 rooms in total and there are six types to choose from: Standard Single Room, Standard Double Room, Deluxe Twin Room, Deluxe Room, Family Room, and Executive Suite. All of the rooms are equipped with a flat-screen TV with cable and an air-conditioning unit and are inclusive of free Wifi, complimentary bottled water, and toiletries. Other rooms with higher rates have more amenities that will be mentioned below.
Standard Room
If you are traveling by yourself or with your partner, the Standard Room (PhP1,450 for single; PhP1,650 for double) can be your best choice. Budget-wise, it is best for single or couple backpackers.
Deluxe Room
Deluxe Rooms (PhP2,050 for twin beds; PhP2,350 for 1 double and 1 single bed) have bigger spaces than the standard types. They can also give traveling buddies a pleasant view of the city during golden hour.
Is it the season for your family trip? Or do you want to stay in a big room for your #TravelBarkadaGoals? The Family Room (PhP2,650), which also gives a wonderful view of the city, is ideal for people traveling in big groups. It also comes with a kitchenette.
Executive Suite
In the Executive Suite (PhP2,650), living lavishly is within reach. Its king-sized bed can be the perfect option for honeymoon-goers in the city. You can make use of its amenities like a mini refrigerator, a hair-dryer, in-room safe, and slippers.
These rooms have different things to offer, but one thing's the same: all customers checked in the hotel will get free breakfast the next morning. Meanwhile, an additional PhP650 fee will be charged for every extra person with bed and breakfast.
3. North Tourist Inn doesn't want guests to get hungry.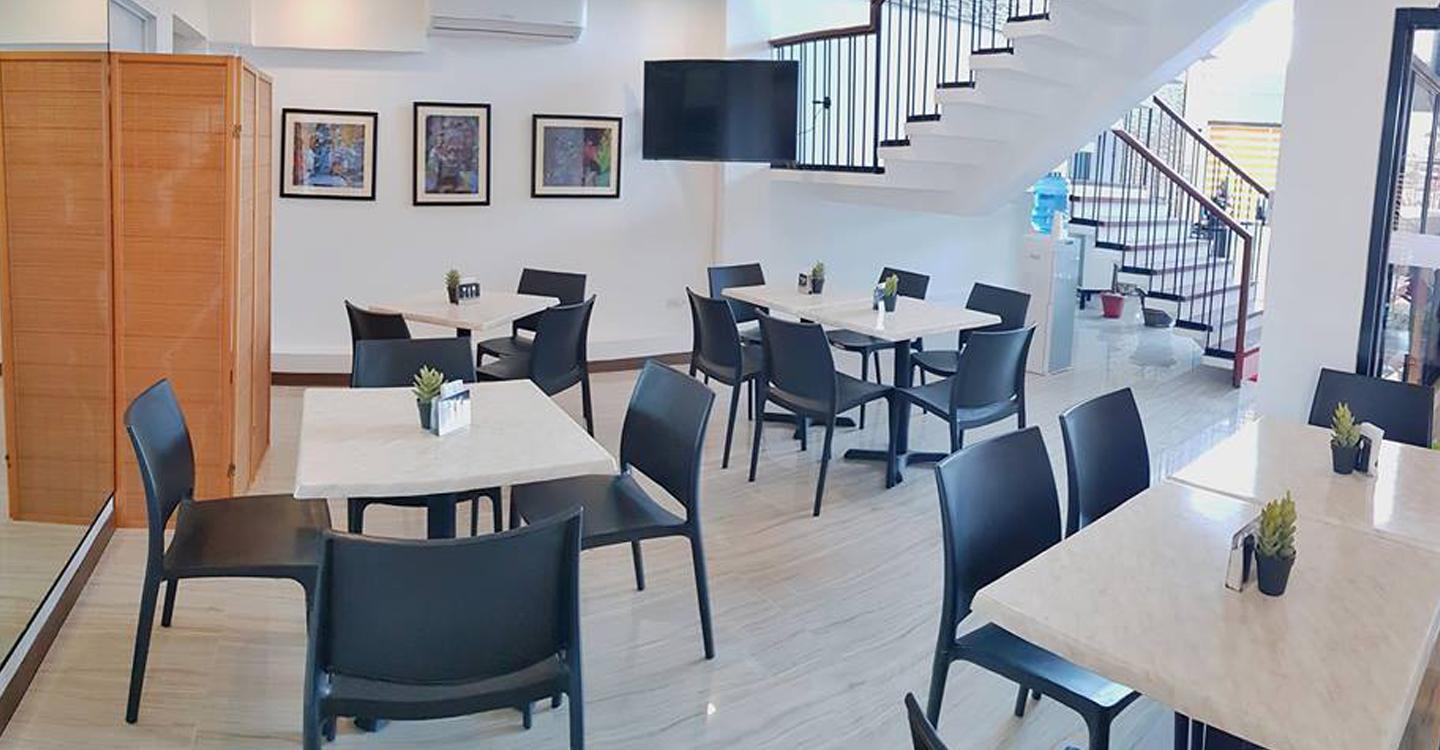 Every traveler wants good food, and the hotel delivers just this. North Tourist Inn serves a wide range of dishes, including appetizers, mains, and desserts. One of the must-tries is its best-seller, Chicken Cordon Bleu. Meanwhile, guests who want to recharge during the afternoon can avail of the unlimited coffee or tea promo for only PhP99. If you want to have a drink, say cheers to their happy hour promo of PhP290 from 4:00 PM to 7:00 PM.
Restaurant hours are from 6:30 AM to 8:30 PM, so if you are planning to have your breakfast earlier, inform the staff beforehand. Guests can also stay in their rooms for meals and drinks for a small PhP50 room service charge.
4. There is a function room for meetings and events.
Meetings or seminars don't have to be far away from your hotel or even your room. North Tourist Inn has an in-building function room that can cater to 25 to 30 people. Organizers can choose any dish from the hotel restaurant's menu for the food and drinks to be served during the event.
YOU MAY LIKE:
Locals can also book the function room for celebrations such as birthdays, baby showers, or simple gatherings. With its simple interiors, designing the room according to the event theme would be easy. Parking won't be a problem for its hotel customers since there is a big parking space at the back.
Bacolod City is already booming economically, and these days, it is always packed with tourists exploring the area. If you're planning to visit the city, make sure to stay someplace comfortable and modern. With North Tourist Inn's abundance of creature comforts, stylish rooms, and great amenities, it's undeniable that you're going to have a pleasant stay.
All photos in the article are courtesy of North Tourist Inn.
Prices may change without notice.
North Tourist Inn is located at Lacson Street, Mandalagan, Bacolod. For bookings and inquiries, contact (034) 700 7672. You may also visit their website at https://www.northtouristinn.com