What's New
Keep An Eye Out for These New Hotels and Restaurants in Boracay
Boracay is set to have a busy year thanks to these newly-opened hotels and restaurants!
By: Karen Bermejo | June 03, 2019
---
Image: Unsplash / @bambicorro
Following the island's rehabilitation comes a "new
Boracay
." But what's new on the island exactly?
One is you have to secure an accommodation booking before you can even cross the island. From the port, you'll then notice the paved and wider roads to your hotel. But don't expect wild parties on the beach anymore; it's now a no-no here. Boracay is now promoted as a family-friendly destination. And because of this,
new hotels and restaurants in Boracay
likewise opened their doors to tourists and locals. Aside from this, you can also expect new resorts, bars, and a new location for island favorites.
Location: Station 3, Boracay
Operating hours: 24/7
Recommended budget for two: PhP 13,500 per night
Image: The Auhana Boracay Resort
The Auhana offers five-star accommodation in its seven-hectare property in the southern part of Boracay. The resort shows Filipino artistry with its 500 luxurious suites and villas with spectacular ocean and garden views. Apart from its spacious rooms, the resort also aims to showcase Filipino hospitality with their various rooms for meetings and special events. Whether you want your event indoor or outdoor, they can arrange it for you. They likewise highlight Asian food on its in-house restaurant aptly named Asian Eats. You can also enjoy a private dinner with a gorgeous sunset view or the ocean at The Porch restaurant.
How to get there: Take a private shuttle from Cagban Jetty Port to the resort. The port is just five minutes away from The Auhana.
Location: Bulabog Beach, Barangay Balabag, Boracay
Operating hours: 24/7
Recommended budget for two: PhP 10,500 per night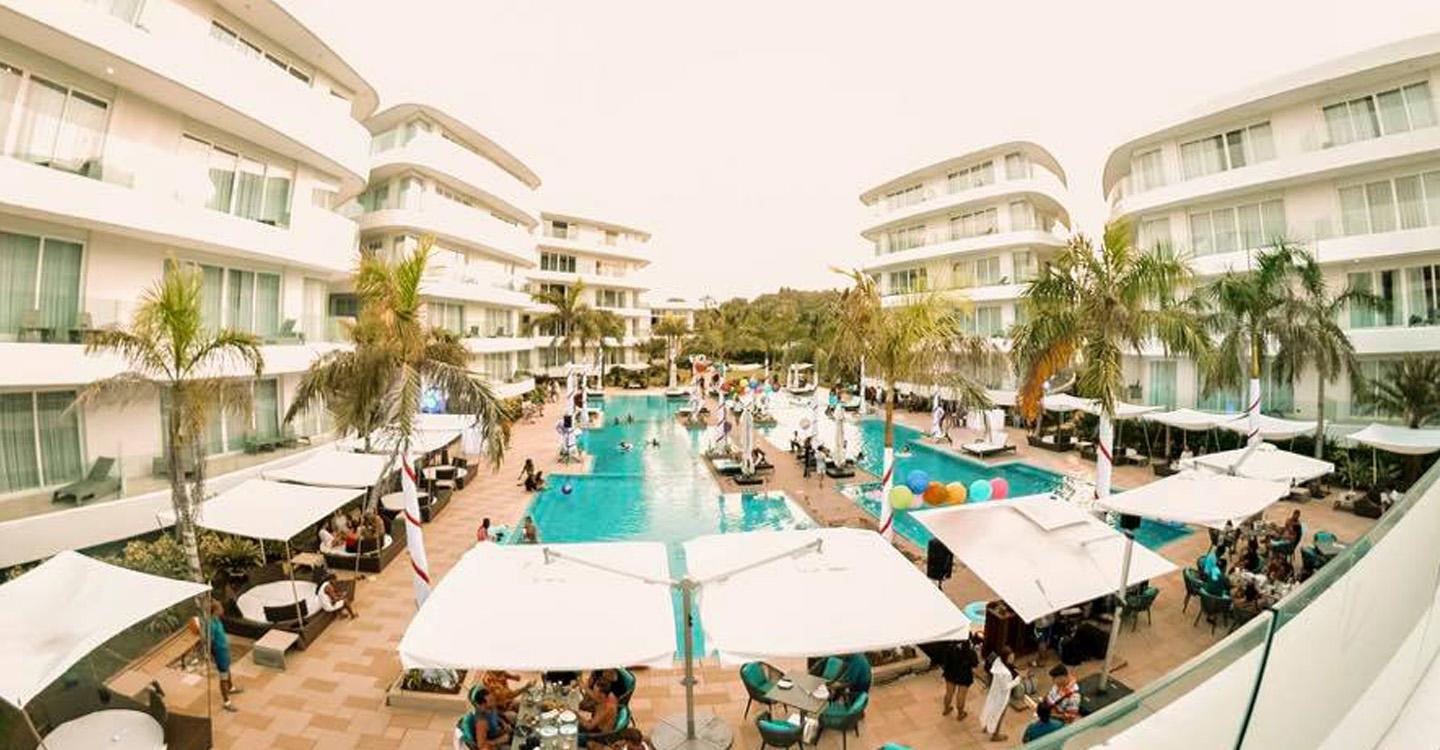 Image: Aqua Boracay
One that had a major facelift after the rehabilitation of Boracay is the side of Bulabog Beach. A lot of resorts and bars along the beach were misplaced due to the road widening and the easement. But one that has survived is Aqua Boracay which was under construction at that time. Just recently, the luxury beachfront property has finally opened its 144 stunning rooms and penthouses. Apart from offering accommodation, Aqua Boracay also opened the first day club in the island. It's a party all day in the resort. But if you prefer to have a low key day, you can also spend some time on their Mist spa.
How to get there: Since the location of Aqua Boracay is not along the main road, hire a tricycle to bring you Bulabog area, passing the Sitio Tulubhan way.
3. Chismoza Ladies Bar
Location: Sitio Kipot, Tulubhan, Barangay Manoc - Manoc, Boracay
Operating hours: 7 PM to 10 PM daily
Recommended budget per person: PhP 300
Image: BETC Coffee Beans Supply
"Coffee shop by day and a ladies bar by night" is exactly how you can describe Chismoza Ladies Bar. By day, it is serving coffees as BETC (Best Ever Tasting Coffee) café. But as the sun goes down, cocktails and alcohol are served. It's the newest addition to the offerings at Tindahan it Boracay, a food hall and community market.
How to get there: Take a tricycle and get off at AKY Gasoline Station. From there, it's just a two-minute walk.
4. Nonie's at Crimson Resort and Spa Boracay
Location: Crimson Resort and Spa, Barangay Yapak, Boracay
Operating hours: 10:00 AM to 6:00 PM daily
Recommended budget per person: PhP 500
Image: Nonie's
Nonie's is not a new restaurant. In fact, the restaurant has been gaining popularity with its "eat good, feel good" movement by serving healthy food options. What is new about them is their partnership with Crimson Resort and Spa. Nonie's is now serving their famous smoothie bowls and refreshing beverages at the Azure Beach Club of the resort. If you want to taste their specialty dishes, you can also visit their original branch at Station X at Hue Hotel.
How to get there: You can take the shuttle service of Crimson Resort and Spa at D'Mall.
5. Bon AppeTEA Boracay
Location: 2nd Floor, Laketown, Sitio Bolabog, Barangay Balabag, Boracay
Operating hours: 11:00 AM to 11:00 PM daily
Recommended budget per person: PhP 150
Image: Bon appeTea
Bon AppeTEA Boracay is the newest branch of the milk tea company in the island. Just like its other stores in the country, they serve their variety of milk tea drinks. Its Instagrammable design and comfy atmosphere makes it appealing not just among tourists but even among locals.
How to get there: Take a tricycle and get off in front of Laketown just in front of D'Mall across the lake.
Location: Main Road, Station 1, Barangay Balabag, Boracay
Operating hours: 24/7
Recommended budget per person: PhP 150
Image: Kolai Mangyan Boracay
Kolai Mangyan is among the homegrown restaurants of the island and they are finally back at their original location which is in Station 1. The resort still offers their famous Budbud meals which is rice topped with fried meat, egg, and meat rolls on the side. Their Bulasing, which is a fusion of two Filipino soup dish bulalo (beef marrow stew) and sisig (finely chopped meat dish), is another best seller. They are also a favorite go-to place of locals and even tourists because of their affordable meals.
How to get there: Take a tricycle and get off in Station 1, in front of Club Paraw.
Visit
Yoorekka
for more new places in Boracay!
Despite the changes and challenges that remain in Boracay, new establishments are constantly opening all throughout the island still making it a must-visit.


About Karen Bermejo
Karen writes to earn a living, tell stories and promote her advocacies. She's a traveler and a volunteer. Her adventurous soul makes her more comfortable to sleep on the couch of a stranger than pay bucks for accommodation. Her ultimate dream is to travel the world, master a foreign language and learn how to swim. To keep her sanity while chasing her dreams, she chases waterfalls on weekends.
Learn more stories on:
Location Tags:
Disclaimer: All articles in the Consumers Magazine of Yoorekka are for general information and entertainment purposes only. Although careful research has been made in writing them, Yoorekka does not make any warranty about the completeness and accuracy of all information presented in our articles. Our content is not intended to be used in place of legal, medical, or any professional advice.
MORE STORIES AROUND THE PHILIPPINES
Copyright 2013 - 2023 ShoppersGuide Marketing Inc. All Rights Reserved
This website uses cookies to enhance the user experience. For more information please see our
privacy policy