Due to the COVID-19 pandemic, the establishments featured in this article may implement temporary closures and/or a set of safety requirements according to changing protocols. Please make sure to abide by the guidelines to stay safe.
Some decades ago, Subic rose to fame for its
girly bars
and hostess bars, which became popular when the US Naval Base there was still operational. The business boomed, and as such, Subic's local
nightlife scene
became infamous and tainted with this image. Decades later, Subic has departed from this perception, and has since then been famous for its family-
friendly dinner spots
and wholesome yet still
exciting nooks for night outs
. Now, you can go to Subic and do all sorts of things at night with friends, family, or your special someone, and here are just a few of them.
1. Dine out with family and friends.
Having a sumptuous dinner with friends and family is always on top of anyone's list for a perfect night out, and Subic has a great selection of restaurants to deliver just that. When it comes to food, size does matter in Subic, all to the delight of those with a huge appetite.
Popular for its big pizza and burger,
Xtremely Xpresso
's food is always good for sharing within large groups. If you're craving for a
hearty meal
paired with your favorite sides, you can choose between
Texas Joe's House of Ribs
or
Meat Plus Café
. Have your fill with a plate of large servings of ribs or steaks.
Just outside Subic Freeport Zone, in Barrio Barretto, sits
The Coffee Shop
, which is famous for its jumbo tacos. It comes in a crispy taco shell or a soft burrito wrap, served with a hefty fill of ground beef and vegetables.
YOU MAY LIKE:
2. Walk by the beach.
If you just want to be away from the crowd for a while to listen to the soothing sound of the waves, smell the sea breeze, and feel the sand between your toes, a walk by
Subic's beaches
will suit you perfectly. Subic has a number of public and private beach resorts within and just outside Subic Freeport Zone. Some of the famous ones are
Camayan Beach Resort
,
White Rock Beach Hotel and Waterpark
,
Halfmoon Bay Beach
, and
Driftwood Beach
. Subic has an amazing view of the sunset so it is recommended to come just before then and watch in awe as the sun goes down the horizon.
YOU MAY LIKE:
3. Experience lifestyle malling in Harbor Point.
Image: Ayala Malls official website
With shopping, dining, and entertainment all in one roof, Harbor Point offers a complete lifestyle malling experience for both locals and tourists. It is located along Rizal Highway within the Subic Freeport Zone. Owned and developed by Ayala Corporation, Harbor Point is the first Ayala mall in Subic, second in Central Luzon, and fourth outside Metro Manila.
The mall has a number of retail outlets by local and
international brands
, as well as a cinema that features all the latest must-watch movies. The mall closes at 9:00 PM, but there are restaurants and coffee shops that extend operations up to 12 midnight.
4. Enjoy night swimming in Subic resorts.
Image: Subic Waterfront Hotel Website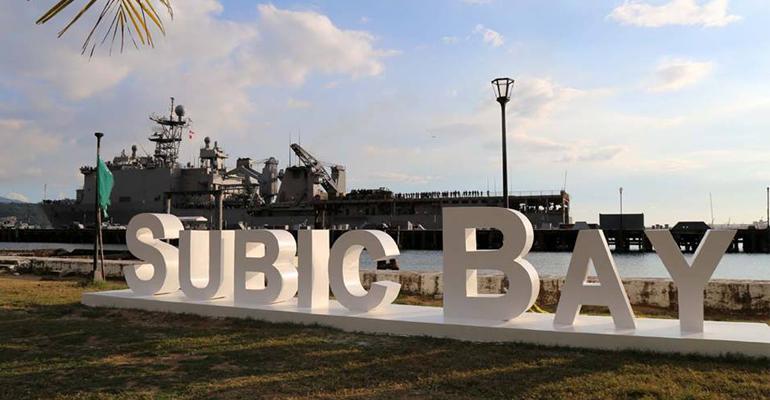 YOU MAY LIKE:
5. Have a thrilling adventure at Zoobic Night Safari.
Image: Zoobic Safari Facebook page
Here is a wholesome and family-oriented nighttime activity in Subic: Zoobic Night Safari. This is an awesome adventure packed with thrill and excitement where you can explore the park and see the different kinds of animals in the sanctuary. You can experience
Zoobic Safari
's classic attractions like Serpentarium, Tiger Safari, Croco Loco, Lion Safari, Zoobic Cave, and Forbidden Cave even at night. You can also catch the night show with various performances and features of animals, their trainers, and Aeta natives of Zambales. Entrance fees vary and can also include a dinner meal at your discretion.
6. Bar hop in Waterfront Road or Magsaysay Avenue
Image: Liberty Sports Bar Philippines Facebook page
The Subic local nightlife wouldn't be complete without bar-hopping from one of its energetic watering holes to another. There are quite a few wholesome entertainment spots around Subic, in the Waterfront Road near the naval docks as well as in Magsaysay Avenue in downtown Olongapo City.
One of them is Pier One Bar and Grill where there is a nightly live band that plays various music genres. While enjoying the bar's in-house entertainment, you can munch on your favorite snacks, finger food, or even have a full meal for dinner. Another is Liberty Sports Bar and Grill, which showcases a sports-themed interior adorned with all the photos of local and international sports moments. This is a good place to eat Western food like burgers, pizza, and sandwiches; drink imported beers and other alcoholic beverages; and have fun on a round of billiards and darts. Another exciting drinking place is 1925 GastroPub which offers a wide variety of local and international drinks and food but prepared and served the Filipino way. Meanwhile in Magsaysay Avenue, dance the night away and enjoy a few drinks at Club V, Nocturnal, or at Padi's Point.
Make sure to visit
Yoorekka
to learn and find out more about the best activities in Subic.
Subic really has a diverse and lively night scene which you can explore with your family and friends. No doubt, these are more than the traditional duty free shops, and a far cry from the girly bars of old that they have been infamously known for. So whenever you're up north, why not spend a night or two in Subic, and see for yourself how much it's changed through the years?
This article was originally published in Yoorekka on March 22, 2018.